King Charles III favourite cologne
With over a whopping 18million people tuning in to ITV to watch the Coronation on Saturday 6Th May 2023, we were curious to find out what King Charles III favourite cologne is.
Set at Westminster Abbey, the same place that saw our Queen, Elizabeth II, lay to rest, we watched the ceremony of our new King being crowned.
Related article : What perfume did Queen Elizabeth wear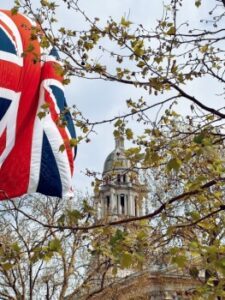 You don't need to be a fan of the Royals or a big royalist to appreciate the work and effort into organising such a big event.
It was a very traditional affair that saw the Coronation taking place in a stunning location and saw a few changes from the original crowning in 1953 of our late Queen. In this current and shorter service, there were multiple faiths and cultures represented across the U.K
It was certainly a ceremony worth watching, even if you dipped in and out and watched Th highlights like myself.
Several of my clients had it showing on the TV in their homes so I was able to watch several parts of the day.
The Princess of Wales  looked as stunning as ever wearing an embroidered Ivory silk crêpe gown, designed by Alexander McQueen and deep blue silk satin floor length Coronation robe.
Topped with a headpiece that any young girl would be honoured to wear, she omitted elegance throughout.
We also have to mention Prince Louis of Wales. The pure joy that this cheeky chap brings to every occasion is what lifts a smile to everyone's face.
From covering his ears when the Red Arrows flew over the palace on the late Queen's birthday, to his gorgeous facial expressions that stole the show at the King's Coronation.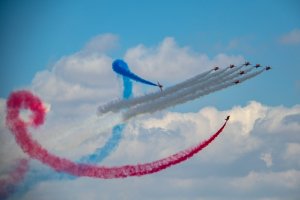 The five-year old certainly knows how to entertain the crowds and we think he is simply adorable.
The layers of golden robe ( called the Supertunica) that the King was wearing was impressive and quite a weight to carry too.
In fact, it weighs around 2kg (4.4lb). A stunning piece of material that we could even see from the Kings face just how heavy it was, without the 17Th century St Edwards crown to wear too.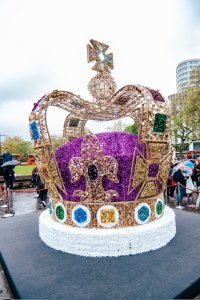 Made of solid gold, the crown weighs almost 5lb, with a collection of sapphires, rubies, tourmaline and garnets, surrounding a velvet cap and ermine band.
A stunning masterpiece that will always stand out in future generations. King Charles III was seen to be wearing a lighter version late on in the ceremony, which was the Imperial State Crown.
Christine Dior
There won't be many of us that haven't heard of Christian Dior, the French fashion couturier, born on 21st January 1905 who founded the company Dior on 16th December 1946.
They are one of the most iconic perfume and clothes fashion houses around today, creating their own unique style of clothing as well as producing some of the most famous fragrances in the world.
Many celebrities are known to wear their own scents as well as endorsing them.
Famous women such as Jennifer Aniston and Sienna Miller have also been known to wear the famous fashion house wardrobe.
After the death of Dior, in 1957, from a massive heart attack, it was left to another famous name in the fashion world, Yves St Laurent, to take over and keep the brand alive.
He was only 21 at the time, but was happy to carry on the legacy of Dior, until he was called to serve in 1960 for the French army so he was then released.
Marc Bohan replaced YSL, alongside other famous designers who introduced handbags and shoes to the world-famous fashion house.
Christian Dior prided himself in not only being a couturier, but also having a desire for the perfume industry and so he created his first perfume, Miss Dior in 1947.
In 2017, Dior reincarnated the original Miss Dior Eau de Parfum for women, a scent that is still hugely popular today. The American actress Natalie Portman has been the face of Miss Dior since 2010. The original Miss Dior perfume was a tribute to the designers sister, Catherine Dior.
King Charles III favourite cologne

We have covered several celebrities within the website and what their favourite scent is so once our King was crowned, I was curious to find out what scent our new heir to the throne likes to use.
Many famous faces have a signature scent and Charles is no exception.
Knowing just how big the fragrance house has become, it's of little surprise that our King would choose one of Dior's iconic fragrances as his signature scent.
Eau Sauvage by Dior is a gorgeous, citrus and aromatic scent for men that was released in 1966 and was the first fragrance for men from the House of Dior.
Affiliate disclosure
When you click on links to various merchants on this site and make a purchase, this can result in this site earning a commission. Affiliate programs and affiliations include, but are not limited to, the eBay Partner Network.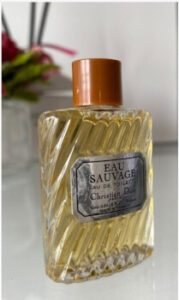 Top notes: lemon, bergamot, basil, caraway, rosemary, fruit notes
Middle notes : jasmine, carnation, coriander, patchouli, orris root, sandalwood, rose, hedione, lavender
Base notes : oakmoss, vetiver, musk, amber
The fresh scent from this bottle gives a clean, lemon fragrance which balances out the woody and earthy notes that many men love.
The bottle has a style of royal about it with its gold grooved design and silver 'belt' and cap.
It certainly has a wonderful selection of fragrance notes that gives it a legendary feel and a crisp freshness that compliments its floral notes.
Many users have commented to say that it is a suitable unisex cologne, with a crisp, strong and soft woody scent as the base notes pop through.
This scent is suitable for the older man, ideal for everyday use, which fits perfectly for our king on his royal duties. Not to be confused by Dior Sauvage, a bottle with a similar name, that has more spicy and stronger fragrance notes.
Related article: Johnny Depp fragrance.
Conclusion:
The captivating story behind this cologne serves as a testament to the enduring allure of fine fragrances and their ability to evoke emotions and memories.
As we immerse ourselves in the aromatic world of King Charles III's favourite cologne, we are reminded of the powerful connection between scent and personal identity, transcending time and leaving an indelible mark on history.
If you want to smell like a King and love citrus and fruity notes with a touch of masculine base notes, try Eau de Sauvage for yourself.
Sign up to our monthly newsletter for the latest news in the perfume world, the best outdoor candles for the garden this summer and how to purchase your favourite perfume samples.