Scented wax melts reviews
Scented wax melts reviews
It wasn't until the early part of last year (2021) that I came across scented wax melts. What a wonderful alternative to candles! Elegant, simple to use and a cosy atmosphere instantly created.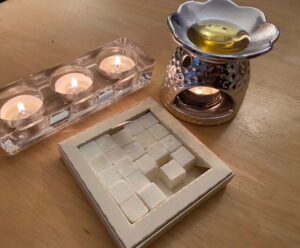 These wax burners are so quick and easy to use and with so many stylish holders available, I knew I'd found myself a great purchase.
Many of us currently have a scented candle to give off a pleasant fragrance or a reed diffuser that work similar but without a naked flame. Long lasting and an instant fragrance to fill the home.
Candles used to be very popular during the winter and especially around Christmas time, but we are seeing more and more homes having scented candles lit throughout the summer too.
Our gardens have also enjoyed a naked flame whist we sit watching the sun go down.
Did you know ?
Wax melts are a fairly new concept and a new product on the market. They were first created as a way of using up excess wax that was left over by candle makers. A great way to reuse left over wax.
Candles have been around for thousands of years and are still popular today.
How to make your own wax melts at home 
Why are wax melts so popular?
Having a wax melt dish in my own home and a new addition I might add, it's easy to see why they are so popular.
There are so many pretty wax burners on the market with different types to choose from and it's relaxing to watch as the wax slowly starts to melt away under the flame.
Affiliate disclosure
When you click on links to various merchants on this site and make a purchase, this can result in this site earning a commission. Affiliate programs and affiliations include, but are not limited to, the eBay Partner Network.
Wax melts holder with saucer candle holder on eBay
If your home is occupied by pets or young children, buying a wax burner that you can plug-in is safer than the burners that use tea light candles as the heat is generated from the powered bulb.
Please bear in mind that even when using a plug-in wax melt, the wax will still be very hot when it burns into a liquid and therefore can still harm young children or pets if it is accidentally knocked over.
Placing the dish in a safe place is essential.
Unlike most candles that will have a burn time between 30 and 40 hours, depending on the size that you purchase, using wax melts are much more economical. They seem to burn on forever.
Having never used them before myself, I was very ambitious in using four small cubes and placing them into the tray and then lighting the tea light candle.
Over two months later and burning the cubes every day for approximately six hours, I am still on my first four cubes. A lovely aroma fills my home as soon as it's lit.
One cube will suffice for several weeks but if you like strong scents in the home, of course, use more than one cube for a more powerful scent.
Wax melts are a great way to fragrance the home for a long period of time, without overpowering the room.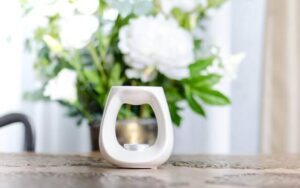 Being so easy to use and lightweight so that you can take them on your travels, makes wax melts even more popular.
If you fancy having a change of fragrance, wait for the wax to become solid and gently remove from the top of the dish.
The dish can be wiped easily and a different fragrance cube can be added. Plug-in or light your tea light candle and away you go.
Like most candles, wax melts are also very relaxing and therapeutic and with so many styles and fragrances on the market, there is one to suit everyone.
Everyone loves the smell of clean, crisp and a scent of freshness in the home.
Benefits of using wax melts
Lemon is a very versatile scent that instantly lifts our spirits, makes the home feel clean and gives us a kick start to the day.
Pine is a reminder of the Christmas season, with its woody and fresh smell and is a great scent for those who need a little pick-me-up as it helps to lower depression and stress. Something I'm sure many of us could use from time to time!
Vanilla This is one of those scents I feel that you either love or you hate. Whilst some will enjoy its sweet, warm and sugary scent, others will find it too sickly. A positive benefit of using vanilla is its ability to uplift and bring joy and relaxation.
 Lavender Possibly one of the most popular fragrances as it has a very delicate floral scent that is very subtle and has huge healing properties. For those who suffer with anxiety, depression, disturbed sleeping pattern or fatigue, a touch of lavender can make a huge difference.
A very popular scent that is used in aromatherapy and added to essential oils.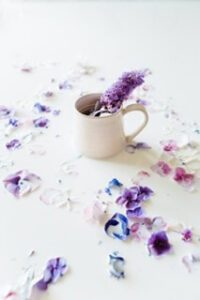 There's nothing quite like sitting at your desk on a winters evening, with a gentle scent of fragrance filling the room and the flicker of candle lights to give a cosy feel.
If you are feeling creative, you can take small portions from a couple of different fragrance cubes and pop them in together for your own unique scent.
Besides using them for your own benefit, wax melts really do make a lovely gift for someone.
The burners, whether you choose plug-in or the tea light candle style can be bought from places like eBay.
If it is just the wax melts that you are purchasing, these can be bought from several places online and it's good to know that FM Cosmetics also have a selection of wax melts that match some of your favourite fragrances.
FM wax melts
These delightful home ritual wax melts come in a box of 25 cubes and are available in seven different scents.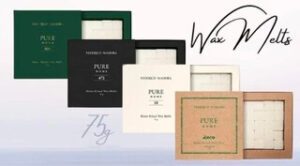 Lemongrass
White Sandalwood
FM 900 ( inspired by Tom Ford- Lost Cherry)
FM 910 ( inspired by Baccatat Rouge 540)
FM 472 ( inspired by Aventus Creed)
FM 18 ( Inspired by Coco Mademoiselle – Chanel )
FM 413 ( inspired by La Vie Est Belle- Lancôme )
I currently have FM 413 burning in my home. A beautiful, delicate scent that helps me relax. We also have the same fragrance as 50ml perfume bottle sprays so you can carry your favourite scent to work or into town.
FM 900 and FM910 are unisex so are perfect for the home or office. You can purchase your box here.
Price £22 per box. This works out at just 88 pence per cube and with each cube lasting for several weeks, they really are affordable!
Box size 75g
My rating : 10 out of 10.
A must have for every home!
Affiliate disclosure
When you click on links to various merchants on this site and make a purchase, this can result in this site earning a commission. Affiliate programs and affiliations include, but are not limited to, the eBay Partner Network.
Check out eBay too for their selection of wax melts.