Fm perfume 910 review. This is a unisex fragrance and a wonderful scent if you like delicate fragrances that sit in the wood family.
So many of us love perfume but the price tag isn't always suitable. So when we have a fragrance that is influenced by the fragrance notes of designer perfumes, it's definitely worth trying.
As previously discussed here on my website, FM WORLD create perfumes that are not only affordable and long-lasting but also contain very similar fragrance notes to that of the designer perfumes.
When we look for a particular design of perfume, the price can be a bit of an eye-opener.
Inspired by the designers
Whilst there may be many designer fragrances that are within budget, the comparison that FM perfume 910 is very similar to is Baccarat Rouge 540.
A fragrance that was first launched in 2014 under Baccarat's name and then relaunched in 2015 by Maison Kurkdjian, this scent captures a delicate collection of gentle scents, contrary to sitting in the wood/oriental family.
If you purchase a bottle of the Extrait De Parfum as a 70ml bottle from their website, you are looking at parting with an eye-watering £320.
Can anyone justify that price? Well, if you happen to be a pop star named Rihanna, then indeed you can.
This was her go to fragrance before she launched her own brand of perfume.

Regarded as a very flattering scent for both men and women, it became a hugely popular choice on such social platforms such as Tik Tok and has transformed this scent into the success that we see today.
There's no denying that it is a beautiful bottle with its gold and red vibe and a very classy looking design but there will be many women and men who can't or won't buy such an expensive scent.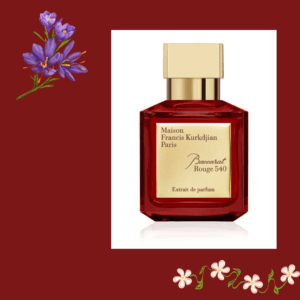 So, what do we do when we love a fragrance but the cost is just too much to part with?
Some may buy 'copies' of their favourite scent and end up disappointed when their new purchase doesn't live up to their expectations.
Related post: buying cheap perfume will cost you more
Buying a similar scent for less
Another option is to purchase the inspired version from FM World.
Those that are familiar with our scents will know that FM perfumes are not copies.
They are unique scents that have their own design of bottle and packaging.
The fragrances note themselves will be very similar to the designer scents but not identical.
They are simply 'inspired' by other scents. Their bottle and packaging design is unique too.
When we think of the fragrance wheel, it's impossible to create a scent that doesn't have similar notes to other perfume scents.
FM perfume 910
Price: £34.00 purchased direct from FM World
Size of bottle: 50ml
My rating : 9 out of 10
FM perfume No. 910 fragrance notes

Type: dry, flavoured with a hint of sweetness
Fragrance notes:

Head: Jasmine, saffron
Heart: Balsam fir, cedarwood
Base: Cashmere wood, ambergris, moss, brown sugar.
We already know that we don't need to purchase fancy bottles to make an impression and the simplicity of FM World's design is just that.
When a perfume or aftershave sits on the beside cabinet in between uses, there is no need to spend a fortune on the fancy packaging or bottle.
After all, it's the scent we should be the most interested in. This is what those around us will notice.
We are very much influenced by classy and elegant looking bottles and this is what catches our eye first before we begin to decide on what scent we like.
Retailers and perfume designers know this and customers are drawn to fancy packaging and the celebrity endorsers of certain fragrances.
Familiarity sells much easier than unknown brands.
Any scent that contains cedarwood or jasmine has my vote.
This is the perfect scent for any season as it has a very delicate and light feel even though it doesn't contain your classic delicate selection of flower and fruity perfumes.
Why FM910 is so popular
FM 910 has a wonderful balance of wood and oriental notes and the head notes 'pop' as soon as the bottle is sprayed.
It's easy to see why this fragrance is so popular. Once the scent settles on the skin, we are left with a 'clear water' smell.
Crisp, seductive and very pleasant on our senses.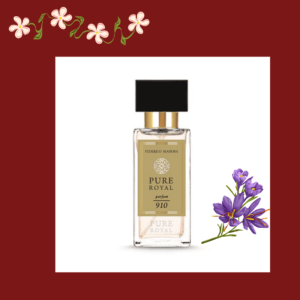 Some people may shy away from a unisex scent for fear of being too masculine for the ladies or more importantly (as women can get away with wearing a 'masculine' scent ), smelling too feminine for a man.
What to expect with this scent
I was pleasantly surprised with this one.
There is a touch of sweetness to the notes yet it's not overpowering or sickly. The scent almost reminds me of a fragrance that you would wear to a wedding.
Delicate with just enough impact to be noticed without everyone turning around after you've walked past, with the screwed up facial expression telling you that your chosen scent is far too strong!
It has a sense of seductiveness as the base notes reach the nose and definitely a scent that can be worn all year round.
When we compare the fragrance notes in Baccarat Rouge 540, we can see that FM has similar notes but they're not identical.
FRAGRANCE NOTES OF BACCARET ROUGE 540
Top notes: Jasmine and saffron
Middle notes: Amberwood and ambergris
Base notes:Fir resin and cedar.
With such similarities, you will find it hard to tell which scent is the designer one.
As with all perfumes, the base notes are those that will linger for the remainder of the time.
After spraying on my skin around 8am one morning, I was pleasantly surprised to still be able to smell the notes at 5pm.
A delightful and simplistic bottle that sits in the PURE ROYAL range, the FM 910 is definitely worth trying and a sample can be purchased here.
I would always recommend trying any sample of FM's perfumes first as scents do smell very different in the bottle to when they are sitting on the skin.
Conclusion
A delightful scent that is very light and wearable and definitely suitable for both men and women.
I would perhaps like a touch more scent and slightly stronger to pop through but overall the FM 910 is a very pleasant and a popular perfume within the PURE ROYAL range.
Sign up to our monthly newsletter for the latest news, articles and find out how you can purchase samples to try.