Have you ever used a pillow mist spray? Here I write a review on one of my favourites called Tropic So Sleepy.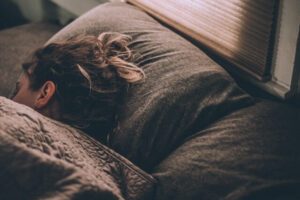 There's nothing worse that feeling tired before going to bed and then finding that you're wide awake for the next hour trying to sleep.
We've all been there as adults more so than children. They seem to have a knack and the ability of dropping off as soon as their head hits the pillow. If only !
Being sleep deprived can have a huge impact on our day to day activities, especially if we've had several nights of desperately trying to dose off with little success.
Waking up the next morning feeling like you have been awake for most of the night is not a nice feeling.
Many of us are already in the habit of watching TV til late, working and looking at our screens before bed and these combinations don't assist us in any way.
The perfect solution in a bottle of pillow mist spray
I had a bottle of the Tropic So Sleepy bought as a gift for my birthday last year.
I have never used one before but was willing to give it a try to see if it really did work.
Looking at the ingredients alone was enough surely to help me drop off to sleep.
Notes of lavender, chamomile and frankincense essential oils in a 30ml bottle sounded heavenly and was surely going to help enormously with getting a good nights sleep.
I have always been a bit wary of spraying products directly onto my pillow. Not keen on the idea that my skin could potentially touch the product as it soaks in whilst I move into different positions in a bid to get comfortable.
The great thing about using a pillow mist spray is that although it is a pillow mist you don't have to spray on your pillow.
Like other topical products that help sleep and the respirator system, I like to put the product onto a tissue and then have the tissue nearby my pillow so that I still benefit from its properties.
By doing this, I know that the product is not going to come into contact with my skin and potentially cause a reaction.
The first whiff of the Tropic So Sleepy product is definitely the lavender. A beautiful flower not just for its vibrant colour but also for so many of its healing properties.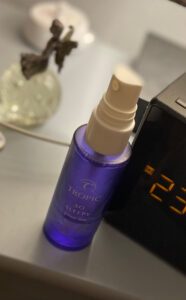 There is almost a sense of instant calm as soon as the fragrance hits your nose, giving you the confidence that it will assist in a better nights sleep.
Having not used it for several weeks, simply due to forgetting that I had it in my bedside drawer, and having a few disturbed nights, I was keen to revisit this little product once again.
I've been used to waking up through the night regularly for several years and that's part and parcel of how my sleep pattern has settled. This has never really bothered me that much.
Clock watching
The fact that I was finding it difficult to get to sleep in the first place was what bothered me.
Every five minutes looking at the clock to see if the time had moved on as much as it felt like it had or indeed if I had even fallen asleep and woken up again a short time later.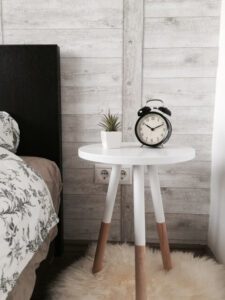 Sleep definitely felt like it was overrated when we were younger. Why do we need to go to bed so early? What was the importance of sleep?
"I don't want to go to bed!"
As we grow older, we start to learn and realise that sleep is an essential part of our everyday living.
Without a good night rest, it can have a detrimental effect on our mental health, our well-being and our physical being.
We spent so many years in our youth fighting sleep and not wanting to go to bed and now as adults we are desperately going the other way in trying to get as much shut-eye as possible.
The 30ml bottle simply requires 2 to 3 pumps at 30 cms away from your pillow to aid a peaceful night sleep. It is 100% naturally derived and can be purchased on eBay.
Take a look at my article on pillow mist spray where I show a selection of sleep sprays and the benefits of using them and the benefits of their main ingredient Lavender.
The ingredients in a bottle of Tropic So Sleepy pillow mist spray
Tropic So Sleepy contains chamomile so let's take a look at the benefits of this ingredient.
Chamomile is a wonderful mild tranquilizer and it contains apigenin, found in many plants, one of the bioflavonoids and helps to reduce anxiety and causes sedation.
Both needed for a restful nights sleep. Chamomile tea also has huge benefits too.
In order to have a peaceful night, our body needs to be in a relaxed state.
So by using pillow sprays that contain such ingredients as lavender and chamomile, we are well on our way to heading in the right direction in preparing our body for sleep.
Most of us will aim for at least 6-8 hours if we can.
Another ingredient that this little bottle of magic contains is frankincense.
With similar properties to chamomile, frankincense helps to overcome stress, it has aromatherapeutic benefits and promotes relaxation.
Sometimes it can also be the added obstacle of having a winter cold that stops us from dropping off to sleep easily.
Many of us have attempted to get to sleep but our nose is either running or our sinuses are blocked up.
Why does this always happen at night ?!
By helping to relax the body and mind, along with added aromatherapy oils such as eucalyptus, this can help to relieve such symptoms.
So many people prefer to have topical solutions to help with every day situations rather than taking medicines or supplements and the pillow mist spray is a wonderful creation and highly recommended.
Those with children I'm sure have used Olbus oil in the past to help children with stuffy noses and coughs to help them sleep yet we forget to do similar things when we are adults and are struggling to sleep too.
Pillow mist spray review
Affiliate disclosure
When you click on links to various merchants on this site and make a purchase, this can result in this site earning a commission. Affiliate programs and affiliations include, but are not limited to, the eBay Partner Network.
pillow mist spray on Bay.co.uk
£20.00 for 75ml if you buy direct from the tropicskincare.com website.
They also have a selection of gift sets instead of buying individually. Some contain hand cream and temple sticks as well. A great gift for someone who struggles to have a restful night.
Size of bottle : 30ml
My rating: 9.5 out of 10.

Avoid Spraying onto delicate fabrics and furniture. Do not apply directly onto your skin. Avoid contact with eyes with water if contact occurs.
Alcohol free.
Vegan and cruelty -free. Perfect !
This product has great reviews online and it really does help especially if used regularly.
A gorgeous combination of fresh and calming aromas that help with the night time battle of drifting off to sleep naturally.
Do you struggle to get off to sleep ?
Let me know below and perhaps you can try a bottle for yourself.
Join the Wealthy Affiliate platform and earn passive income.