FM 905 perfume review
As a fragrance enthusiast and someone who has worked in the perfume industry since 2015, I am always on the lookout for trying unique and alluring scents from our collection.
Having access to the many samples gives me the perfect opportunity to try a new perfume whenever I need a new bottle.
This also gives me the opportunity to review perfumes for you and give you information on some of our popular fragrances before a potential purchase.
FM Perfume 905 is a unisex fragrance that has a gorgeous sharpness of plum, raspberry and rhubarb on its first spritz and immediately envelops you in a sophisticated aura that effortlessly balances such floral, fruity and woody notes. The perfect summer scent for chilling in the garden, enjoying time away on holiday and sitting in a beer garden for lunch with a friend.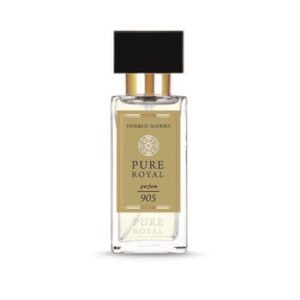 What to expect from this scent
The initial burst of citrus top notes is invigorating, offering a vibrant and refreshing introduction to this perfume. As the fragrance settles on the skin, the heart notes reveal a delightful bouquet of floral accords that adds a touch of femininity without being overpowering, whilst still keeping some masculinity as a unisex fragrance.
Sometimes we are risk of floral scented perfumes being too strong and overwhelming so FM 905 has a great balance that suits the skin and keeps its charm.
The blend of these floral notes is skillfully harmonized, showcasing the craftsmanship behind this creation.
What truly sets FM Perfume 905 apart is its seamless transition from a lively opening to a warm and woody base.
The dry down ( the final stage as the top and middle notes dissipate ) is where this fragrance truly shines. As the woody notes combine with a subtle hint of sweetness, it creates a captivating and sensual allure.
This is why it balances well as a unisex fragrance. Once the more feminine and fruity notes settle, the base notes are what we smell throughout the day.
The longevity of the fragrance is impressive, like many of the other perfumes within the collection, it stays close to the skin for hours, maintaining its alluring character throughout the day or evening.
A scent that will turn heads and have others asking what fragrance you are wearing.
This is one of the reasons why FM World perfumes are so popular. They have created lasting scents at an affordable price.
We know that many of the designer fragrances can be at the higher end of the price scale so if you still want a gorgeous scent without having to pay more than an FM perfume is a great choice.
Another aspect worth noting is the versatility of FM Perfume 905. It strikes the perfect balance between being suitable for everyday wear as well as special occasions and being a unisex fragrance, opens the door to both men and women to enjoy this wonderful scent.
Whether you're heading to the office, meeting friends for a casual outing, or attending a formal event, this fragrance effortlessly adapts. It elevates your confidence and leaves a lasting impression on those around you, something we all strive for when wearing our favourite scent.
The packaging of FM Perfume 905 also reflects the elegance of the scent. The bottle's sleek design and minimalistic aesthetic makes it a delightful addition to any perfume collection or dressing table.
Unlike many celebrity designer bottles, FM have aimed to keep their bottles and packaging simple yet still classy so that the cost to the customer is kept as low as possible.
FM perfume No.905 fragrance notes
Top notes: plum, raspberry, rhubarb, pomegranate, clove
Heart: pink pepper, jasmine, opoponax, patchouli, lily
Base: guaiac wood, cedarwood, amberwood, incense, vanilla
FM Perfume stands for "Federico Mahora Perfume," and it is a brand known for producing high-quality fragrances inspired by popular designer scents.
FM Perfume operates under the multi-level marketing (MLM) business model, where independent distributors (like myself) promote and sell the company products directly to consumers.
The brand aims to offer affordable alternatives to expensive designer perfumes, allowing customers to experience similar scents at a more budget-friendly price point.
FM Perfume's products include a wide range of fragrances for both men and women, as well as other related products such as cosmetics, body care items, and home fragrances.
The company often highlights the quality and long-lasting nature of their fragrances, comparing them to well-known designer brands.
For those who are familiar FM perfumes, may already have noticed that FM 905 has very similar notes to Jo Malone's Pomegranate Noir. This particular scent is currently one of Jo Malones's most popular scents in the perfume world today.
Fragrance notes of Jo Malone- Pomegranate Noir
Top notes: Pomegranate, Rhubarb, Plum, Raspberry, Watermelon
Middle notes: Clove, Pink Pepper, Guaiac Wood, Olibanum, Opoponax, Rose, Jasmine, Lily-of-the-Valley
Base notes: Virginia Cedar, Patchouli, Musk, Amber.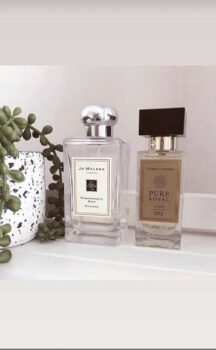 As you can see, both bottles have similar fragrance notes and it is important to remember that FM perfumes are not copies of the designer scents. They simply use the same fragrance wheel and perfume oil manufacturer to create their unique range.
Related article: FM World perfumes
Conclusion
FM Perfume 905 is a captivating fragrance that works very well for both men and women. From the invigorating citrus opening to the enchanting woody dry down, it's of little surprise that this fragrance is one of their best-sellers.
The interaction of notes ensures an experience that is both memorable and versatile, making it an essential choice for anyone looking for a signature scent.
If you're in search of a fragrance that embodies grace, allure and longevity, FM Perfume 905 comes highly recommended.
FM PERFUME 905
Price: £34.00 purchased direct from FM World
Distributor price : £24.00 ( register for a FREE account here)
Size of bottle: 50ml
My rating: 9.5 out of 10
Products available in the same scent
Body spray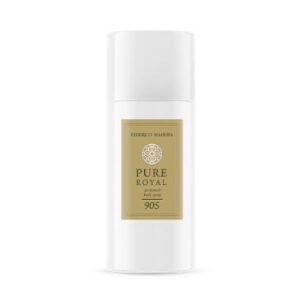 Sign up to our monthly newsletter for the latest news in the perfume world, what candles to use for the garden and in the home and more.
Find out more about our perfumes and company here.