Best Spring perfumes for 2023
For those who are fortunate enough to live in a hot climate that stays at a reasonable temperature all year around, perhaps you don't need to worry about the change of seasons as much as we do here in the UK.
That being said, when it comes to perfumes, it's good to have different scents for different seasons so that we can choose the right one for the weather. Let's take a look at the best spring perfumes for 2023.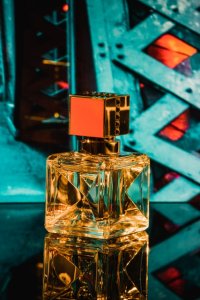 If you are a regular visitor to my website, you will already have learned the reason why we have different fragrances for different times of the year.
Imagine your favourite bottle of Alien by Thierry Mugler. A very popular scent that many women around the world wear. If you are familiar with such a fragrance, you will know that it is a heavy scent.
Despite spraying just a small amount onto the skin, it can have a huge impact on those around you because of how strong it is.
It's definitely a powerhouse in a bottle that won't be suited to everyone.
Imagine wearing that same perfume during the hottest weather that we are occasionally fortunate to get in the UK.
We may assume that perfumes and cologne that have a very woody and earthy scent are the heaviest. In fact, there are many sweet and floral fragrances that can be just as overpowering if too much is sprayed.
For instance, think about La Vie Est Belle by Lancôme. A delightful fragrance that is gorgeous to wear during the spring and summer months but can be a little heavy on the skin.
With its very fruity notes of pear, blackberry and orange, this fragrance can smell very sweet and therefore may be a little overpowering.
There is the option to buy the eau de toilette version of La Vie Est Belle for a lighter, more delicate scent.
Why we should choose our fragrance to match the seasons
You may have your favourite signature perfume that gets spritzed every day but have you thought about whether that scent works well in all weathers?
Designers create perfumes with the seasons in mind and have a balance of suitable aromas to fit the weather, our personalities and the current fashion.
When the weather is exceptionally hot, a heavy fragrance perfume will react with the heat and be far too strong on the skin. By wearing a lighter scent or even a body spray, this allows the scent to sit more delicately and not be overpowered by the heat.
Floral and fruity perfumes are much more suitable for the hot weather as they sit better on the skin and don't accelerate in strength when the sun is hot.
The same theory works for winter fragrances. When the weather is cold, we need a stronger scent to compensate for our skin having a drop in temperature. Woody, musk and spicy perfumes work best.
Many men and women have signature fragrances that they will wear whatever the season and that's perfectly okay. For those who like to try different scents, depending on the season, let's take a look at what scents are popular this Spring.

Best Spring perfumes for 2023

Marc Jacobs – Daisy Love Paradise

I do love the creativity within Marc Jacob's bottle designs. Even though we shouldn't be influenced by the bottle of perfume alone, Jacobs captures the feminine elegance with each bottle that they release.
With its soft-edged pink bottle, twin flowers in tone two colours as its cap and gold-plated centre piece on each 'Daisy', this floral and fruity Eau de Toilette is a fairly new perfume to the market and was released in 2022.
The simplicity of fragrance notes within this perfume just shows how 'less is more' with a definite feminine scent that has a sweet touch without being too overpowering.
Affiliate Disclosure
When you click on links to various merchants on this site and make a purchase, this can result in this site earning a commission. Affiliate programs and affiliations include, but are not limited to, the eBay Partner Network.
For those who love patchouli, this perfume has a definite linger of the base note and is very noticeable. It's worth a try to see how it sits on the skin.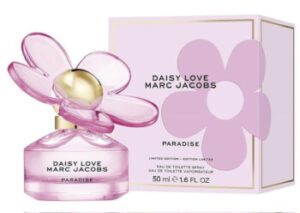 MARC JACOBS DAISY LOVE PARADISE 50ML EAU DE TOILETTE SPRAY BRAND NEW & SEALED
Top note: Iris
Middle note: patchouli
Base note: whipped cream
Baccarat Rouge 540 
If you're looking for a touch of sophistication and class in a bottle of perfume then Maison Francis Kurkdijian has mastered this 2015 scent with a gorgeous selection of fragrance notes.
Not the most affordable perfume on our shelves, but this scent is long-lasting and has a strong selection of fragrance notes that will last the whole day.
Baccarat Rouge 540 is a popular scent that is often 'copied' by other manufacturers and is a global sensation. Pop superstar Rhianna had this bottle as her go-to scent before she began launching her own scents, so it's of little surprise why this perfume has many women obsessed.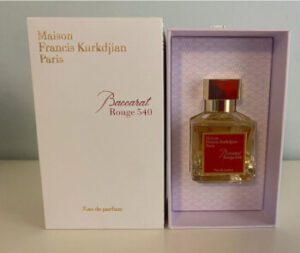 Maison Francis Kurkdjian Baccarat Rouge 540
Top notes: saffron, jasmine
Middle notes: amber wood, ambergris
Base notes: fir resin, cedar
Related article: Rihanna's favourite perfume
Mugler Angel Elixir EDP

Keeping in with the classic design of Thierry Mugler's Angel perfume bottle, shaped like a star, the new fragrance of Angel Elixir, released this year (2023) has an identical design, but with a richer shade of blue tone on its bottle.
Every time I see this perfume, it reminds me of the time my stepfather bought me Angel.
A bottle design that, unlike most other perfumes, doesn't stand up on its own, so it was definitely not going to sit proudly on the bedside table and was far too sweet for my liking, with heavy base notes of vanilla.
Needless to say, I never wore it.
Mugler Angel Elixir is definitely worth a try to compare it with Muglar's 1992 perfume Angel.
A previous fragrance that contains very sweet notes which may be a little too much for some to wear. As you can see from Angel Elixir, the base notes are still very sweet so I would recommend trying a sample first.
Top notes: pink pepper
Middle notes: orange blossom, Jasmine, ylang, ylang, Sandalwood
Base notes: bourbon, vanilla infusion, Amber, Xreme™️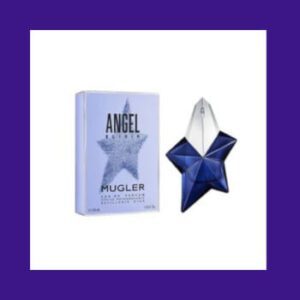 THIERRY MUGLER ANGEL ELIXIR REFILLABLE STAR 50ML EDP SPRAY BRAND NEW & SEALED
Issey Miyake L'Eau D'Issey
With its fresh, floral and aquatic fragrance notes, this perfume is the perfect perfume to wear during Spring.
Released in 1992, there is a gorgeous aroma of musk and sandalwood as the perfume settles on the skin.
Top notes: Lotus, melon, rosewater, Rose, Freesia, calone, Cyclamen
Middle notes: lily-of-the-valley, lily, carnation, water peony
Bass notes: tuberose, exotic woods, musk, cedar, sandalwood, amber, osmanthus
There is a wonderful touch of freshness and floral flowers with this scent.
Based on an aquatic and floral theme, it is suitable to wear in the office. It is distinctive and recognizable and a little spritz is enough with this bottle if you're not overly keen on too many fruit and floral notes.
It has a reasonably moderate sillage and a long-lasting scent for those Spring evenings in the garden or sitting having lunch with friends.
Many have said that the price is good value too and has a clean and fresh vibrancy as the musk note pops through for a very feminine aroma.
For a perfume that is over 30 years old, the late Issey Miyake, who only passed away last year (2022) at the age of 84, has definitely created a timeless classic and the design and shape of the bottle are most certainly one that can be carried in your handbag for a spritz during the day.
Spring Flower- Creed

Launched this year, Spring Flower by Creed has a delicate fruit and floral fragrance, which is perfect for women.
When we have musk as one of our base notes, we always get a sense of warmer weather on the horizon and the chance to wear lighter clothing, and sandals and feel the sun on our skin.
Grapefruit as the opening note gives a fruit zest and a delightful mixture of peach, white flowers and jasmine.
It has a moderate sillage and a long-lasting fragrance for this re-released bottle of perfume.
A simplistic baby pink bottle design and silver cap make this perfume a classic for women even though the price tag may be a touch too high for some.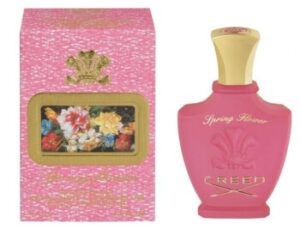 Creed Spring Flower Pour Femme – 75ml Eau de Parfum Spray
Top notes: grapefruit, green notes, lemon, Bergamont
Middle notes: jasmine, apricot, peach, white flowers
Base notes: musk, ambergris, cedar
Aerin Mediterranean Honeysuckle EDP
Perhaps not a very common perfume to many, this scent's name gives us a sense of holidays and warmer weather.
A bright and fresh perfume that pops fizzy citrus and grapefruit notes and is not only suitable for Spring but also perfect for summer too.
Sitting in the floral and fruit family, Aerin Mediterranean Honeysuckle gives us the feeling of wanting to escape to a warmer climate and feel the sand between our toes.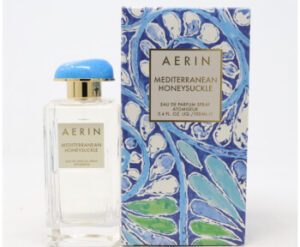 Mediterranean Honeysuckle by Aerin Eau De Parfum 3.4oz/100ml Spray New With Box
Top notes: honeysuckle, grapefruit, bergamot
Middle notes: lily-of-the-valley, Mandarin orange, gardenia
Base notes: Jasmine sambac
Conclusion:
The spring of 2023 brings with it enticing and captivating fragrances that are sure to delight perfume enthusiasts.
From floral bouquets to fruity concoctions, the best spring perfumes for 2023 offer a diverse range of scents that cater to every preference and occasion.
Whether you prefer a light and airy aroma or a bold and vibrant scent, there is a fragrance on this list that will perfectly complement the freshness and rejuvenation of the season.
Embrace the essence of springtime and indulge in these enchanting perfumes that capture the spirit of renewal and blooming beauty.
With the arrival of these exquisite fragrances, you can truly make a statement and leave an unforgettable impression wherever you go.
Whatever scent you currently love, be sure to check out the above if you enjoy wearing a fragrance that fits perfectly for the season. You can purchase samples for many perfumes on eBay too so it's always worth trying before you buy.
Sign up for our monthly newsletter for the latest news in the perfume industry, who's wearing what, the perfect candles for a garden party and more!
Pre-holiday sale !! 👇