The fragrance world is huge today as we see more and more perfumes being created. Jo Malone perfume is well respected in the fragrance world, and the British fragrance and cosmetic brands are known for their elegant and luxurious fragrances.
Their bottles and packaging are simplistic yet elegant and classy.
Founded in 1983 by Joanne Malone, the brand gained popularity for its signature fragrances and unique approach to scent layering.
In 1999, Jo Malone London was acquired by Estée Lauder Companies, which helped the brand expand its reach globally.
Affiliate Disclosure
As an Amazon Associate, I earn from qualifying purchases. Learn more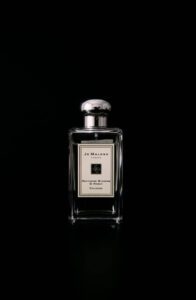 A Brief History of Jo Malone
Jo Malone, whose full name is Joanne Lesley Malone, is a British businesswoman and the founder of the Jo Malone London fragrance and cosmetics brand. She is widely known for her contributions to the beauty and fragrance industry.
Malone was born in London, UK, on November 15, 1963. She discovered her passion for fragrances early and began her career by creating homemade scents. In 1991, she officially founded the Jo Malone London brand.
Her approach to fragrances, which highlights simplicity and elegance, was unique from the more complex and traditional perfumes of the time.
One of Malone's signature innovations was the concept of fragrance layering, where customers could mix and match different scents to create her unique fragrance combinations.
This approach allowed for a personalised and customisable fragrance experience, which became a hallmark of the brand and is a popular option nowadays.
Under her leadership, Jo Malone London quickly gained popularity for its high-quality and distinctive fragrances. In 1999, Jo Malone sold her brand to Estée Lauder Companies but continued to work as the brand's creative director until 2006.
Jo Malone's impact on the fragrance industry and her entrepreneurial success have made her a well-respected figure in beauty and perfumery.
Despite her departure from the brand, her name and vision continue to be associated with the Jo Malone London brand, which remains highly regarded for its unique fragrances and elegant products.
Perfume enthusiasts still enjoy the fragrances she has to offer, and it's fair to say that Malone's fragrances are one of the most popular brands of today, alongside Gucci, Chanel and Dior.
Fragrance
notes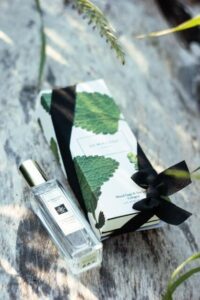 Popular notes have always stayed consistent in the perfume world. Let's take a look at the most popular.
Citrus
Citrus fragrances are often associated with freshness and are popular for their clean and invigorating qualities. Scents like lemon, lime, and bergamot are commonly found in this family.
Floral
Floral fragrances, with notes like rose, jasmine, and peony, have always been a classic choice for many individuals. They can range from light and airy to rich and luxurious.
Woody
Woody fragrances, including sandalwood, cedarwood, and oakmoss, are known for their warm and earthy qualities. They appeal to those who prefer a more grounded and sophisticated scent.
Oriental
Oriental fragrances are often characterized by rich and exotic notes like vanilla, amber, and spices. They are associated with warmth and sensuality. One of my personal favourites alongside floral.
Gourmand
Gourmand fragrances incorporate sweet and edible notes like vanilla, chocolate, and caramel. These scents have gained popularity in recent years and do have an acquired taste. Some find that they can be a little too heavy and sweet on the skin.
Fruity
Fruity fragrances often feature notes like apples, peaches, and berries. They are known for their playful and youthful appeal and are suitable for the younger generation.
The popularity of specific fragrance families can also be influenced by seasonal trends and what's popular in today's market, along with which celebrity is endorsing which fragrance.
Related article: Perfume fragrance families 
Furthermore, individual preferences vary, and what is popular for one person may not be the same for another. Fragrance popularity can also shift over time due to changing consumer tastes and trends in the beauty and fragrance industry.
We are an evolving industry and new and better things come in the scene.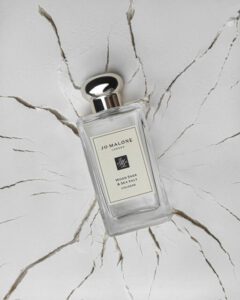 There are several products available under the umbrella of Jo Malone, so let's take a look at what other delights the company has to offer.
Products in the Jo Malone range
Fragrances
Jo Malone colognes can range from moderately expensive to quite expensive, depending on the size of the bottle and the specific fragrance.
The brand offers different sizes, including 30ml, 50ml, and 100ml bottles. Limited edition and special collections may also have different pricing.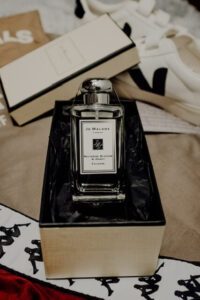 Bath and Body Products
Jo Malone's bath and body products, including shower gels, body creams, and soaps, are also in the luxury price range. These products are often beautifully scented and packaged.
Candles
Jo Malone's scented candles are considered premium products, with pricing based on size and fragrance. They are a wonderful addition to the home.
Home Fragrance
Home fragrance products, such as room sprays and diffusers, are also high-end in terms of pricing, and known for delivering long-lasting, delightful scents.
Popularity
Fragrance layering, signature scents, unisex appeal, high-quality ingredients, minimalist packaging, brand reputation and customisable gift sets have all contributed to the brands' popularity and universal appeal.
With so many options on places to purchase Jo Malone products, it does allow us to buy at more affordable prices and places such as Amazon and eBay have a great selection.
Conclusion
Jo Malone products are known for their distinctive qualities that have set the brand apart in the world of fragrance and cosmetics.
The brand's emphasis on fragrance layering and integration with its signature scents, and the use of high-quality ingredients have made Jo Malone a sought-after choice for those who appreciate sophistication and individuality in their scents.
The minimalist and elegant packaging, luxury retail experience, and collaborations with other prestigious brands have further enhanced the brand's appeal.
While Jo Malone products may be considered a luxury, the brand's strong reputation and commitment to quality have attracted a loyal customer base. The brand's impact on the fragrance industry and its innovative approach to scent layering continue to make Jo Malone a notable and enduring presence in the beauty and perfume market.
Ultimately, the popularity of Jo Malone products is a testament to the brand's ability to offer a unique and tailored olfactory experience that resonates with a wide range of consumers.
To stay updated with the latest news and exclusive offers, join our newsletter by entering your email below and becoming part of our community. Do not miss out on exciting updates!