Michael Bublé perfume is another fragrance line that has been added to the world of perfume. In recent years, celebrities from various fields, including music, film, and fashion, have ventured into perfumery.
These famous figures have recognised the appeal and market potential of creating their signature fragrances.
From musicians like Harry Styles, Beyoncé, and Rihanna, to actors such as Angelina Jolie and Emma Stone. Each celebrity brings their unique personality and style to their fragrance lines.
Their involvement in the perfume industry has not only led to the release of a wide variety of scents but has also proven to be a successful and lucrative business endeavour.
Fans and consumers alike eagerly embrace the opportunity to experience a touch of their favourite celebrity's essence through these fragrances.
We already know that we are very much influenced by celebrities, and when they bring out their perfume line, we are intrigued to find out more about the scents, how they were created and what they smell like.
Glamorous lifestyles
Celebrities have qualities or lifestyles that many people aspire to have. By wearing a fragrance associated with a celebrity, individuals feel a connection to that world of glamour, success, and luxury. We then feel part of that celebrity lifestyle, and it almost draws us closer to our idol.
Endorsers
Many celebrities of today are widely recognised and often seen as trustworthy figures. Consumers are more likely to purchase products associated with celebrities they admire and trust.
The celebrity's endorsement lends credibility to the product, especially if the consumer has a positive perception of that celebrity. We are far more likely to purchase perfumes when we know the background of who was involved in creating them.
Pop stars and TV stars have extensive platforms and fan followings so when it comes to marketing and promoting their latest music, film or product, they already have the audience and visibility.
Celebrities often demand high-quality products, and their fragrances are no exception. Consumers may believe that a celebrity-endorsed fragrance is of better quality and has been crafted with attention to detail, which can influence their purchase decision.
Very few will purchase from an unknown endorser.
They often work closely with perfumers to create unique scents that reflect their tastes and preferences. These distinctive fragrances can stand out in a crowded market, attracting consumers looking for something different and memorable.
Perfumes endorsed by celebrities can become collectable items and can be appealing to fans who may already have a record or film collection, posters and merchandise.
Endorsed Fragrances are often popular choices for gifts, as they offer a connection to a beloved celebrity and feel like a more luxurious present.
A Brief History of Michael Bublé
Who doesn't love the smooth and soulful voice of Michael Bublé? The Canadian singer, songwriter, and actor has a huge following on social media and is known for his silky tones and effortless vocals.
He has a successful career in the music industry and has released numerous albums, including "It's a Beautiful Day" Feeling Good, "Cry Me a River" and many more.
He is known for his interpretations of classic pop and jazz songs, and his Christmas album is the perfect vibe for the holiday season.
Regarding fragrances, Michael Bublé has ventured into the world of perfumes. He introduced a fragrance line for women, and the most well-known product from this line is "By Invitation, Rose Gold".
Affiliate Disclosure
As an Amazon Associate, I earn from qualifying purchases. Learn more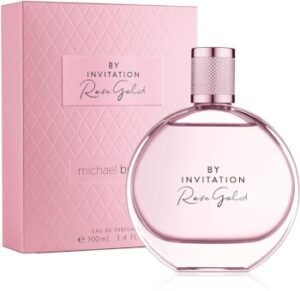 This fragrance, released in 2016, is described as a floral oriental perfume with notes of red fruits, bergamot, lily of the valley, rose, wild jasmine, and more. With its sensual and feminine aroma, it's no surprise that this perfume is very popular among women.
The fragrance was presented as an elegant and sophisticated option for women, offering good value for money as consumers have rated it highly for its moderate sillage.
The bottle features an elegant and simple design with a delicate rose gold colour both on the bottle and cap. As discussed in my previous article, "Fancy Designer Perfume", many designer bottles are often too bulky to carry in a handbag.
However, Michael Bublé's "By Invitation, Rose Gold" design offers simplicity, making it easy to spritz throughout the day if needed. Its simple, curvy, and elegant design allows it to fit perfectly inside a clutch or handbag.
Rose Gold fragrance notes
Top notes: red fruits, pear, magnolia
Middle notes: rose, plum, peony
Base notes: praline, vanilla, cinnamon
The "By Invitation" collection includes other fragrances, such as "Pour Homme", which comes in a 120ml bottle. This fragrance was released in 2018 and belongs to the wood family.




Pour Homme fragrance notes
Top notes: pink pepper, bergamot, grapefruit, ginger
Middle notes: neroli, geranium, flowers, white wood
Base notes: sandalwood, patchouli, musk
These base notes give the male wearer a masculine and sophisticated scent.
Conclusion
Michael Bublé's fragrance line, the "By Invitation" collection, offers a diverse range of scents designed to appeal to different tastes and preferences.
The 2016 release, distinguished by its floral oriental notes, has become a favourite among women for its sensual and feminine qualities. The elegant and user-friendly bottle design captures its appeal, making it a practical choice for daily use.
Furthermore, the addition of "Pour Homme" in 2018 provides a distinct and sophisticated fragrance option for men within the same collection. With its masculine and refined base notes, it offers an excellent choice for men seeking a more understated and elegant scent.
In both cases, these fragrances serve as a testament to the versatility of Michael Bublé's brand, appealing to a broad audience with their unique compositions and practical packaging.
Whether you're in search of a captivating and feminine aroma or a masculine and sophisticated scent, the "By Invitation" collection caters to a wide range of fragrance preferences.
Join our mailing list and be the first to know. It's easy! Just enter your email address and you'll be on your way to receiving all the latest news delivered right to your inbox.