Rihanna's favourite perfume
We don't have to look very far to search for Rihanna's favourite perfume or latest performance.
Google anything to do with the superstar and of late, the first video that pops up is her incredible performance on the Super Bowl on 12th February 2023.
Looking absolutely stunning in a pillar box red jumpsuit and heavily pregnant with her second child, we watch the hugely successful performance by the Barbadian singer.
Every social platform you visit will show the performer strutting her stuff to a mash up selection of her most successful tunes to date.
Watch Rihanna at the Super Bowl
There won't be many artists who can get away with such a performance on the Super Bowl as Rihanna has pulled off.
Being away from the limelight for the past four years, she certainly made an amazing return to the stage during the halftime show.
As she began her performance, suspended on a high platform, Rihanna started the show with a medley of hits such as We Found Love and Rude Boy.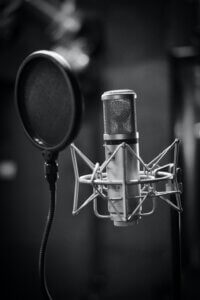 With more than 100 back up dancers, wearing white hooded jumpsuits and sunglasses, the dancers themselves were superb.
Every dancer was in unison, every move showcasing every line of the song that she was singing, and it was near impossible to not watch over and over again, just to revisit such a unique performance.
Even the deaf sign language interpreter, Justina Miles, got recognition as she danced and signed her way through the chart topping tunes and went viral on social media with her own enthusiastic performance.
Rihanna would be forgiven for not jumping about the stage as she would normally do and still managed to look elegant, sexy and sophisticated with her subtle dance moves and powerful vocals.
Her back up dancers left no room for anyone to notice that the singing sensation's moves were more subtle.
A 13 minute fast paced dancing and top 10 hits, gave the performance a world record for the most watched Super Bowl performance in history as it reached 118.7 million views.
That'll take some beating!
The Queen of pop's performance actually had more viewers than the game itself.
Her performance has been recreated in many forms by young and old on platforms such as TikTok and Instagram reels and are just as entertaining to watch and admire the skill of copying such fast moves and sultry vibes from the pop legend.
The unique dance moves, created by choreographer, Parris Goebel, A New Zealand singer, director and actress was seen being rehearsed by over 14 million people on TikTok with Rihanna's backup dancers the Royal family Dance Crew.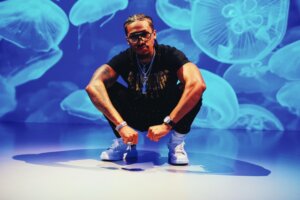 A brief insight into the singers history
Rihanna, born Robin Rihanna Fenty on February 20th 1988, is a singer, songwriter, fashion designer, and actress.
The pop singer is one of the bestselling female artist of all time, selling over 215 million records around the world.
Rihanna has also launched the cosmetics brand Fenty beauty, has appeared in several major acting roles and the fashion world, that saw her design clothing from lingerie, to sports wear and leather goods.
Rihanna-Reb'l Fleur
In August 2011, the superstar released her first fragrance called Reb'l Fleur to the United Kingdom.
With the very fitting tagline of 'Bad Feels So Good', Rihanna creates a beautiful scent in a uniquely designed bottle.
According to online sources, her grandmother used to call her 'Rebel Flower' and so she began layering fragrance notes to create a scent that spoke a thousand words and said "Rihanna was here".
Affiliate disclosure
When you click on links to various merchants on this site and make a purchase, this can result in this site earning a commission. Affiliate programs and affiliations include, but are not limited to, the eBay Partner Network.
With a beautiful selection of fragrance notes, the bottle design alone reminds me of the Eiffel Tower as it tapers inwards to form a vertical shaped bottle.
RIHANNA REB'L FLEUR 30ML EAU DE PARFUM SPRAY BRAND NEW & SEALED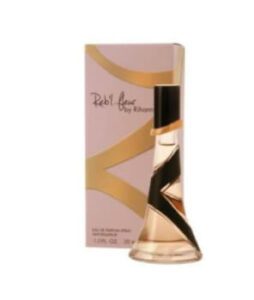 Top notes : plum, berries, peach
Middle notes: Hawaiian hibiscus flower, coconut water, violet, tuberose
Base notes: Vanilla, amber, musk
"Very long-lasting" said one purchaser.
"A beautiful exotic scent " said another.
Rihanna's favourite perfume
More and more celebrities are creating their own fragrances, as well as endorsing other brands.
It may come as a surprise though but there are many celebrities who don't actually wear the perfume they endorse.
Some will go for a reasonably priced scent whilst others have more of an expensive taste.
Kilian-Love, Don't Be Shy
Besides endorsing her own fragrance, Rihanna has another favourite scent that she loves to wear and get heads turning.
Love by Kilian with a tagline 'Don't Be Shy' seems to fit perfectly for such a carefree, creative and talented star.
If you ever wanted to smell as good as a pop star, then this is the fragrance for you.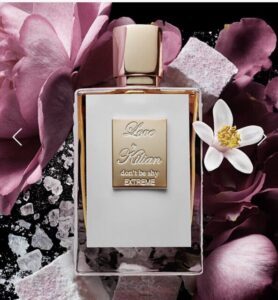 LOVE by KILIAN Don't Be Shy EXTREME 1.7 oz (50 ml) EDP Perfume
Launched in 2007, it may not be a fragrance that you have heard of before, but it certainly packs a punch when other celebrities comment on how good Rihanna smells when wearing it.
It possibly goes without saying that it is not the most affordable perfume on the market, but do you expect anything less from Rihanna's taste in designer perfume ?
Fragrance notes 
Top notes: pink pepper, bergamot, neroli and coriander
Middle notes: jasmine, orange blossom, honeysuckle, Iris, rose.
Base notes: vanilla, sugar, musk, caramel, civet, and labdanum
The French perfume is very sweet for those that love this type of fragrance and has a feminine but simplistic bottle with a gold top and is also refillable.
Something that Kilian wanted to introduce and sustain with his belief that "True luxury should last forever".

Kilian Hennessy wanted to launch a brand that lifted the perfume industry back to how it first began in the late 19th and early 20th century.
He added his own twist and bought his own memories to life in each bottle.
Other Kilian perfumes available on eBay
The master of such scents believes that perfume isn't only for those who wear it to be noticed or seduced, but also as a protective layer that we can wear to shield us from the outside world.
Over the years, he has created a simplistic line of fragrances that are strong, long-lasting, noticeable and speak power on their first spray.
Conclusion:
Rihanna's favourite perfume is a testament to her exceptional taste and keen sense of style.
As a multifaceted artist and influential figure in the fashion and beauty industry, Rihanna has effortlessly crafted a fragrance that embodies her essence.
Through her brand, Fenty Beauty, she has created a perfume that captivates the senses, evoking a sense of confidence, empowerment, and femininity.
With its unique blend of notes and its elegant packaging, Rihanna's favourite perfume truly stands out as a representation of her artistic vision and enduring legacy.
For fragrance enthusiasts and fans alike, experiencing Rihanna's favourite perfume is an opportunity to immerse oneself in the essence of her extraordinary journey and be inspired by her unwavering commitment to self-expression and creativity.
If you want to smell like a superstar and have heads turning like Rihanna, try a sample of the perfume before you purchase a bottle.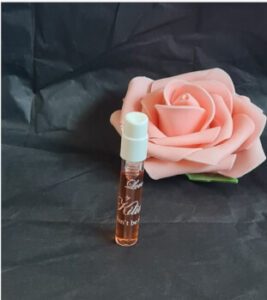 It's a great way to know if the scent will suit your skin without committing to a 50ml fragrance that could sit in the cupboard for years.
Sign up for our monthly newsletter for the latest news in the perfume world, where to buy samples of designer-inspired fragrances and more.