Scented wardrobe fragrances – a review
Our homes are filled with scented fragrances so I wanted to share a scented wardrobe fragrances review with you all.
We've seen the candles, the wax melts and the room sprays. All very popular.
So what about making out wardrobe smell good too ?
Working with a perfume company for the past 7 years, we are never short of fragrance products to use and recommend.
I am a firm believer that we need to try something before we purchase.
Makes sense right ?
We wouldn't recommend a film or a restaurant to a friend if we've never seen the film or eaten at the restaurant.
Wardrobe fragrance
Affiliate disclosure
When you click on links to various merchants on this site and make a purchase, this can result in this site earning a commission. Affiliate programs and affiliations include, but are not limited to, the eBay Partner Network.
We all want our clothes to smell fresh and to some extent they are when they have been first washed.
In the UK, we can have several seasons in one month so we don't get the opportunity to pack our summer clothes away and into the loft.
You can guarantee as soon as one of your favourite items of spring clothing is packed away for summer, we'll get a spring- like day and wish we weren't so hasty.
Wardrobe fragrances have the ability to give off a subtle scent and they are a wonderful creation that adds a hint of perfume to the wardrobe.
Suitable for men and women
Its common knowledge that ladies do tend to have more room for their clothes and the men are left with a small rail, clothes smashed up, fighting for extra space.
Women have more clothes so we should have more space, right ?
My husband would beg to differ…
FM have created a unisex wardrobe fragrance so that even when both sets of clothes are shared in one wardrobe, both partners can benefit from having fresh smelling laundry.
The great thing too about these fragrances is that we don't have to confine them to the wardrobe.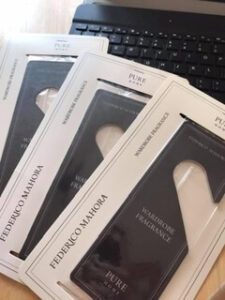 Just because they're called a wardrobe fragrance doesn't mean we can't use them elsewhere.
They can be hung in the car or on a curtain rail too.
More than just a wardrobe fragrance
I have one hanging on the indicator stick to keep my car smelling fresh as i have found many car fragrances can be very overpowering.
I also have one hanging from the back door curtain pole in the kitchen.
It's more difficult to keep a kitchen smelling fresh as it's not recommended to use sprays.
They can coat kitchen surfaces when settled, which isn't great when surfaces are needed for cooking.
With a handy shape that fits around the wardrobe pole, they are simple to use and last a few months.

Where to buy – FM World
Benefits  –
affordable
fresh smelling clothes
built in hanger
long lasting
available scents
9 ladies fragrances
4 men's fragrances
1 Maldives scent
1 Singapore Twilight scent
1 unisex
Rating – 8.5 out of 10
Having tried a few wardrobe fragrances over the years , I have found that many on the market don't last very long.
Have you ever used a wardrobe fragrance ? Comment below and let us know what you thought of your purchase.
Get in touch if you have any questions on our products.