Fm perfume no.18 review.
Having been a wearer of FM perfumes including our FM perfume no.18 for the past 7 years, I loved the idea that I could buy designer inspired fragrances at a fraction of the cost.
Being a more affordable option allowed me to buy several of my favourites so that I could choose which one I wanted to wear on a particular day.
It's great to have the option to choose which one you are going to wear by what your plans are for that day, although there is nothing wring with wearing a signature fragrance.
FM perfumes range in PURE, INTENSE and PHEROMONES so this gives the buyer a bit more freedom when it comes to choosing which kind to wear.
An inteview, night out with the girls or even a date night deserves a special fragrance.
Each perfume category has a different strength.
The PURE collection and PHEROMONE collection consist of 20% perfume oil and the INTENSE range will consist of 30% perfume.
The reason for different strengths
If you are looking for a daytime scent that lasts you or the majority of your day, then the PURE perfume fits the bill.
For those who are looking for a scent that lasts the day and beyond, then the INTENSE selection is suitable. This one has 30% pure perfume so you really do get longevity with this one.
Anyone who likes a scent that appeals to the opposite sex, then a PHEROMONE is the perfect bottle to buy.
FM World have a variety of pheromone scents to choose from in the online shop.
Affiliate disclosure
When you click on links to various merchants on this site and make a purchase, this can result in this site earning a commission. Affiliate programs and affiliations include, but are not limited to, the eBay Partner Network.
Price : £24.00
where to purchase: FM World
Size of bottle : 50ml
My rating : 9-5 out of 10
Fm perfume no.18 fragrance notes
Head notes : Orange, orange blossom,
Heart notes: Rose, Jasmine, ylang-ylang
Base notes : White Musk,Vetiver,tonka bean, Vanilla
Fm perfume no.18 is part of the Chypre family which gives a sensual and tempting allure of radiance.
If you happen to be a lover of Chanel and one of their popular fragrances, Coco Mademoiselle, then fm perfume no.18 will bring the sweetness and fruity notes in the same way.
FM perfumes are inspired by the designers.
They use the same fragrance oil as that of the designers.
So you will find that no.18 will smell very similar if not identical to that of Chanel, Coco Mademoiselle.
FM perfume no.18 Review
It's clear that many still compare Fm perfumes to designers.
Therefore there is disappointment when they are led to believe that they will experience an identical fragrance from this product.
When no.18 doesn't live up to their expectations as a comparison to the designer bottle, we begin to question why not.
There will of course be many factors into why the same fragrance doesn't last as long on some people's skin as others.
There is also the factor of skin preparation before a perfume bottle is sprayed. Long lasting fragrances
For the price you pay with FM perfumes, you certainly do get value for money.
If money is no object and you can afford to buy the top designers, then there certainly isn't anything wrong with that.
Remember to store your bottles correctly for longer lasting fragrances.
If you love designer scents but the price tag is something that puts you off purchasing, then taking a look at FM fragrances is definitely the way to go.
When we have celebrities such as Stacey Solomon using FM fragrances, we know we can trust their selection of perfumes.
Stacey has often posted about FM perfumes on her Instagram feed and you can see her every own bottle of FM18 sitting on the right hand shelf in her bedroom.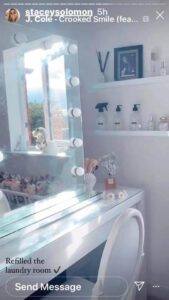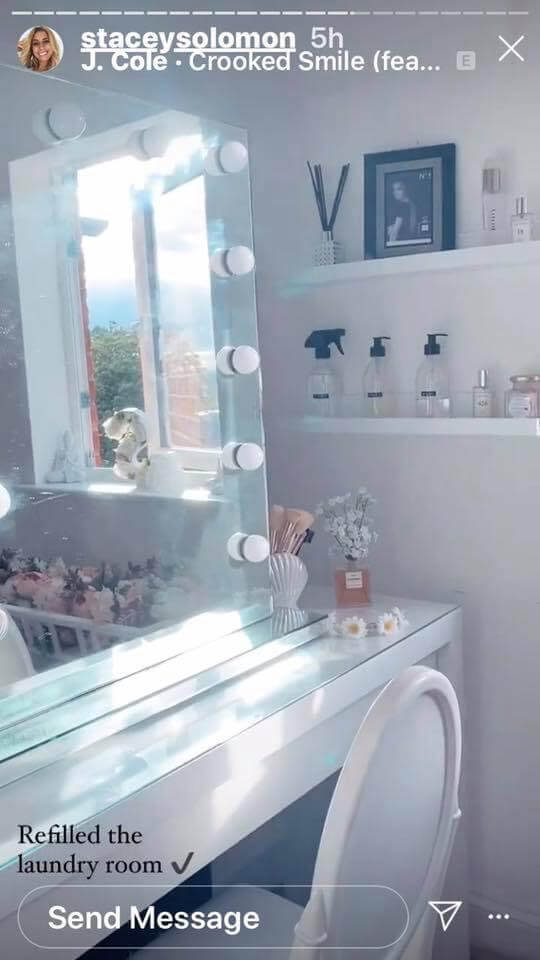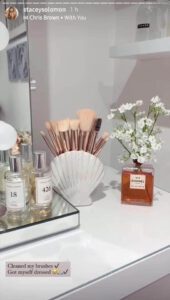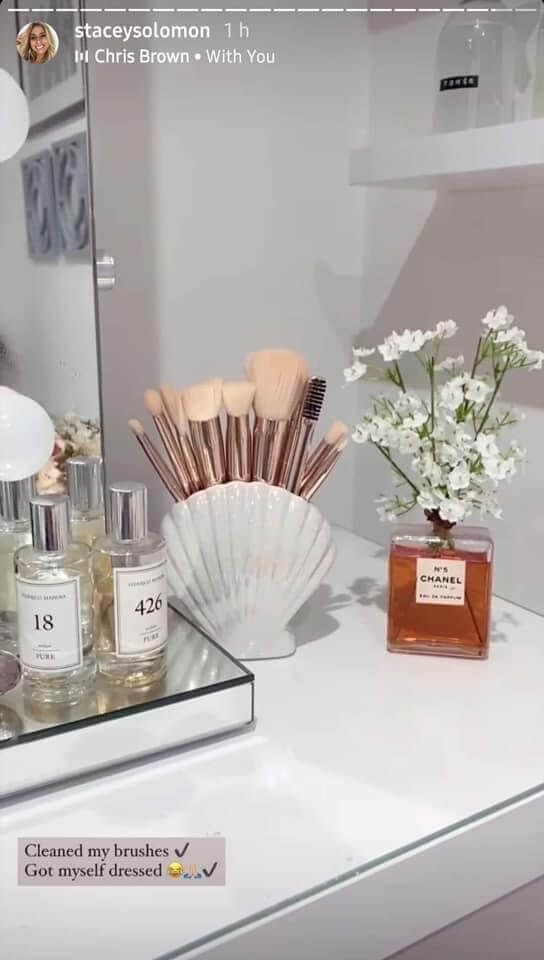 We're very much influenced by what the celebrities wear when it comes to their choice of fragrances and Stacey shows hers off proudly.
NB: Stacy Solomon isn't an endorser for FM perfumes. She simply wears our fragrances for their quality and scent.
I'd love to hear from you if you have any questions on FM fragrances or wish to try any samples.
Related article: Chanel No.5 perfume history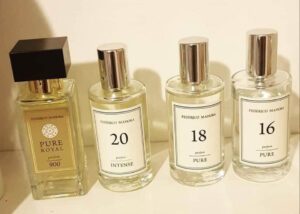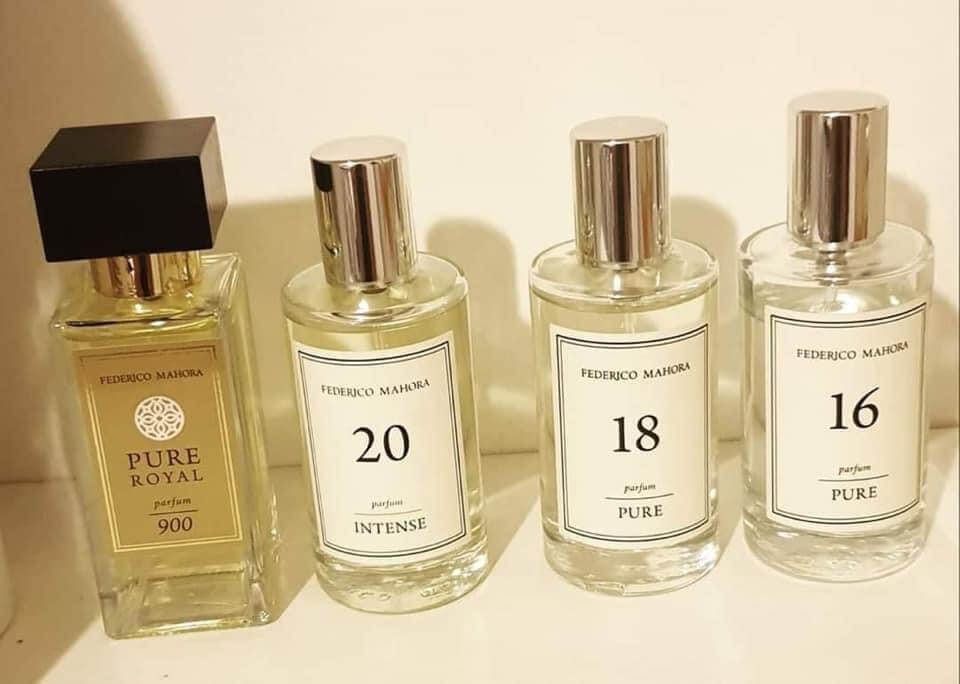 Conclusion
FM Perfume No. 18 is a remarkable fragrance that captivates the senses with its unique blend of scents. As explored in this article, its combination of fresh citrus notes, delicate florals, and warm undertones creates a truly enchanting olfactory experience.
The perfume's longevity and sillage are also commendable, ensuring that the fragrance lingers on the skin throughout the day.
One of the notable aspects of FM Perfume No. 18 is its versatility. It seamlessly transitions from day to night, making it suitable for any occasion.
Whether you're heading to the office, attending a social event, or simply going about your daily routine, this fragrance effortlessly complements your style and enhances your confidence.
Furthermore, the quality of FM Perfume No. 18 is exceptional, considering its affordable price point. It manages to rival high-end fragrances in terms of its composition and performance, making it an accessible luxury for perfume enthusiasts and those seeking a signature scent.
The article also highlights the brand's commitment to ethical and sustainable practices, further adding to the appeal of FM Perfume No. 18.
Knowing that the fragrance is cruelty-free and manufactured with eco-friendly practices allows consumers to indulge in this perfume with a clear conscience.
In summary, FM Perfume No. 18 is a fragrance that deserves recognition for its exquisite composition, long-lasting nature, and affordable price.
Its ability to effortlessly complement various occasions, combined with the brand's commitment to ethical production, makes it a standout option in the world of perfumery.
Whether you're a perfume connoisseur or someone searching for a signature scent, FM Perfume No. 18 is a must-try fragrance that will undoubtedly leave you with a lasting impression.