Harry styles' Pleasing range
Few are unaware of the remarkable talent and influence of Harry Styles. As his 'Love On Tour' concluded in July after two years, Styles now introduces his 'Pleasing' range, featuring three new fragrances.
Styles captivated into stardom back in 2010, when he became one fifth of the pop group One Direction from the ITV show The X Factor.
Since then, he has taken the world by storm as a solo artist, embarking on a sell-out world tour, becoming  an icon in the fashion industry and achieving success with his film debuts, such as 'Don't Worry Darling' and 'My Policeman'. These films showcase Styles' multifaceted talent, proving that his artistry extends beyond just singing.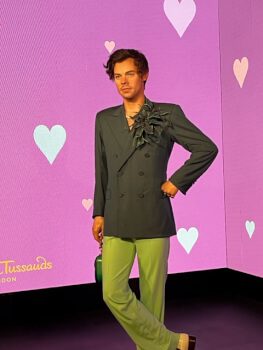 In 2021, Harry ventured into the beauty world, launching his own beauty brand that offers a range of products, including  nail polish, skin care and cosmetics. Now, in the coming month, the brand is set to make its mark in the vast world of fragrances.
Harry Styles, in addition to creating fragrances for his brand, also has his own personal favourite scents that he enjoys wearing.
Related article: Harry Styles' favourite fragrances
The 'Watermelon Sugar High' singer is no stranger to the fashion industry. His eccentric and gender-fluid fashion style, complete with sneakers and brightly coloured nail varnish during performances, perfectly compliments the showman he has become.
The Love On Tour logo is distinctive and vibrantly coloured, exuding an uplifting vibe. Harry's website saw a swift sell-out of hoodies and T-shirts as they were released.
Styles' follows in the footsteps of other celebrities, like Taylor Swift, Ariana Grande and Beyoncé, in creating their own brand of fragrances.
The debut perfumes named Closeness, Rivulets and Bright Hot  are set to be launched on 16th November 2023 under the Pleasing brand. These fragrances have been created in collaboration with the renowned French fragrance house, Robertet.
The release of Styles' fragrances  are set to debut in London, New York, and Los Angeles, and will be available for purchase through the official website, Pleasing.com
The exact scent profiles of these new fragrances remained a mystery, until now and we know that Harry has chosen scents that evoke warmth and the freshness of skin. Regardless of the specific fragrances and pricing, their connection to such an iconic star is bound to make them sell out quickly.
The pleasing range fragrance notes
Closeness- Eau de parfum
Top notes: Cardamom, Australian pink pepper extract, clean sheets accord, EO
Middle notes: Orris butter, bamboo, carrot seed France
Base notes: Indian papyrus, cashmere woods, salted musk
Bright, Hot Eau de parfum
Top notes: plum, tobacco leaves
Middle notes: Orris butter, marine accord
Base notes: cedarwood, Tonka bean absolute, vanilla absolute Madagascar, crisp, amber
Rivulets
Top notes: Ambrette seeds, lemon, black peter, Madagascar
Middle notes: white linin, accord, poplin blossom
Base notes: ambroxan, skin musk
For those eager to get an early sniff of the new collection, Pleasing.com has begun including samples of each scent for fans and loyal followers to get an exclusive preview of these creations.
We are often strongly influenced by celebrities in our surroundings. When we see high-profile celebrities releasing new songs, perfumes or clothing ranges, our eagerness to be among the first to purchase these items is often undeterred by their price.
Fans of Styles from around the world, including myself, are eagerly awaiting the launch of these perfumes. There's little that escapes the eagle-eyed fans as followers of the pop singer have recently spotted Harry in London alongside James Cordon, riding Lime bikes- a far cry from their usual mode of transportation.
The 'As It Was' singer has been enjoying some downtime with his best friend since his world tour concluded in August and photographers haven't missed a moment to capture these moments.
Harry hasn't been out of the limelight since his last show in Reggio Emilia, Italy on 22nd July 2023.
The 'Daylight' singer has been photographed swimming in the London pond at Hampstead Heath during the UK's heatwave. He's also been seen casually strolling through the streets of London with his girlfriend, Canadian actress Taylor Russell.
Compared to many celebrities today, who are often accompanied by a fleet of bodyguards, Harry is frequently seen walking alone. It's quite remarkable to witness that he can go about his daily life without being bothered by anyone.
Of course, there are always paparazzi nearby, and the occasional lucky fan who manages to catch a glimpse of the star as he goes about his daily life.
Being a megastar naturally attracts attention, yet the 29 -year -old can calmly stroll through London, dressed in shorts, a hoodie, a baseball cap, sunglasses, and AirPods seemingly going unnoticed by the public. He walks freely, blending in like any other member of the public. It sounds like the perfect life- immense success on stage, and the ability to lead a 'normal' life when he's not performing.
Harry's fans have consistently shown great respect for his personal life and space, which becomes evident when pictures emerge on social media platforms like Instagram and TikTok.
The star can freely walk alone while listening to music. His favourite artists include Paul McCartney, Stevie Nicks from Fleetwood Mac, and Paul Simon. Interestingly, there isn't a bodyguard in sight.
Sign up for our monthly newsletter to stay updated with the latest news in the perfume world, discover the best winter candles to purchase, and find out where you can sample your favourite scents.
Affiliate disclosure
As an Amazon Associate I earn from qualifying purchases. Learn more
Love on Tour merchandise available at Amazon