FM 924 Perfume Review

If you're looking for a perfume to get heads turning, we have a delightful fragrance to do just that. Our FM 924 perfume review showcases the gorgeous scent from the Pure Royal perfume range. Over the years of working with FM WORLD, a unique perfume company founded in Poland by Artur Trawinski, I have tried many of their fragrances.
Like many perfumes and aftershaves we have tried over the years, there will always be some scents that are more favourable than others.
Both men and women are passionate about fragrances, with many of us wearing them daily. They lift our spirits, and give us a feel-good factor, and, if we choose the right scent, we can receive compliments on the fragrance we are wearing.
Everyone loves an affordable perfume or aftershave. We already know the perfume industry continues to grow as more and more celebrities endorse fragrances as well as introduce their line of aromas.
Big celebrities such as Harry Styles, Beyoncé, and Taylor Swift have all ventured into the fragrance world, and consumers are always eager to discover the latest popular scents.
While many of these brands can be affordable, many designer perfumes tend to fall in the higher end of our price range.
More often than not, when we spend between £80 to £150 on our favourite fragrance, the bottle can end up sitting in the wardrobe until a special occasion arises for us to wear it. No one wants to wear an expensive bottle of perfume to work daily.
This is where FM WORLD perfumes fit the bill – literally.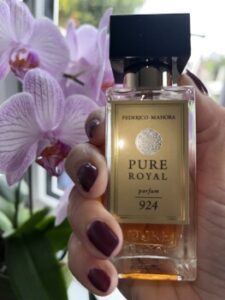 They have created beautiful fragrances for both men and women that are not only affordable but also long-lasting.
Many customers claim that they last longer than designer fragrances because FM fragrances contain 20% pure perfume oil, compared to the 16% and lower found in designer perfumes.
If you have ever come across any of my previous posts here at Fragrances With Love, you will already know that FM perfumes for men and women are not replicas of designer fragrances.
We use the same perfume fragrance wheel as other perfume companies and purchase the perfume oil from the same company called DROM. The similarity in scent profile makes our fragrances closely resemble designer scents.
FM 924 shares a remarkably similar aroma to Tom Ford Noir Extreme, and these similarities become evident when we examine the perfume notes in Noir Extreme.
Top notes: cardamom, nutmeg, saffron, mandarin orange, neroli
Middle notes: kulfi, rose, mastic/lentisque, orange blossom, jasmine
Base notes: vanilla, amber, woody notes, sandalwood
It's interesting to see the similarities and differences between the two fragrances, especially in their top and base notes.
Choosing a more affordable option that is easier on the wallet enables us to purchase additional bottles of the fragrances we adore.
This beautiful scent is unisex and boasts a complementary selection of perfume notes that exude class, sophistication, and sharpness.
Currently, it's one of my favourites because its scent is strong but not overpowering, and the instant hints of cardamom and nutmeg dance on the nose.
It can be challenging for perfumers to strike the right balance when creating a unisex fragrance.
FM 924 can maintain a touch of femininity while also balancing some masculine notes.
What to expect from this scent
Upon the first spray, you instantly recognize the cardamom and nutmeg, with a touch of fruitiness from the mandarin. As the fragrance settles on the skin, the jasmine, floral notes, and rose come through.
Towards the end of the day's wear, the base notes of sandalwood and vanilla blend beautifully with their sweetness and charm. There's also a lingering woody aroma that makes this scent perfect for both genders.
I've received numerous compliments while wearing this scent and it truly adds to the feel-good factor that brightens our day.
The Pure Royal bottles are simplistic yet classy with their square lines, square cap and engraved 'Pure Royal' on the bottle. They are a convenient size to carry in your handbag or clutch purse for a night out.
FM Perfume No.924 Fragrance Notes
Type: Casual, transparent, friendly
Top notes: mandarin, neroli, saffron, cardamom, nutmeg
Middle notes: Damask rose, jasmine, orange flower, floral notes, cedarwood
Base notes: sweet wood, sandalwood, vanilla, milk
Price: £34.00 purchased directly from FM World
Distributor price: £24.00  register for a FREE UK account here
( Get in touch for signing up in other countries)
Size of bottle: 50 ml
My rating: 10 out of 10
Conclusion
In the world of fragrances, finding that perfect scent that not only captivates your senses but also fits comfortably within your budget can be a rewarding experience.
FM 924, with its captivating blend of notes reminiscent of Tom Ford Noir Extreme, is a shining example of quality and affordability in the perfume world.
FM WORLD has crafted fragrances that stand out not as mere imitations but as unique and delightful creations of their own.
Subscribe to our monthly newsletter for the latest updates in the perfume world, reviews of your favourite scents, and much more.