Winter-scented candles are popular during the colder months and are designed to kindle the cosy, festive, and comforting atmosphere of winter. We all love the seasons for what they bring individually, and winter will always see a huge collection of beautiful candles available in the shops to purchase as gifts or for our personal use.
Such candles are often used to add warmth and atmosphere to homes during the holiday season and throughout winter, so let's take a deeper look into winter-scented candles.
Candle fragrances
Winter candles come in a wide range of fragrances, but they often feature scents associated with the season, such as pine, cedar, cinnamon, cloves, nutmeg, vanilla, cranberry, peppermint, and various citrus notes. These scents remind us of holiday decorations, family time together, and the crispness of winter air as the seasons change.
Many winter candles are themed around holidays like Christmas or New Year's. They may have names and labels that reflect these types of holidays and often come in festive colours such as red, green and gold and packaging to make them more appealing to the consumer.
They are typically made from a blend of wax, such as soy wax, paraffin wax, or beeswax and infused with essential oils, fragrance oils, or a combination of both to create the desired scents.
Affiliate Disclosure
As an Amazon Associate, I earn from qualifying purchases. Learn more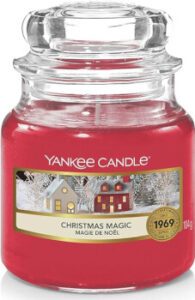 Some candles may also contain natural segments like dried herbs or spices that add a more visual appeal. These styles of candles bring a sense of the crisp outside leaves into the warmth of our homes and also make beautiful table decorations.
There are various container options, including glass jars, tins, and ceramics. The container is not only functional but also adds to the overall decoration of the candle. Many of these can be up-cycled around the home.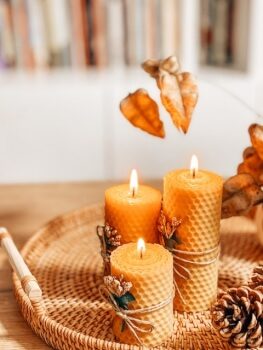 Related article: reusing candle jars
Winter-scented candles are available in various sizes, from small tea lights that sit neatly on the dining table to large pillar candles that look particularly elegant inside lantern lamps in a larger room.
Whatever the occasion, there is the perfect style suitable for everyone. The burn time depends on the size and type of wax used. Smaller candles typically burn for a few hours, while larger ones can provide fragrance and warmth for many hours.
To boost the festive feel, some winter candles are decorated with pretty elements like glitter, ribbons, or labels that feature wintry scenes, snowflakes, or holiday motifs. Pinterest shares some lovely ideas on how to decorate your candles.
Winter-scented candles are a popular choice as gifts during the holiday season or for someone's birthday during the latter part of the year. They make thoughtful and cosy presents for friends and family, especially when it may be hard to know what to buy someone.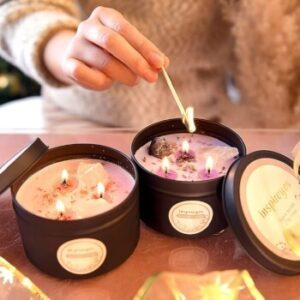 We've all been there, struggling to find the perfect gift. A candle is a great go-to item that most people will appreciate.
When using any style of candles, it's essential to follow safety precautions. Keep them away from flammable materials, never leave them unattended, and trim the wick to about 1/4 inch before each use. Consider using candle holders or trays to catch any wax drips.
If you have pets or young children at home, make sure they are kept out of reach and not in a place where they can be knocked over or grabbed.
Winter-scented candles are typically available in stores and online during the fall and winter months. Retailers often release new scents and designs each year to capture the essence of the season and entice the consumer.
Whether you prefer the classic scent of evergreen or the spicy warmth of cinnamon and cloves, winter-scented candles can enhance the atmosphere of your home during the holiday season and throughout the winter months. I particularly love the shadows that lit candles create in a soft-lit room.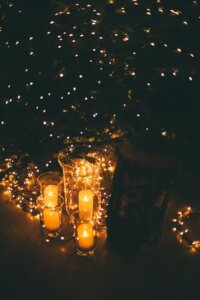 The difference between winter and summer scented candles
Winter-scented candles and summer-scented candles differ in their fragrance profiles and the overall atmosphere they create. Their scents complement the distinct characteristics of each season.
Winter Scented Candles
These candles often feature fragrances associated with the colder months. Pine, cedar, fir, spices (cinnamon, cloves, nutmeg), vanilla, cranberry, and peppermint, are often seen on the shelves and online. They bring Christmas and the festive season into the home and a warm feel to the crisp, cool air of winter.
Summer scented candles
These candles are designed to bring a freshness and relaxed feel that we experience during summer. They are typically lighter, more refreshing scents that bring the warmth and vibrancy of the season.
Related article: Summer scented candles
Common summer scents include fresh-cut grass, ocean breezes, tropical fruits (such as coconut, pineapple, and mango), floral notes (like lavender and jasmine), and citrus fragrances (lemon, lime, and citrus blossom).
Mood and Atmosphere
Winter candles aim to create a cosy and comforting atmosphere, perfect for the holiday season. These scents are often warm, inviting, and nostalgic, evoking the feeling of being bundled up by a fireplace with the family.
They create a wonderful ambience for holiday gatherings, creating a sense of warmth and togetherness.
Summer candles are intended to convey a sense of freshness, lightness, and relaxation. They are perfect for enhancing the laid-back, carefree vibe of the season.
Whether you are relaxing in the garden or on holiday, these scents bring a tropical feel to your surroundings. They can trigger memories of beach holidays, outdoor picnics, and sunny days spent by the water.
Visual Appeal
Winter-scented candles often have labels, containers, or decorative elements that reflect holiday themes, like snowflakes, winter scenes, or festive colours.
Summer-scented candles often have bright, cheerful packaging and designs inspired by beach scenes, tropical destinations, or vibrant summer colours.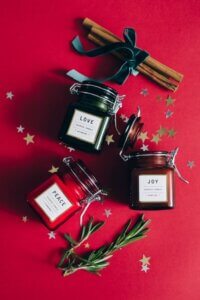 Occasions
Winter-scented candles are often used during the holiday season, and many people have them around there throughout winter to keep the cosy, warm atmosphere going. They are popular for holiday decorating and creating a warm, festive atmosphere.
Summer-scented candles are frequently used during outdoor gatherings when we have barbecues and friends/family are joining us and are used to infuse your home and garden with the spirit of summer during the warmer months.
Yankee candles are not only very popular during winter but also cherished for their delightful fragrances, creating a cosy and inviting atmosphere that warms hearts and homes throughout the chilly season.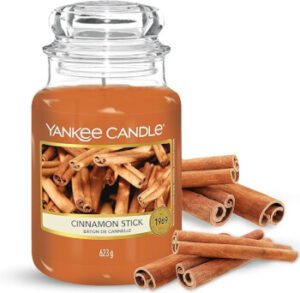 Conclusion
Winter-scented candles offer a delightful way to capture the spirit and ambience of winter. Often infused with fragrances similar to warm spices, and holiday treats, they serve as a source of comfort and nostalgia during the colder months.
Whether used for holiday celebrations, relaxation, or simply to enhance the cosy atmosphere of our home, winter-scented candles provide a sensory journey that appeals to our sense of smell and adds warmth to our surroundings.
Their popularity during winter stems from their ability to create a festive, cosy, and inviting environment.
With such a variety of candles available during winter, we are spoilt for choice with such a large collection. There is something suitable for everyone and every home.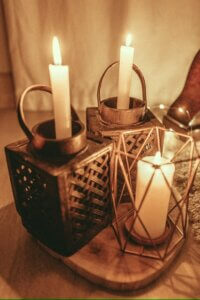 Don't miss out on the latest updates, exclusive offers, and exciting news! Sign up for our newsletter today to stay informed and be a part of our vibrant community.