Perfumes that last all day
Men and women love fragrances, there is no doubt, but how difficult is it to find perfumes that last all day?
Whether it is a fragrance to wear for a wedding, a day at work, or out and about sightseeing, we all look for a scent that can stand the longevity of the day.
Very few designer and expensive perfumes and aftershaves will last for 8 hours, so there is the need to re-apply at some point during the day.
Not everyone wants to carry a bottle of their favourite around with them.
Especially if your taste in perfume has a designer bottle that is more fitting for your bedside table than in your handbag or briefcase.
Affiliate Disclosure
When you click on links to various merchants on this site and make a purchase, this can result in this site earning a commission. Affiliate programs and affiliations include, but are not limited to, the eBay Partner Network.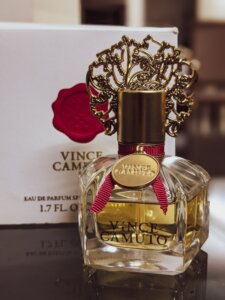 We are often drawn to a designer bottle before we try the scent. The celebrity behind a fragrance will influence our purchases as well.
Another factor alongside a perfume that lasts all day is the cost. Many of us have expensive taste in fragrances not always the budget that goes with it.
Welcome to FM World- affordable fragrances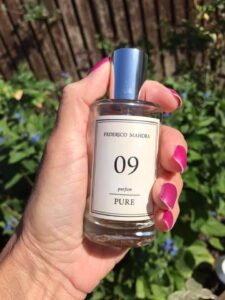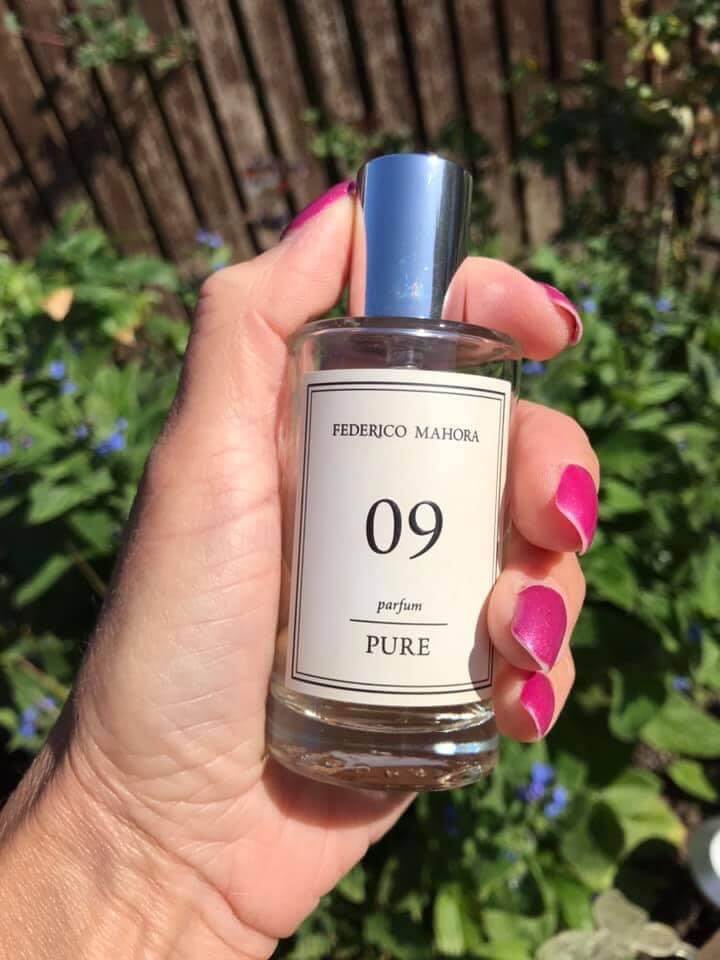 This is where FM World perfume bottles for men, women, and unisex scents come into play.
With a vast selection of scents that suit any budget and inspiration from the designer perfumes that we see on the shelf and online today, it's of little surprise why so many people are buying their next bottle from a successful company.
FM WORLD knows just what their customers are looking for in a fragrance.
■ Affordability

■ Longevity

■ Gorgeous scents

■ Matching products

Have you noticed that we haven't put fancy design bottles?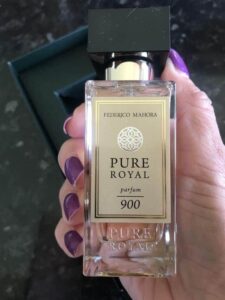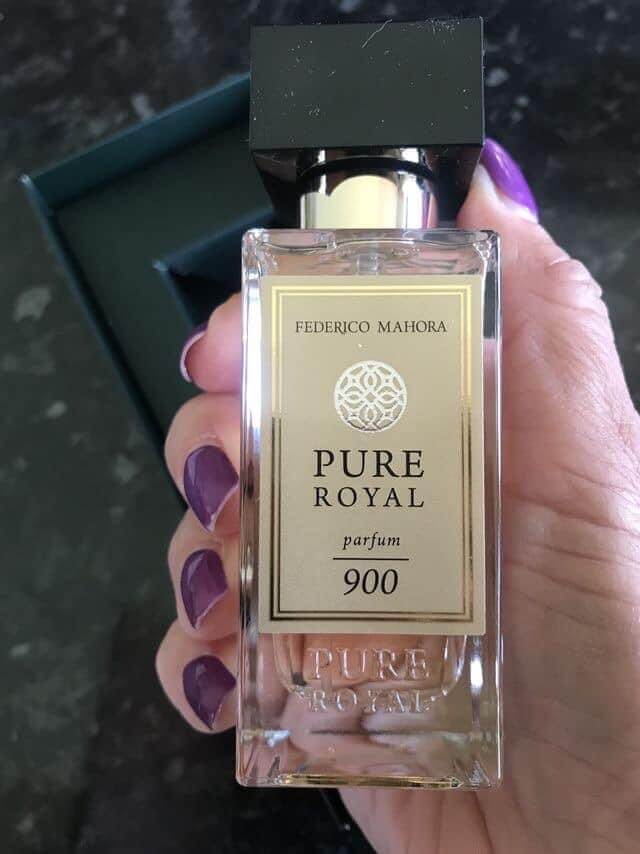 FM WORLD knows that they don't need to create a flashy and glitzy designer bottle to sell their fragrances.
Simplicity is key, along with a scent that has beautiful notes to suit anyone, including children.
Related article: fragrances for children
Why is FM perfume so popular?
First of all, FM has created perfumes that come in simplistic bottles as we know that it's the scent that the customer wears and not the bottle.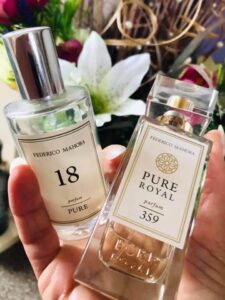 Secondly, the company has no celebrity endorsers, TV advertisers, or sales reps in store as their products can only be purchased through a distributor or preferred customer. More details about that later.
They have created perfumes that contain 20% perfume.
When we look at designer bottles, more often than not, we purchase a bottle of eau de toilette.
Purchasing a bottle of pure perfume with a designer label could set you back around £100-£350 ($112-$393).
This will also depend on who the designer is.
Many designer fragrances are diluted whereas with FM perfumes, they use pure oil.
Using pure perfume oil
FM can afford to use pure oil because as mentioned above they don't use the endorses or advertise anywhere so they are not paying out for these external sources.
A very savvy way of creating perfumes and aftershaves.
FM bottles are numbered
The bottles are still elegant, there is no doubt and instead of having a name on each bottle, FM uses numbers for each of their perfumes.
Customers know that if they purchase a bottle of FM perfume, they will have a scent that lasts around eight hours if they purchase a bottle from the PURE range.
A great benefit to these perfumes is that there is a selection that comes with an INTENSE range.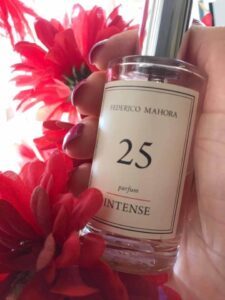 Did you know that FM also creates pheromones?
Related article: Perfume pheromones
The INTENSE range simply means that the perfume oil is 30% instead of 20%.
With a higher rate of perfume oil, you will most certainly enjoy a long-lasting perfume for men and women as the scent will last around 10 hours.
We know that in today's world, money is a big problem for many and shoppers see buying perfumes as a luxury, especially the high-end expensive brands.
10% OFF At HottPerfume.com Orders $50 & Up
This is another reason why FM has created beautiful fragrances that everyone can afford.
Having a range of sizes also makes it a better and affordable option for many. There are 100ml, 50ml and 15ml bottles.
Women love perfumes that fit neatly in their handbags and are small enough to take on a plane for a holiday.
With such a huge collection to choose from, it's of little surprise that both women and men have fallen in love with the gorgeous scents of FM fragrances.
Many have heard of the fragrance wheel and this is used when we perhaps want to try a new scent and aren't sure what type of scent to try.
Looking at the fragrance family helps to narrow down our choices.
Perfumes are based around different fragrance notes and when we combine similar notes, it becomes more likely that scents smell similar to other perfumes on the market.
We have previously discussed designer perfumes and FM fragrances and their similarities here so we know that there are no copycat perfumes within FM.

How to save more money on your fragrances
FM gives everyone from all over the world the opportunity to join the company for FREE!
With many companies such as Avon, Arbonne, or Scentsy, there is a registration fee.
Something that not everyone wants to pay out, especially if it turns out that the company isn't a fit for you.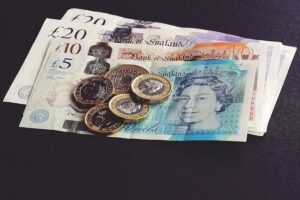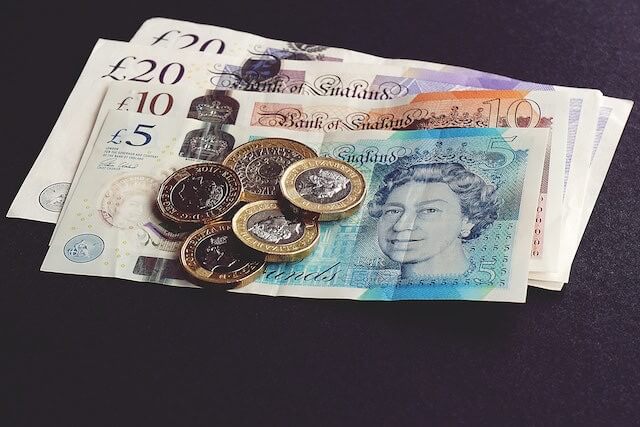 Signing up as a preferred customer:
Anyone can sign up over the age of 16 and the link for those who live in the UK can be clicked
here
.
If you are interested in signing up and you live outside of the UK, please
get in touch
and I will assist you with signing up in your country. We have offices all over the world.
The benefits of signing up:
Saving up to 33% on selected products in the catalogue to use for yourself or to sell to someone else. Friends and family gift ideas can be purchased from your account and every product that you purchase will give you points.
The more products you purchase for yourself or sell to others, the more commission can potentially earn.
Signing up as a distributor:
Working similarly to a preferred customer, the added benefit of signing up as a distributor is the opportunity to be able to build a team alongside purchasing the products at a discounted price.
You still earn your points and commission and the points that your team earns go into your group points as well as their accounts.
Are you a pyramid scheme?
No. Apart from pyramid schemes being considered illegal, let me explain why all businesses are 'pyramids'.
Below, you will see a pyramid 'structure'.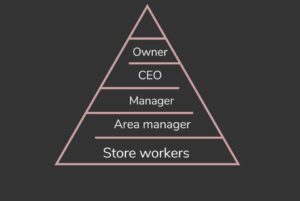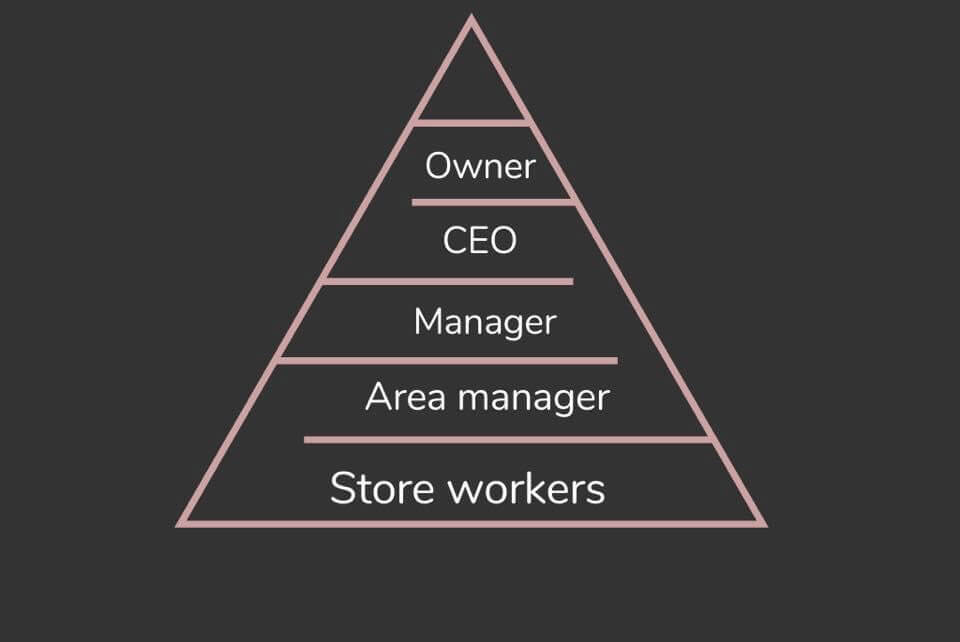 The majority of businesses will have this structure. Big businesses such as McDonalds, Boots, M&S and Wilkinson.
Everyone starts at the bottom of a pyramid the employees and some work their way up to the top to become a manager.
We all have our journey when we start a new 'job ' and reach different levels at different times in our business.
The same goes for Network Marketing.
We all start at the bottom and build our structure and that structure builds its own and so on.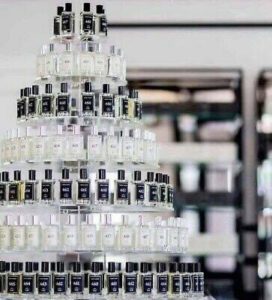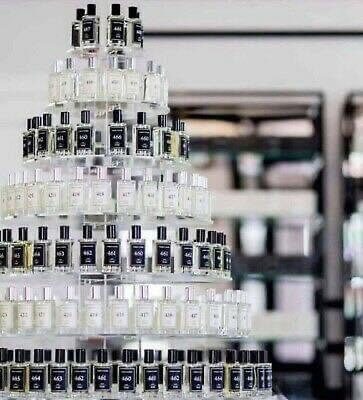 Everyone has the potential to earn commission and profit, unlike your 9-5 job, where you get paid regardless of how much work you do. With FM World business, every member is required to do the work to see the results.
We have always been taught to look for a job, so we miss the opportunities out there.
Get in touch if you would enjoy an opportunity to save on your purchases or sell to friends/family and colleagues.
So there are perfumes available that do last all day. If you need any help in choosing a scent, get in touch or add a comment below.
Sign up for our monthly newsletter that keeps you up-to-date with the perfume world, the latest blogs, and news.