FM perfume no.413 review
Have you tried Fm World's fragrances yet?
They believe in simplicity when it comes to packaging and style of bottles and FM 413 is no exception.
As we head into the spring and are perhaps looking for a fragrance that sits more in the oriental/fruity family, FM are not short of choice.
No. 413 has been a very popular scent over the past few years as its fragrance notes are very similar to those of La Vie Est Belle by Lancôme.
Fragrance notes:
Head: blackcurrant, pear
Heart: iris, jasmine, orange blossom
Base: chocolate pralines, patchouli, vanilla
This fragrance gives a sense of sweetness and flirtatious vibes and a very popular scent to own.
What's great about this fragrance is that it also comes in a PHEROMONE perfume, INTENSE perfume ( which contains 30% perfume oil) , a fragrance candle, reed diffuser, a wardrobe fragrance and wax melts to name a few.
It's wonderful to find a scent that can be extended into the home to carry the beautiful spring/summer notes through every room.
So what makes this fragrance one of FM's most popular ?
Many women love the smell of fruits and deep scents such as vanilla and patchouli.
The Lancôme perfume, which was launched in 2012 and advertised by the beautiful Julia Roberts, has very similar fragrance notes.
When we see celebrity's endorsing perfumes, it encourages us to try that scent to give a sense of feeling and looking just as gorgeous as our idols.
The only missing ingredient from FM413 is Tonka Bean. If you were to try a sample of FM 413, the smell will be almost identical.
Whilst FM create their very own fragrances, they do use the same perfume oil as the designer fragrances which are created by DROM in Germany.
You can read the story of
DROM
here.
We already know that no one sees the packaging or fancy bottle when we purchase designer scents and they can leave a huge dent in the purse/wallet, yet many are still hung up on the idea of owning expensive brands.
FM is a cruelty -free fragrance company and one that stands out from the rest not only for being affordable but for also creating long-lasting fragrances.
As they have no celebrity endorsers or TV adverts, they can keep the cost down and therefore fans of the fragrances can indeed buy several bottles of their favourite perfumes.
Having tried several and having a large selection of my own perfumes over the years, I have to say that no.413 is one of my favourites.
It's also a favourite for one of my customers!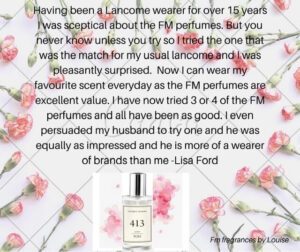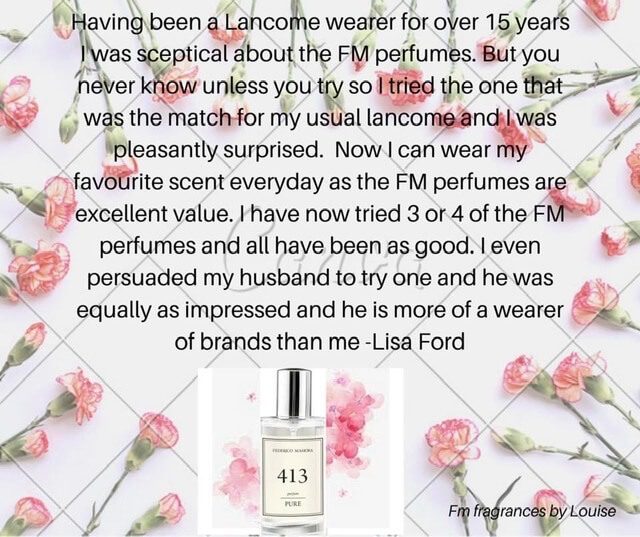 It's suitable for all seasons as it has an oriental feel for wearing during the winter but also a selection of fruity notes that pop through to give a spring/summer vibe.
Many women who currently wear La Vie Est Belle have said that they can't tell the difference between their own designer bottled scent and that of FM 413.
It's an ideal scent to wear during the daytime in the office or out for a lunch date with friends. If you fancy a stronger version for an evening there is the option of the intense version too. How many designer fragrances give us that option ?
FM 413 is a long-lasting fragrance without a doubt and will certainly get you receiving compliments as I do, when wearing it.
Some will compare the Federico Mahora fragrance to that of La Vie Est Belle without understanding that this fragrance isn't supposed to be a replica for the designer scent.
In fact, none of the Fm perfumes should be compared to the designer scents because they are their own individual brand and company.
Read my article about why buying cheap perfume will cost more
If you love sweet and long-lasting scents then FM no.413 is definitely worth trying. Order your sample here.
Some wearers have even noticed this particular scent lingers on clothing the following day after being sprayed.
Another great reason to purchase if you want your clothes smelling gorgeous without having to wash them after the first wear.
Due to its very fruity and oriental notes, this perfume only requires a few sprays as it is instantly noticeable.
It will last around 6-8 hours and is one of the fragrances that does linger more than others so less is definitely more with this bottle.
I love the idea that this bottle is designed with such simplicity that it fits perfectly inside a handbag if you did want to re apply throughout the day.
Affiliate disclosure
When you click on links to various merchants on this site and make a purchase, this can result in this site earning a commission. Affiliate programs and affiliations include, but are not limited to, the eBay Partner Network.

Price : £24.00
Available to purchase from FM World 
Size of bottle : 50ml
Sample size (1.4ml) available for 60 pence from FM World
My rating : 10 out of 10!!
If you are looking for a more intense scent, try the Pure Intense bottle.