Vintage perfumes for women
There are so many perfumes on the market today and we have been using them for many years. Let's take a look at ten of the vintage perfumes for women.
Perfume dates back as far as 1371, when we saw the first modern alcohol-based fragrance for Queen Elizabeth of Hungary.
There are many collectors of vintage perfumes and this is another one along with the worlds most expensive perfume to add to the collection.
Those that collect such fragrances find it intriguing how scents have changed over the years.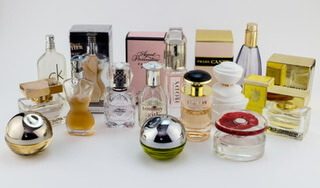 They will also know that some ingredients such as oakmoss, which has been used in a variety of fragrances and is a species of lichen, has been restricted in recent years.
Some have been banned as they are not longer considered safe to use in perfumes so other fragrance notes have been sourced instead.
If you have a collection of vintage perfumes sitting inside your wardrobe, keep hold of them.
Perfumes dating back to 1950s such as the iconic bottle of Chanel No.5 are well worth keeping.
Perfumes dating before 2000 and are familiar brands are still worth keeping as they too can be sold and money can be made from them.
We all have memories created by perfume we used to wear. Some may still be wearing the same scent today especially if it's their signature fragrance.
Such perfumes bring special events to life, including happy and sad memories and there are lots that are still on the market today to keep those memories alive.
Some may see vintage perfumes as something our Nan used to wear. That strong and overpowering scent that lingers for hours and in every room.
There are many that are a delicate but unforgettable fragrance.
Vintage perfumes for women
1. Shalimar By Guerlain
The oldest perfume and an oriental fragrance was created in 1925 by the perfume house Guerlain, called Shalimar.
Named after the Garden of Shalimar and it's history of being created by Emporor Shah Jahan for his wife Mumtaz Mahal as a romantic gesture.
It's scent is still sold today and has fragrance notes of rose, tonka bean, jasmine and bergamot to name a few.
With base notes of musk, vanilla and sandalwood, there is a beautiful mixture and combination of strong and elegant fragrance notes in this bottle.
Affiliate disclosure
As an Amazon Associate I earn from qualifying purchases. Learn more
2. Anais Anais L'original By Cacharel
Launched back in 1978 and named after Anaitis, the 'Goddess Of Love', this fragrance is still very popular today and was the first fragrance produced by Cacharel.
It was very much a fragrance created to attract the teenagers with its floral and youthful scent.
Fragrance notes of sandalwood, honeysuckle, orange blossom, lavender, lemon and bergamot certainly caught the attention of the younger generation.
With its floral, pretty bottle, most teenagers owned a bottle of this distinctive scent.
3. Opium By Yves Saint Laurent
There won't be many that won't of heard of Opium.
Launched back in 1977 and created by Jean Amic and Jean-Louis Sieuzac, this perfume has strong oriental notes and a very distinctive fragrance to it.
With top notes of plum, cloves, pepper, jasmine, coriander, bergamot, citrus and West Indian bay, this spicy perfume should definitely be worn with minimal application.
Added to the fact that this bottle is very distinctive too, it's possibly one of those perfumes that will go down in history.
Nowadays we also see Black Opium on the market too.
With notes of pear, pink pepper, orange blossom, vanilla, patchouli, cedar and cashmere wood, it's very much just as powerful as the original.
If you like powerful scents that make a statement and can carry off such an iconic scent, take a look on Amazon.
4. L'air Du Temps By Nina Ricci
It's not very often that we hear of Nina Ricci perfumes but it is one of the most popular of the 20th century, alongside Chanel no.5.
Launched back in 1948, this floral/ spicy perfume with its unique glass dove cap contains stunning notes of jasmine, rose, sandalwood and amber to truly capture the sense of being 'free'.
It was created in the wake of World War II by the French perfumer Francis Fabron, in collaboration with Nina Ricci and roughly translated from French to mean 'the trend we have now/something in the air'.
With it's brightly coloured box and elegant bottle, we really do get a feel for summer, blue skies and open spaces.
Available to purchase on Amazon.
5. Youth Dew By Estée Lauder
This fragrance was created in 1953 and actually started off as a bath oil. Women felt confident to use it every day and so it soon became a popular product to use as a fragrance.
Back in the days during the 1905s when perfume was only ever bought as a gift from a husband or partner and not by women themselves.
Estée Lauder created this elegant bottled fragrance and women fell in love with its spicy, amber, rich floral and woody notes.
As men loved it's scent too, it became one of the sexiest fragrances ever created and it still captures the hearts of many women today.
Women will have heard and used the cosmetics that we see in store and online today, created by Estée Lauder and Youth Dew is the first fragrance created by her.
A true classic and if you're a lover of rose, lavender, jasmine, spices and patchouli notes, take a look on Amazon.
6. Mitsouko By Guerlain
Another vintage perfume by Guerlain and on first impression, this bottle looks a little masculine.
Launched in 1919, Mitsouko captures the chypre and fruity fragrance family inside this bottle.
A combination of beautiful notes too.
With jasmine, rose, cinnamon, amber, peach, lilac, oak moss and bergamot, this fragrance was inspired by the story of impossible love between Mitsouko and a British officer.
With such a combination of scents, its not your average daytime perfume with its heavy base notes of amber, oak moss and cinnamon.
Not the cheapest fragrance on the market either but well worth trying if you get the chance, purely for such beautiful fragrance notes.
Affiliate disclosure
When you click on links to various merchants on this site and make a purchase, this can result in this site earning a commission. Affiliate programs and affiliations include, but are not limited to, the eBay Partner Network.
Available to purchase on eBay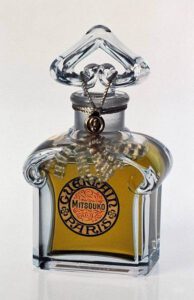 7. L'Heure Bleue By Guerlain
Another fragrance created by Guerlain.
This one was launched in 1912 and contains beautiful notes of coriander, bergamot, violet, cloves ylang-ylang, jasmine, orchid vanilla, Sandalwood, musk and tonka bean.
Classed as one of Guerlains's best classic fragrances in its distinctive bottle, it is a symbol of royalty as one of the Queen's favourite scent according to Vogue, alongside Floris, white rose EDT.
Check out eBay to purchase your bottle of vintage history.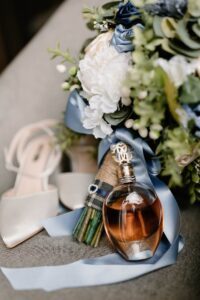 8. Apres L'Ondee By Guerlain
With its combination of violet, orange blossom and spicy anais notes, this perfume was created by Jacques Guerlain in 1906.
Apres L'onee (April shower) is very much a spring time fragrance after a rain shower.
The smell of freshness that reaches our nose as the rain hits the countryside and then the sun comes out to warm the scent of the wet leaves again, is captured with this scent.
Guerlain really does showcase many a perfume fragrance and a history of being one of the world's greatest perfume houses.
Available to buy on eBay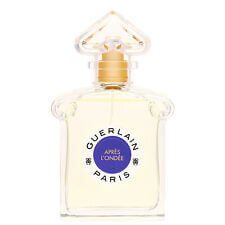 9.Tabu By Dana
Tabu was created by the French perfumer called Jean Carles and was launched in 1932 by a company also associated with the likes of Nina Ricci and Christian Dior.
Not the most elegant of bottles for a female perfume, a simple design with an almost 'old' and 'heavy' appearance and dark bottle but its fragrance notes make up for it.
A mixture of patchouli ( and a high dose at 10% ) combined with clove, bergamot, orange, Coriander, rose, ylang-ylang, Sandalwood, musk and amber, gives us a heavy oriental scent and one of the worlds first strongest.
 Check out
eBay
for their bottle.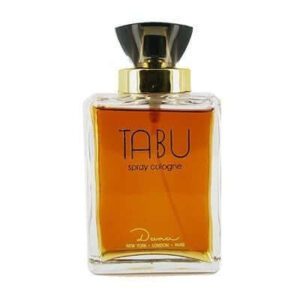 10. Arpege By Lanvin
With its name derived from the musical term 'arpeggio', this fragrance was released in 1927 and a classic scent among some of the world's most popular perfumes.
Similar to Chanel N0.5, Arpege is very much a flower perfume.
It contains peach, orange blossom, honeysuckle, iris, rose, vanilla, musk, geranium, sandalwood, patchouli and vertiver.
It has quite a simplistic bottle with its black base and gold cap and was created by Paul Vacher and Andre Fraysse. Affordable on eBay.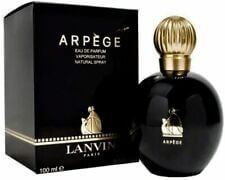 Do you own a vintage perfume ?  I'd love to hear which one you have !
Drop your comment below or contact us for any inquires regarding finding the right scent.
If you prefer more recent fragrances, take a look at our perfume and beauty  resources page.