What perfume did Queen Elizabeth wear
Our late Queen certainly had good taste in colours with her outfits, handbags and style of jewellery but what perfume did Queen Elizabeth wear?
Everyone has their own unique scent and favourite aroma when it comes to perfume. Many have a signature scent that reminds everyone around them of their presence.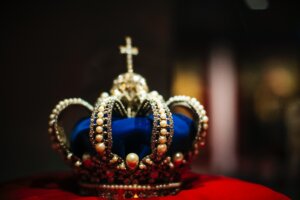 Our late Sovereign never needed a particular scent to stand out or be noticed as her presence in this world was by far the greatest in the world.
Nether the less, the Queen wanted to wear a scent for all of her duties and events that she attended so let's take a look at what perfume our beloved Queen wore.
According to Vogue Magazine, one of Queen Elizabeth's favourite scents was Guerlain L'Heare Bleue. A scent that was first created way back in 1912.
Surprisingly not as expensive as we may think either.
Around $126.00/£108.00 from their website is a pretty reasonable price some may say, especially for someone as high profile as Her Majesty.
Other places such as eBay will have a variety of prices so it's worth taking a look.
Affiliate Disclosure
When you click on links to various merchants on this site and make a purchase, this can result in this site earning a commission. Affiliate programs and affiliations include, but are not limited to, the eBay Partner Network.
Take a look on eBay for Guerlain L'Heare perfume 
We almost see a touch of royal with the shape of this perfume bottle which was designed by Raymond Guerlain. The soft top edges almost look like a scroll, used by the ancient Greeks and with a hollowed heart as its stopper, it gives a sense of royalty and romance.
Another 'royal' look also shows with the blue circled label in the centre of the bottle. Some might say that it is a very fitting scent for our Queen to be wearing too when we learn of the fragrance notes behind this scent.
Top notes: Aniseed, bergamot
Heart notes: Tuberose, carnation, violet, rose and Neroli.
Base notes: Tonka bean, iris, benzoin and vanilla.
Take a look at the heart notes in particular with this scent. What a wonderful combination of flowers and those that very much speak volumes when it comes to royalty.
Quite fitting also that L'Heure Bleue "marks the meeting of two soulmates destined to become one in the frisson of eternity "-Guerlain.com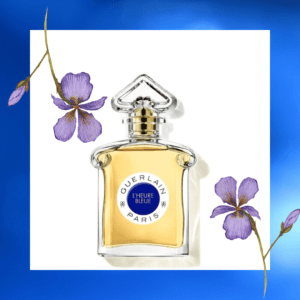 With iris being one of the most expensive and admired fragrance ingredients, it's easy to learn why this perfume really is fit for a Queen and is the key ingredient in this bottle.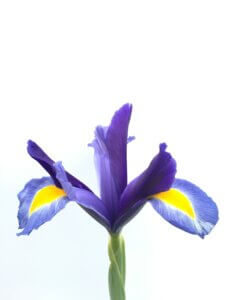 The top notes give a distinctive smell of aniseed with a fresh scent of bergamot – a beautiful combination of floral, citrus and tangy notes.The base notes are rich and warm in toasted almonds, vanilla, nutty, cinnamon and spicy scents
Three stages of perfume notes
We know that perfume goes through three stages when it is worn on the skin and we instantly smell the top notes of any perfume.
These will be the notes that hit us instantly as soon as we spray our scent. They are our first impression of a fragrance and the first to leave your skin.
Top notes are often fresh, citrus and refreshing and once they calm down, usually around 5 minutes of being on the skin, we then smell a selection of heart notes.
The heart notes of a scent are the main centrepiece of a perfume and the notes we smell tend to linger between 6-8 hours after it has been sprayed.
As these notes last a longer time than the top notes, they usually have a floral and woody scent that lingers.
Once those heart notes have settled down, we then appreciate the base notes and these are the notes that stay for the rest of the duration of the perfume.
Alongside the heart notes, the base notes are also the scents that those around us will continuously smell.
Base notes are the foundation of perfume and almost the lasting scent and impression.
These notes are the ones that others will remember you by, bring back fond memories and add fullness and depth to your scent.
Often base notes are woody, with a delicate fragrance of musk and are the longer lasting within your chosen perfume.
If you purchase a perfume or aftershave that contains 20% perfume oil, such as FM World fragrances, you will have a lasting scent for perhaps longer than 8 hours.
This also depends on your skin type too.
Depending on what strength perfume you have purchased, whether it be an eau de toilette, eau de perfume or perfume can also determine how long the fragrance lasts.
Another favourite scent for the Queen
Another popular choice of perfume that the Queen has been known to wear and affordable too is White Rose by Floris, created by Mr John Floris in the early 1800s.
A scent that has also been worn by Florence Nightingale and is cruelty-free.
This more simplistic design of bottle will set you back around $145.00/£80.00 so within many a perfume lovers budget.
This bottle too, shows that the Queen does have a favourite when it comes to particular fragrance notes.
Fragrances notes in White Rose by Floris
Top notes: Aldehydic green and carnation
Heart notes: Iris, rose, jasmine and violet
Base notes: Amber, musk, and powdery notes
As one might expect with a name like White Rose, this fragrance is a fairly lightweight scent that doesn't overpower and lasts for around 9 hours.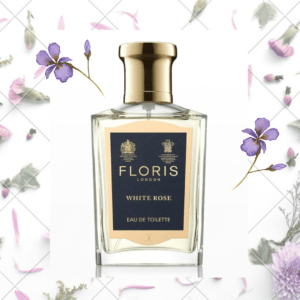 It brings a sense of bouquet flowers with its soft choice of aroma. Another scent that has iris notes that are balanced out well with the amber and musk.
It's clear that our Queen had great taste when it came to perfume. Classy scents to match her classic dress sense.
Have you ever tried these perfumes that the Queen has worn? Let me know below. I'd love to hear your thoughts.
Sign up for our monthly newsletter to find out the latest news on the fragrance world, skincare and much more.