Halloween pumpkin candles
It's getting to that time of year when the nights start drawing in and Halloween is fast approaching.
Halloween pumpkin candles have become popular of late and we're not referring to the small tea light ones that you put inside your carved pumpkin.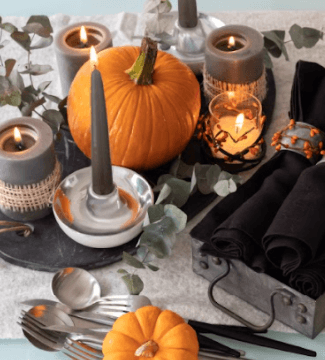 There is a wonderful collection online to make your home have the scent of autumn.
The leaves start to fall and the colours of autumn are laid on the ground as crisp leaves that we can walk through.
The lovely thing about Halloween candles is their vibrant colours.
Orange/red jars that have a wonderful autumnal scent to match the season and they make their surroundings have a very warm, winter feel.
During the summer months, we light a candle to make the garden look pretty and keep insects at bay as we entertain friends and family but there's a different feel when we light candles in the winter.
Related article: Summer Scented Candles
We know that candles can improve our mood. There is something about watching the flame flicker that brings a sense of peace and calm.
Even the unscented kind can be just as calming and rewarding.
Many of the tea light candles that we use in small containers are unscented.
Just to have them lit in the room on a cold, winters evening can be enough to bring us into a different world of safety and warmth.
Lighting a candle during a stressful day can really help shift your mood to more positive way of thinking.
Often without even realising it and wax melts are also great for their gorgeous aroma as well as bringing a chilled vibe to our day.
Other candles that are scented can bring back wonderful memories and have a very positive impact on our lives as the room fills with a delicate scent of fragrance.
We know that there are always candles on sale at Christmas time that have a distinctive scent for that particular season.
Those that contain wood, spices, apple cinnamon and chocolate scents are very popular during the holiday season but what about Halloween ?
Candle fragrances for Halloween
Pumpkin, caramel, gourmet spice, cinnamon, nutmeg and pecan are your typical fragrance notes that we find in Halloween candles.
A wonderful combination of fragrances that captures the atmosphere that surrounds cold, spooky nights.
Alongside the rich colours of candle wax and fancy containers, Halloween sees many creative candle designs to choose from.
Candles make a wonderful gift too, whatever the season or occasion and many are very affordable, wherever we purchased them from.
Bringing Halloween to life
Halloween has been a tradition as far back as 6,000 years ago and has been hugely popular ever since, especially in America.
A time when children dressed up in their favourite spooky costume to knock on doors for Trick Or Treat ( my own misconception as a child in believing that it was called Trickle Treat! )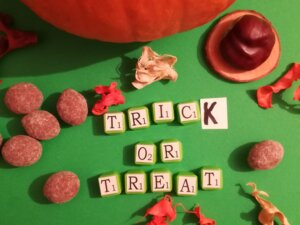 Over the years we have seen pumpkins sat on windowsills with all the house lights out or carved pumpkins sitting by the front door.
Pumpkins that are lit these days are a sign that the owner is happy for children to knock on that person's door.
A much better way of doing things I feel, especially if they are the older generation.
They don't want to have to keep answering the door, especially if they are not mobile enough to keep getting up and down out of their chair or are perhaps vulnerable and too scared to open the door late at night.
We see hundreds of children dressed up in their favourite costume, carrying their cauldron- shaped sweet tub, witches hat or similar container as they knock on people's doors for Trick Or Treat and collect sweets.
Tea light candles are used to pop inside the carved pumpkin and they look very effective once darkness falls especially if one has been very creative in the carving.
Nowadays, we see seasonal candles being sold online and in the shops. Pumpkin scented candles for the Halloween season has become very popular over the years and adds an element of mystery as the scents waft through the air.
You will see many candles in the shape of witches or black cats as well as the traditional glass jar styled ones.
Some of the clear glass candle jars are decorated with spiders webs or witches and these look really effective when they are lit.
Affiliate disclosure
When you click on links to various merchants on this site and make a purchase, this can result in this site earning a commission. Affiliate programs and affiliations include, but are not limited to, the eBay Partner Network.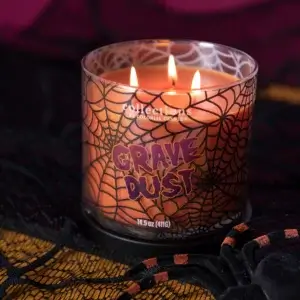 Of course, you could be very creative and decorate your own jars to place out for the evening if you have young children that like to be involved with the tradition.
If you are lighting a pumpkin that is sitting on your windowsill or outside, it's much safer to use a tea-light candle that uses LED lights and these are a very reasonable price to buy.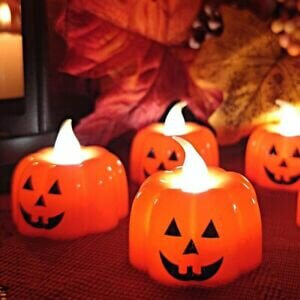 Take a look on eBay for 12PCS LED Pumpkin Tea Lights Candles Flameless Battery Operated Halloween Party
There are vibrant colours of orange and red with many of our seasonal candles and they make a wonderful gift whatever the season and don't have to cost a fortune either.
Let's take a look at some of the wonderful Halloween candles that are available today.
A wonderful combination of savory scent of nutmeg, cinnamon and allspice in a pumpkin puree with this delightful glass Pumpkin fragrance.
Perfect for a cosy evening by the fire or lit on the dining table at tea time.
The great thing about this candle after it is burned is that you can wash the glass and reuse for something else like a tea-light candle instead.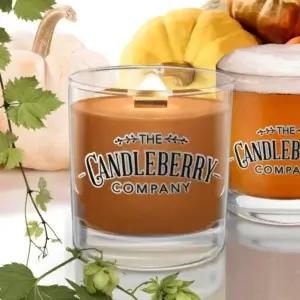 There are some decorative glass candles by Colonialcandle.com suitable for Halloween too.
Fragrance Notes:
Top Notes: Woodsmoke, Red Fruit, Warm Spices
Middle Notes: Pine Needles, Toasted Marshmallow
Base Notes: Sandalwood, Tonka Bean, Turbinado Sugar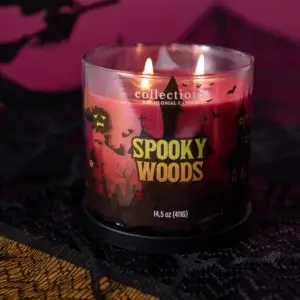 Fragrance Notes:
Top Notes: Bergamot, Cara Cara Orange
Middle Notes: Orris Root, Cedarwood, Vetiver
Base Notes: Madagascar Vanilla, Amber, Sandalwood, Mystical Musk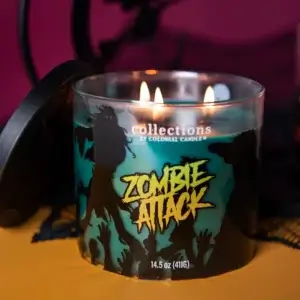 Take a look on eBay for some more pumpkin scented candles available.
Have any questions on what candles to purchase?
---