Any home is made beautiful with the addition of candles to bring the cosy nights in and with Christmas fast approaching, we take a look at Christmas candle holders.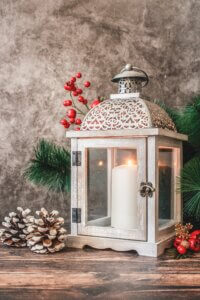 For many of us, candles are lit all year round, whether it's in the garden during BBQ season or for adding extra comfort and warmth during the winter months.
Cosy lit fires, candles burning and the tree lit up in all its glory, brings the magic of Christmas to life for families all over the world.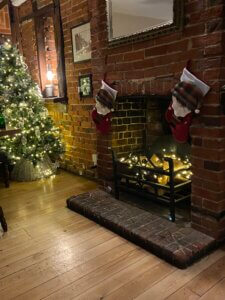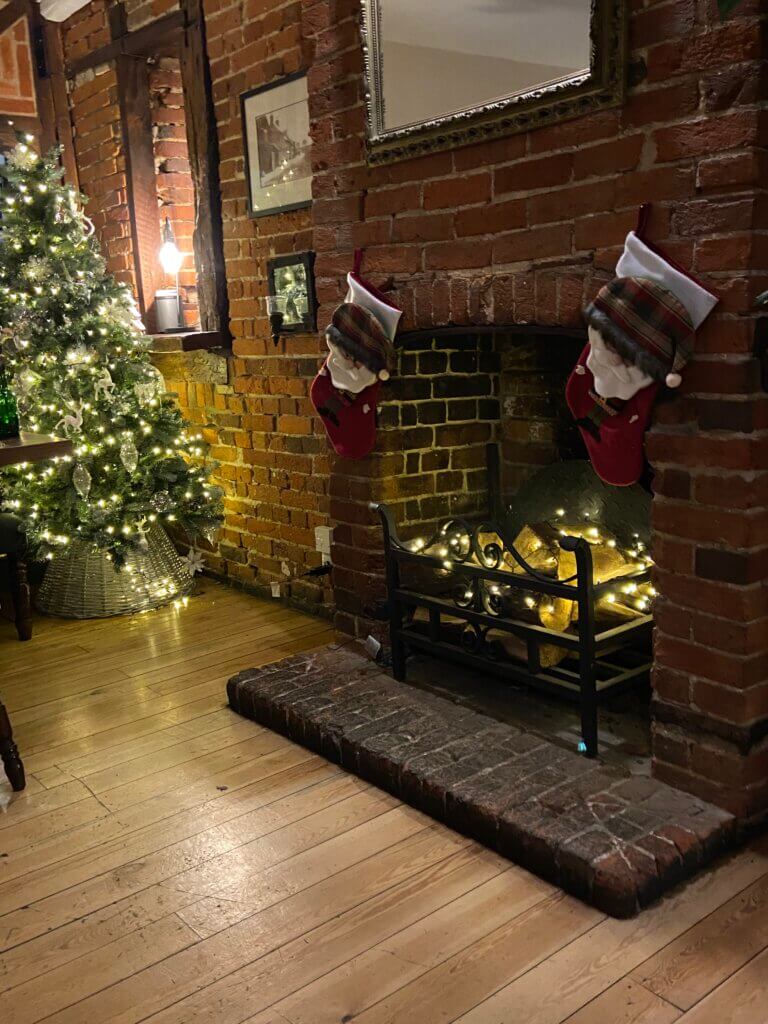 During the festive season, we see lots of candles on sale, from tea lights to large pillar candles. They come in a variety of shapes, colours and sizes to suit all.
The one thing that I have noticed when I've been shopping for candles is that some of them don't always come with their own holder.
We know that candles such as Yankee are already contained in their own glass jar and some of the smaller candles may come in a suitable jar that can be reused after.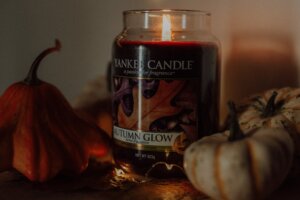 What about those that need to sit in a holder before they're lit?
Christmas candle holders
As previously discussed in my article flameless candles, we also see candle pots, pillar, floating and jar candles that do come with their own container.
Choosing ones that don't already come molded inside their own container means that we need to shop for suitable jars and trays to safely be able to light the candle.
At Christmas, we usually see the table decorations set out with table runners and centre piece candles to bring the festivities into the home and there are some lovely ideas online to choose from.
Companies have become very creative and there are some unusual styles available to purchase.

If you're looking for ideas and inspiration on how to decorate your home for the festive season with candles, take a look at Christmas candle ideas.
Affiliate disclosure
When you click on links to various merchants on this site and make a purchase, this can result in this site earning a commission. Affiliate programs and affiliations include, but are not limited to, the eBay Partner Network.
Tea lights are hugely popular and are possibly the most affordable.
They come as either batter operated (flameless) or lit candles and you can either have single holders or a larger centre piece where the holder with sit several tea lights at one time.
They also come in a couple of different colours and scents to suit your own personal choice.
Their particular styles really do bring a warmth and magical feeling into the home during the festive period.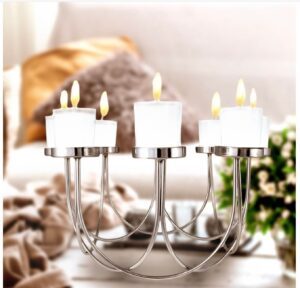 Taper candle holder
This style brings a more retro and Gothic like feel if you are looking for a unique candle holder.
Depending on your home decor, they can give a lot of character to the room.
They use the candle stick design and these also come in a variety of choices and colours.
Some will be decorated in a Christmas theme and there are some that have the days of December engraved on them so that you burn a section each day as Christmas nears.
These are called advent candles and are non drip, tapered candles that have a burn time of 12 hours.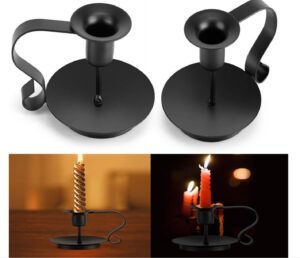 Stainless steel lantern candle holder
These are one of my favourites for the elegance they bring into the home and are most suited for the pillar candles.
They come in a variety of sizes depending on where you want them in the home and give off a good amount of light due to their size.
The very large ones are suitable for sitting in floor space perhaps by a fire for that extra feel of coziness.
This style is also suitable to use outside on the patio during the summer months, or in the winter for the extra light on a cold evening.
They come with a carry handle so that you could hang them from a hook off the garden fence and also makes it easier to transport them from one area to another.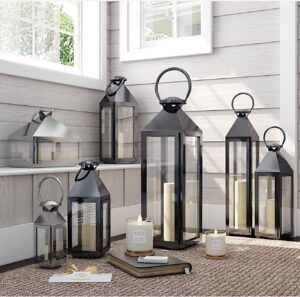 Pine needle candlestick table decor
Beautifully decorated candle holders for the Christmas decorated table are very popular and these metal pine needle candlestick holders are no exception.
Christmas berries, leaves, wood and pine cones as a centrepiece, brings everyone to the table for their family meal on Christmas Day.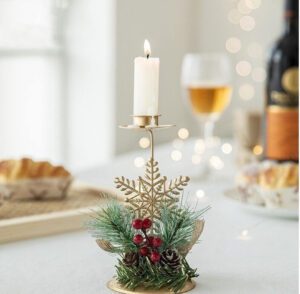 Antler pillar glass candle holder
I love to see unusual items for sale that perhaps no one else has at home.
This antler tea light pillar glass candle holder is unique and unusual, and is suitable for either a pillar candle or tea light candle.
It does bring rustic charm into your home, especially if you have a woodland theme.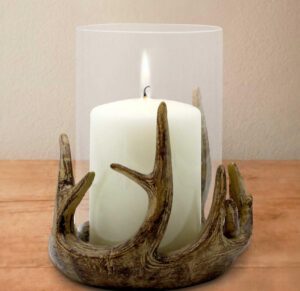 Retro candle holder stand

This type of tea light candle holder is very popular with a variety of Christmas themed patterns from a Christmas tree to a deer or snowflakes.
When these candles are lit, the light shines through the engraved pattern and gives a gorgeous decorative shadow on the wall and surrounding surfaces.
They are very affordable too so there is the option to have several around the home.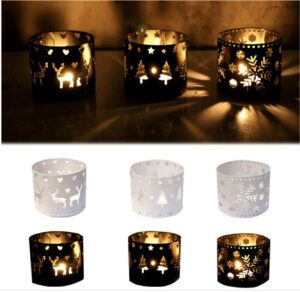 Christmas spinning candle holder

Another unusual candle holder is this spinning candle holder.
A delicate holder with its rotating snowflakes that would make the perfect table decoration as it angelically spins.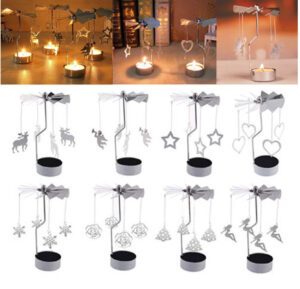 Rustic log candle holder

Bring the enchantment of the woods and outdoors into the home with this unique rustic lit tea light holder.
It contains three small tea light glass dishes for your tea light candles and is suitable as a table decoration or sitting on the mantelpiece.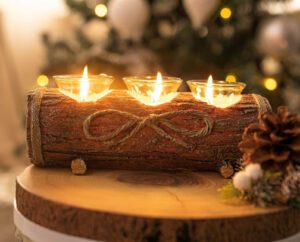 Nordic Christmas candle holder

Pine trees, berries, holly and stars surround this beautiful centre piece table decoration, shaped as a Christmas wreath.
With four votive candle holders to pop a tea light inside, it sits perfectly on the dining room table and sets the mood for the festivities and can be used year after year.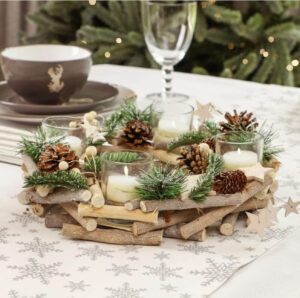 Conclusion
A wonderful selection of Christmas candle holders that suit any budget and any home, available to purchase from the comfort of your own home.
Bring your home to life this Christmas or purchase a candle holder as a gift for someone.
Sign up to our monthly newsletter for the latest blogs in the perfume world, how to get samples of your favourites, reviews and more!