December is a wonderful time of year that brings families together, crackling fires and gorgeous aromas in the home.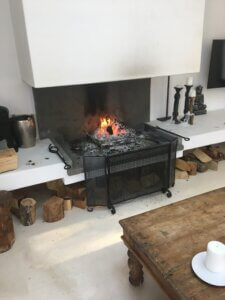 Christmas incense sticks are just as popular as scented candles and there are some beautiful scents to choose from as we head into a favourite time of year for many.
Whilst incense sticks give off a lovely variety of scents, it's important to know that they are not as good for those who suffer with respiratory issues so just be mindful when purchasing.
The smoke that comes off of an incense stick can aggravate the chest so if, like myself, you are asthmatic, you are best to avoid these and have scented candles or reed diffusers in the home instead.
Related article: scented candles 
What are incense sticks made from?
Incense sticks are made of a variety of materials that include bamboo, wood and herbs.
Depending on the type of material used will determine how well and efficient it burns. Bamboo is a popular choice as it burns slowly and evenly.
Those that contain a strong scent are made from resins and herbs. For a more subtle and delicate scent in the home, choose ones that are made from wood or bamboo.
Incense sticks burn more quickly than a candle and therefore you will use more but they do tend to be cheaper to purchase than you average candle so you won't mind burning a few throughout the day.
If you buy good quality ones, the burn time will vary from 30 to 60 minutes. Some may even last for up to 2 hours.
Incense sticks do have a stronger scent than the cones that are available on the market and will produce more smoke.
They are super easy to use, being lit directly with a naked flame. Once lit, a gentle blow of the flame to extinguish it and the stick will begin to burn with a delicate glow.
A suitable holder is just as important as the sticks themselves. They need to fit for purpose without the stick, falling over and able to catch the falling ash as it burns.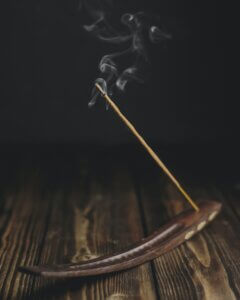 Safely first
The same rule applies with lit candles. It is important to place the incense stick in a safe place where there are no droughts, out of the reach of young children and pets and somewhere safe that they won't be accidentally knocked over.
The benefits of burning incense sticks
Just like candles, wax melts and reed diffusers, there are great benefits if using incense sticks and not just for making the home smell warm and welcoming.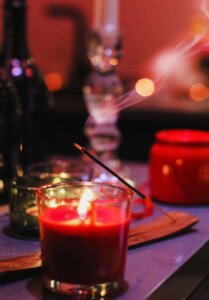 ■ Relaxing
After a long day at work, a suitable scent can relieve the stresses of the day.
■ Improve mental and physical well-being
A great way to clear negative energy, the scented fragrances will fill the room as soon as it is lit.
■ Bring back memories
Similar to scented candles, burning an incense stick can bring back wonderful memories as we experience the scent.
■ A restful nights sleep 
If you suffer with insomnia then lavender is known for it's relaxing properties and will aid in a restful nights sleep.
Far safer than lighting a candle too, if you happen to fall asleep whilst it's still burning.
The essential oils that are used in sticks can assist in improving the air around you and therefore they are a popular choice for those in the therapeutic industry.
If you have ever booked for a massage, you will notice the soft lighting, candles lit and perhaps an incense stick burning.
They are also a popular choice for places that practice yoga, to help relax the body and mind and deepen concentration during meditation.
Instructors are mindful of what scents to burn when they use sticks in their classes and will use natural materials and delicate scents that won't distract from the activity.
Many religious settings will burn incense sticks to create a calming and spiritual atmosphere and Christmas time will see a bigger influx in their use.
A suitable Christmas gift
Sometimes we may struggle to buy a suitable gift for someone, so by purchasing a candle or an incense stick, this gives the perfect opportunity to give an item that we know is most likely to be used instead of put away inside the cupboard.
They are great value for money and will suit any room in the home.
There are some beautiful incense sticks holders that also come with your purchase of incense sticks and some lovely ones for Christmas time.
With the fragrances of Christmas to bring the festive season into your home and sparkling stick holders, eBay never let customers down with their variety.
You can also buy the holders separately if you want a sturdier incense stick base and some are designed to hold additional sticks for storage.
Affiliate disclosure
When you click on links to various merchants on this site and make a purchase, this can result in this site earning a commission. Affiliate programs and affiliations include, but are not limited to, the eBay Partner Network.
Christmas incense sticks
I love the idea of these sticks that have their own Christmas holder attached.
With scents of cinnamon/orange and clove, we are instantly caught up in the magic of Christmas. They would make a great gift for someone as well as being the perfect accessory in our own homes.
Wooden Incense Stick Holder Burning Joss Incense Box Incense Burner Ash Catcher
If you are a regular user of incense sticks, then this wooden holder is perfect.
You can burn two sticks at a time and store additional sticks underneath.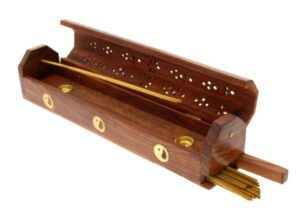 Christmas Incense Sticks – Apple, Orange & Cinnamon, Frankincense & Myrrh
Whenever we smell the scent of apples, oranges or cinnamon in a candle or incense stick, we know it's the season for fires, table decorations and gifts under the Christmas tree.
We love the fact that they are Eco-friendly and a deodoriser.
Sometimes the smell of pet fur and cooking can be a little overwhelming, so a gentle smell of orange and cinnamon or frankincense and myrrh helps to eliminate such smells.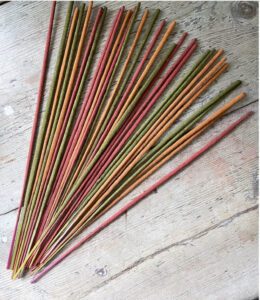 Morning Star- High Quality Japanese Incense Sticks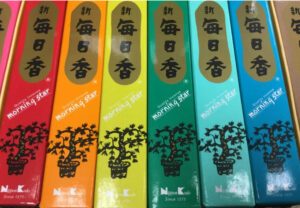 A fantastic purchase of 50 incense sticks per package with this brand.
Each cent comes with its own stick holder with a variety of scents to choose from. They have little smoke when lit, are Eco friendly and slow burning.
Conclusion
If you are looking to purchase a scented item that can be left to burn safely to help you sleep, to add a fragrance to any room, or simply to enjoy the benefits of their properties, incense sticks are affordable, popular and suitable for many.
Sign up to our monthly newsletter for the latest news in the perfume world, what's trending online in the fragrance industry and more!