A skin care routine is important for everyone and not just for when we get older. By looking after our skin from an earlier age, we can prevent the aging process from appearing to prematurely.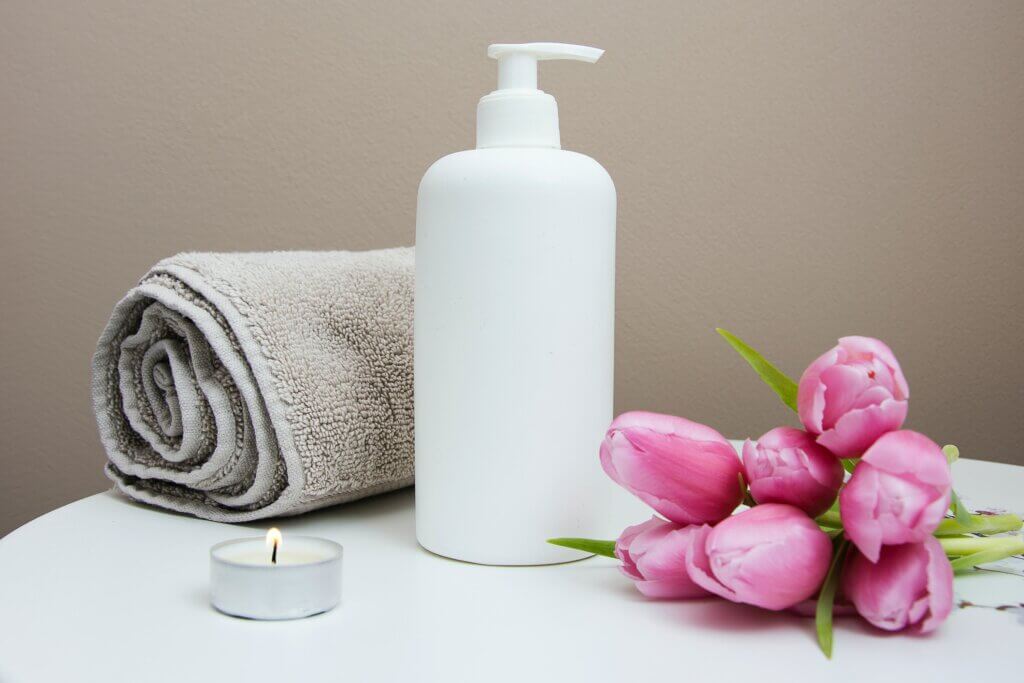 Skin care gifts for her are always a popular present and there is such a large variety to choose from to suit every kind of skin.
You can purchase ones that are already made up in baskets or gift boxes or if you feel very creative, you can create you very own.
This is a lovely touch when we do this as we can then add the perfect products for the person we are buying for.
Sometimes a gift set may contain a product or two that the recipient may never use so by making your own, you get to choose which products to add.
I am not one for fighting the aging process as I believe that we all age in our own way and it is a natural process that we all go through as the years pass.
If you think like me, I'm always grateful to see another year through in good health so another year older means we are doing well and looking after ourselves.
I do believe that we should take care of our skin and use products that help to moisturise and cleanse.
With so many aging products available online and in stores, women have spent a fortune on the battle to look younger.
In 2021, the global skincare products market was valued at 130.50 billion USD.
With products ranging from sun lotions, anti-aging creams, facial toners, moisturizers, face serums etc, it's of little surprise that the growth is expected to escalate 4.6% from this year (2022) to 2030.
Each year we see a new skincare product being launched that promises to do wonderful things to our skin and some of the products available can be extortionate, especially if there is a celebrity endorsing the product.
It's not just perfumes that celebrities have a part in creating.
Over the years we have seen thousands of products that help to reduce fine lines and wrinkles, assist with skin firming and ones to help even out the skin tone.
The importance of a skin care routine
When we are young, the last thing we think of is looking after our skin. We are youthful and there are more important things to be doing such as going out to play with friends.
As we reach the teenage years, we may suffer from spots that are usually brought on by hormones.
Products such a Clearasil have been very popular and this one does help to reduce the inflammation and leave a softer and clearer complexion.
By taking care of our skin from an early age, we can help to delay the signs of aging but it isn't something we worry or think about when we look in the mirror and see a clear, smooth complexion.
Prevention is better than cure
For those who wore cosmetics as teenagers may see that their skin has had its ups and downs as the pores get clogged with make up.
I can't stress enough how important it is to remove all traces of make up after a night out.
No matter how tired you are and how late you fell into bed, by removing your make up before bedtime will save your skin from premature aging, clogged pores and skin conditions.
By removing every trace of make up from your skin, it will benefit over the years and your skin won't age as quickly.
Make up remover lotions such as micellar, gentle soaps and facial foam wash are all suitable for removing make up effectively and they don't take long to do.
So for a few minutes each night in taking care to wash and cleanse the face thoroughly, will keep the skin subtle, moisturised and youthful.
Skin care products
Retail shops and online stores are constantly packed with skin care products throughout the year and at Christmas time we see the gorgeous gift sets on sale too.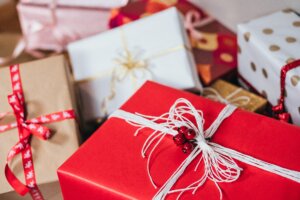 Every woman loves a gift set that contains an assortment of products from hand cream to a face wash to moisturises.
It's part of every women's daily skin care routine so a lovely gift set is the perfect present to give.
Cleanse, tone, moisturise
We all have our own routine when we wake up each morning and go to bed so it's important that our routine becomes a habit like brushing our teeth.
We instantly wake up once water is splashed on our face but water alone can make the skin feel dry, especially for those who live in hard water areas.
For those who wear cosmetics regularly for going out to work or for an evening out, it's important for the skin to be prepared before applying.
When the skin is dehydrated and scaly or dry, it can make applying foundation or powder difficult as it doesn't have a smooth or even surface to sit on.
The end result can lead to heavy looking make up that sits in the creases of the skin.
Many of us are constantly looking for a flawless finish so by preparing the skin beforehand gives us every chance of creating the perfect look that we see so often on celebrities.
Depending on your budget, gift sets can be bought as cheap as £13.00 – £100 online such as eBay.
Let's take a look at some of the gorgeous gift sets that are available during the run up to Christmas.
Affiliate disclosure
When you click on links to various merchants on this site and make a purchase, this can result in this site earning a commission. Affiliate programs and affiliations include, but are not limited to, the eBay Partner Network.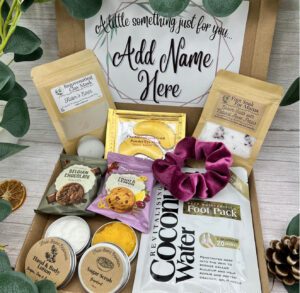 The treat gift box contains:
■ Juniper, Lime & Spearmint hand and body lotion
■ Grapefruit sugar scrub
■ Velvet Hair scrunchie- colour and pattern will vary depending on stock
■ Walkers biscuits
■ Facial fullers earth clay mask
■ Sensual Himalayan bath salt
■ Collagen eye mask
■ Coconut water foot pack
■ Jasmine tea light candle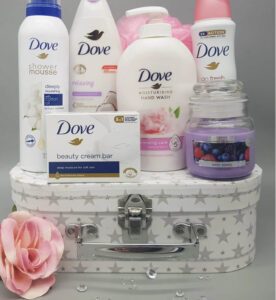 1x New Dove shower mousse with cotton oil 24hr softness – 200ml
1 x Dove Jasmine petals & Coconut milk body wash
1 x Dove anti antiperspirant with added moisturisers
1 x renewing care hand wash rose oil & peony
1 x Dove Beauty bar
1 x Wickford & Co Jar candle *Sweet berries or spring bouquet
1x Luxury pink/white body puff
1x Storage case Pretty storage suitcase with handle and clasp perfect for storage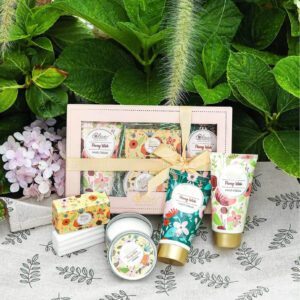 Self-Care Essentials: Everything you need for the ultimate self-care experience.
Keep your skin healthy and beautiful with these beneficial products. Scented Candle Included: Light our Rose Water Scented Candle and breathe in the sweet and floral aromas while you sit back and relax during your pampering experience.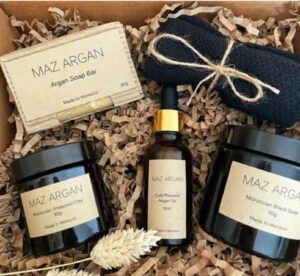 A wonderful set that contains:
■ Argan soap bar
■ Argan oil
■ Ghassoul clay
■ Moroccan Black Soap
■ Exfoliating body mitt.
You can also take a look at our online shop for some lovely gift ideas.
■ Shower gel
■ Deodorant
■ Facial wash
■ Day and night cream
■ Hand cream
■ Foot peel
■ Body scrubs
There are so many products to choose from and gift boxes to make up your own present.
Related article : Christmas Stocking fillers
Sign up to our monthly newsletter for the latest news in the perfume world, make up tips, products for men and women and more!