Travelling abroad is loved by so many and several years ago, it never caused a problem with travel size perfume.
Travelling on holiday these days, sees many restrictions when it comes to taking your daily products such as shampoo, body lotions and your favourite spritz.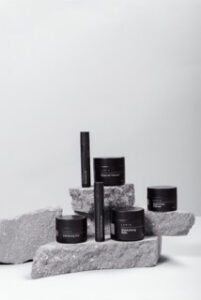 The horror of an airport worker taking away your most expensive bottle of perfume because it was over the limit, would leave many travellers mortified.
We can all handle the opened bottle of water being thrown away.
Designer perfume
When it comes to a lovely bottle of Gucci or Chanel perfume that gets confiscated, that's a different story.
We spend so much time packing the suitcase neatly and adding bottles that could break easily into the suitcase.
Tucking them under several layers of clothes so that they don't get broken.
The last thing you want is your favourite perfume bottle broken and your entire wardrobe smelling of Armani.
As lovely as the fragrance is, it's not good being saturated on your clothing.
Perfume is treated as liquid so it's the same amount as any other items you may take.
The same rule applies if you are taking a fragrance with you. 100 mil is your maximum.
On the market these days we have perfume atomizes so you can decant your favourite fragrance and take it safely with you.
Holiday perfume
But what if, like myself, you like to take more than one fragrance on your two week holiday ?
If you're travelling for longer than a week, it's nice to wear a different fragrance rather than the same one.
If you buy any perfume from the duty-free, you don't have to follow the 3-1-1 rule 
Perfume you do buy from the duty-free will cost you more so it's better to bring your favourite spray from home if you can.
Affiliate disclosure
This page contains affiliate links. Should you click on a link and make a purchase, I may receive compensation.
Travel size perfume
These days, there is more choice when it comes to perfume sizes.
You can buy travel size perfumes. 15 mil perfume bottles which are perfect for taking away with you.
This means that you can leave the perfume in the original bottle without the mess of decanting into an atomizer.
The added benefit of having a 15 mil bottle of your perfume is that it fits snuggly in your handbag.
Handbag size perfume
Whenever abroad, ladies do tend to have smaller handbags for the evening out, going for a meal or a walk along the beach. But we don't want a 50ml bottle weighing down our handbag just for an evening out.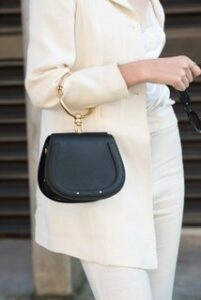 There are perfumes on the market that will  last much longer too.
Therefore once you have sprayed, you can quite happily leave that bottle of perfume in your hotel room.
We do have a tendency to carry much more than we actually need so buying a perfume that lasts around 8 hours is the ideal solution.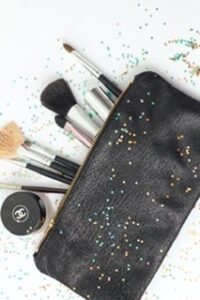 Another option if you don't want to carry one or two larger bottles, is to take samples with you.
Up to 46% Off On Perfume Sample Packs 
Perfume samples will vary in size but most will contain around 1.5 mil.
This give you the option to take several sample bottles and wear a spritz of different fragrance each day.
However many you decide to take, always ensure they are packed securely.
Ideally in a plastic clear bag as you will need to show the contents at the airport when carrying any in your hand luggage.
This will also prevent any accidental spillages onto the clothing that you've packed.
15ml travel size perfume
Both men and women like to take their favourite scent with them when they go on holiday.
gift sets that contain small bottles of your favourite perfume are ideal for holidays.
If you love designer fragrances but not their price tag, FM have a collection of 15ml fragrances to choose from.
Take a look here