Where to buy perfume samples
The perfume industry is huge and continues to grow. One of the great things about buying a new fragrance is the samples that are available to try before you buy.
We've all done it, purchased a perfume because it smells nice on someone else or the celebrity endorser behind the bottle is one of our favourite actors.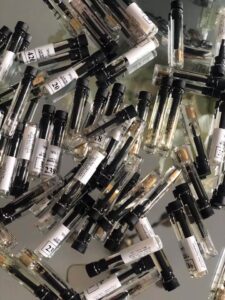 We are still very much influenced by our purchases when it comes to fragrances. There are lots of places where they either offer free samples or samples at a small cost so that you can try a fragrance before you commit to buying the bottle.
A wonderful idea that saves you money on buying a perfume that you potentially may never wear. Everyone's skin is different so each fragrance will smell unique on your skin.
Many a time we have friends, family or perhaps even strangers who will comment on our chosen fragrance. They like the scent of it and may go as far as buying the bottle themselves, only to find it doesn't smell the same on their skin.
Another expensive bottle of celebrity perfume sits in the wardrobe or on the dressing table. When I was younger, I loved going into the perfume stores with my late mum to get a collection of perfume samples. It was a cheap way of having a fragrance every day.
Perfume samples nowadays can be used for so many ideas.
Wedding favours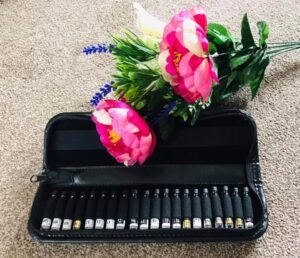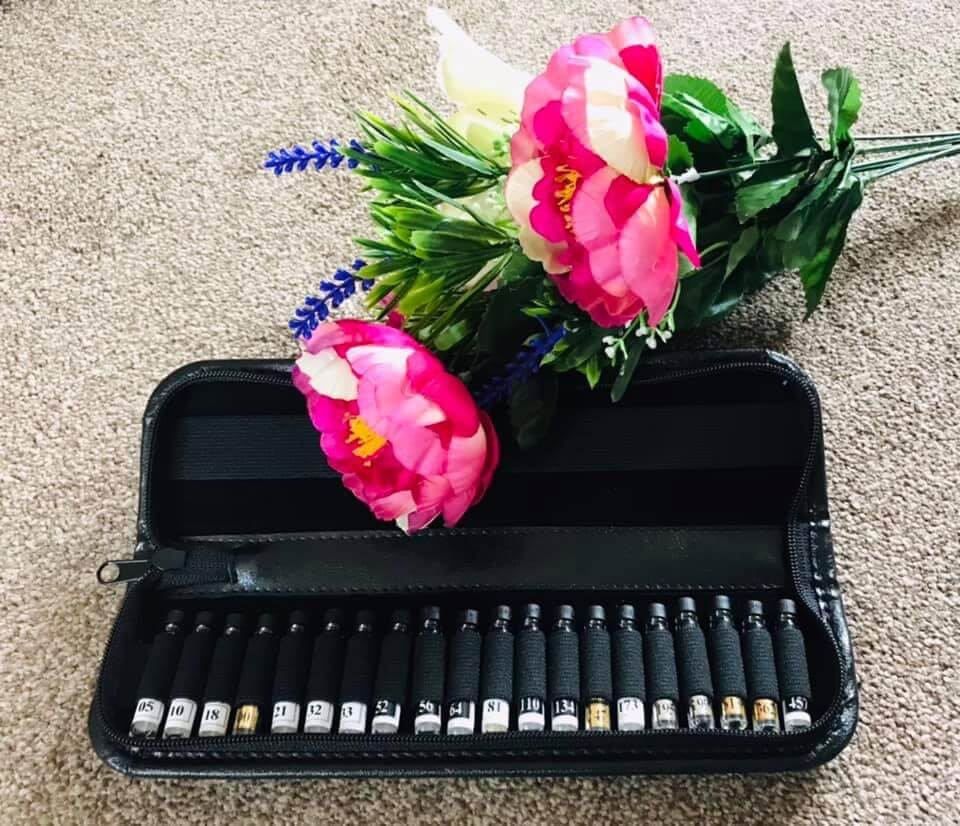 Are you getting married?
Have you ever considered purchasing a selection of perfume samples to give to your guests? They'll love this idea.
Using perfume samples as wedding favours has become very popular over the last few years and doesn't have to cost a fortune either.
A great way to say thank you to your wedding guests for attending your special day is by giving them a selection of perfume/aftershave samples at the table.
Affiliate Disclosure
When you click on links to various merchants on this site and make a purchase, this can result in this site earning a commission. Affiliate programs and affiliations include, but are not limited to, the eBay Partner Network.
Decorative bags and pouches can be bought online from places such as eBay to make the samples look more elegant as a gift.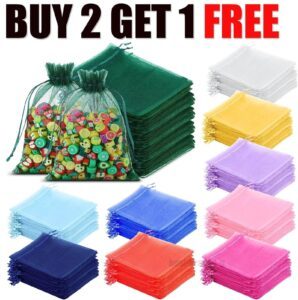 There are some pretty drawstring pouches available in a range of colours.

An extra gift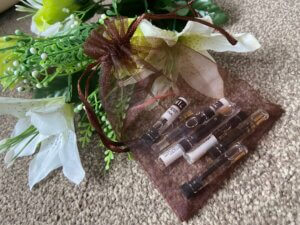 Another idea for using perfume samples is to add a small gift to a birthday or Christmas present. Particularly if you find out what fragrance the person likes such as floral, woody, citrus, oriental etc.
You could then choose those fragrance notes as an extra gift to pop inside their gift.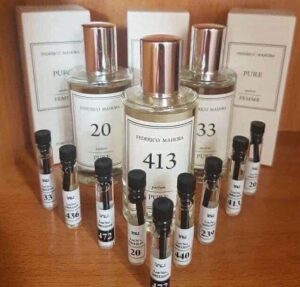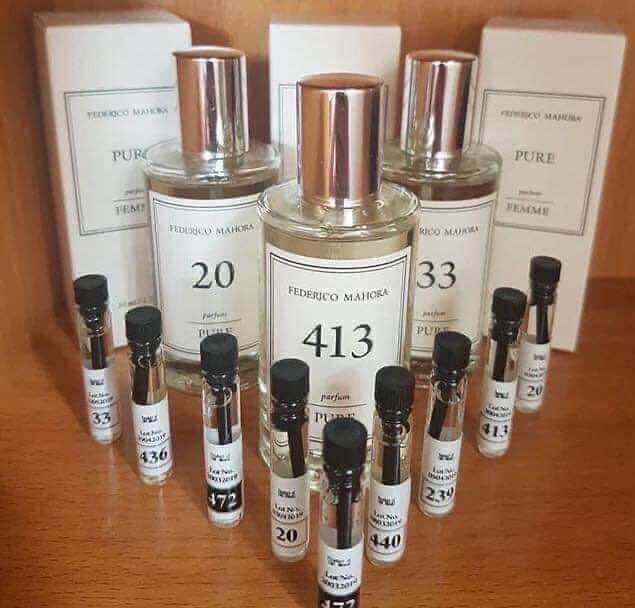 Be creative with your samples
Here are a few ideas.
The potpourri that's been sitting on your kitchen windowsill and has now lost its scent can be easily revived with sprinkling drops of your perfume sample on top.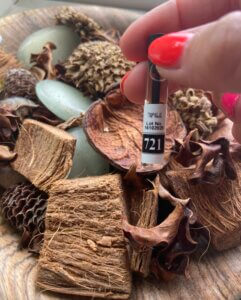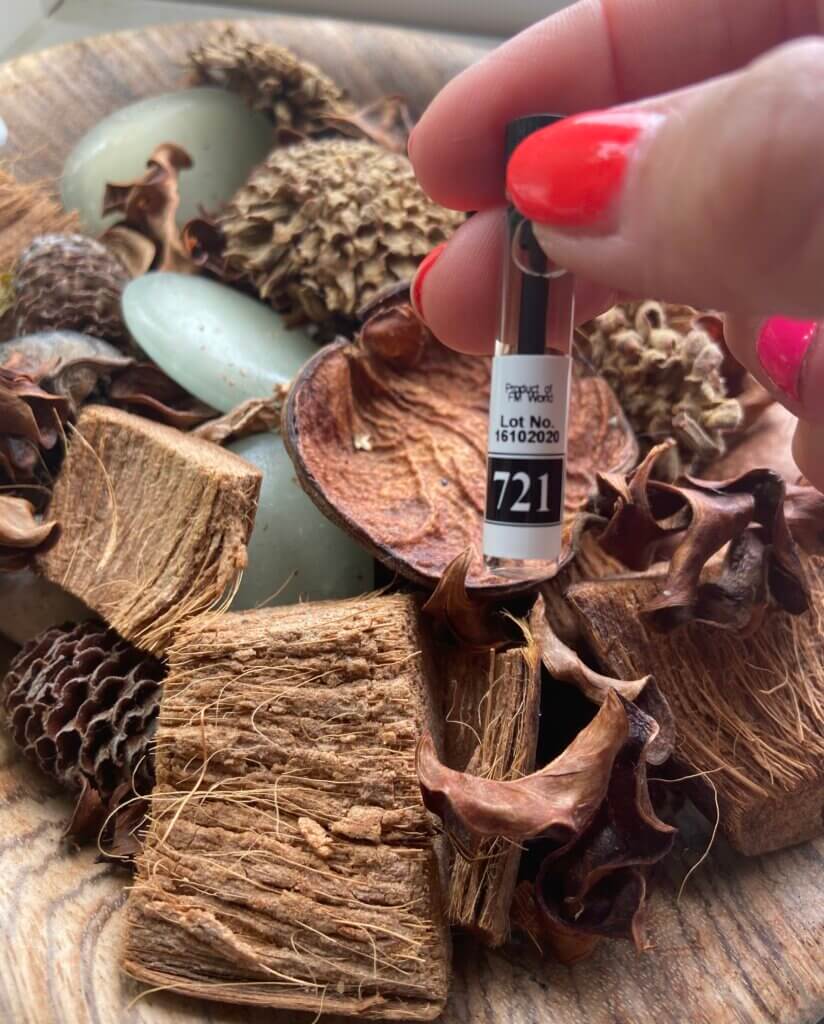 Take a sample abroad for your holidays. When the airport limits the amount of liquid we can take, a sample bottle is the perfect solution and you can take a few different scents with you too.
Add a sample bottle to a water spray with a little water and spray your car seats gently to give them a new scent when you next get back in for a drive.
A great idea for smelly kitchen bins is to add some drops to a couple of cotton balls and pop them in the bottom of your bin before your liner goes in.
Drawer liners keep our clothes smelling fresh so why not add a little potpourri into a small pouch bag?
Add a few drops of your sample perfume to add a gorgeous fragrance the next time you reach for your smalls.
If you are a user of the tumble dryer during the winter months and usually use scented sheets, why not create your own?
Add several drops of perfume onto a damp handkerchief and pop it in the dryer. Your wet clothes will come out smelling fresh, clean, scented and dry.
Where to buy perfume samples
At
FM WORLD
, perfume samples can be purchased between 40p ( PURE and PURE ROYAL) and £1.50 (UTIQUE) per sample. All of our fragrances bar the Utique range, are inspired by celebrity perfumes.
If, for example, your favourite perfume is La Vie Est Belle by Lancôme, a gorgeous floral and sweet scent, you can purchase a sample of FM 413 which has very similar notes to this celebrity perfume and won't cost you more than £18.
You can read our review of this fragrance
here
.
A popular choice of fragrance
Thousands of men and women currently wear FM fragrances as they are so popular, long-lasting and affordable. The perfect combination.
We all have a different way of thinking when purchasing products. Many prefer to buy the designer range because of the
celebrity endorser
behind that product.
Needless to say, you do pay a percentage towards the packaging, the designer bottle, the celebrity endorser and the TV advert that goes alongside it.
FM fragrances were created to give quality perfume that lasts longer than celebrity perfumes and is affordable for any budget.
They also created perfume where you don't pay for the above external factors.
They all contain 20% or 30% pure perfume oil. This means that your fragrance will last around eight hours if you are using 20% perfume and even longer if you are buying a 30% perfume oil fragrance.
Quality samples, quality perfumes
Buyers want to pay for quality and at FM they do just that.
With so many fragrances to choose from, over 200 in fact, we are spoilt for choice when it comes to choosing one of our favourites.
We don't need to spend £80-£100 on designer fragrances when we can buy a more affordable bottle that has very similar notes.
So similar in fact that they smell almost identical.
Pure and Pure Royal Range
Having such a large selection to choose from, the PURE and PURE ROYAL range samples measure as 1.4ml sample bottles.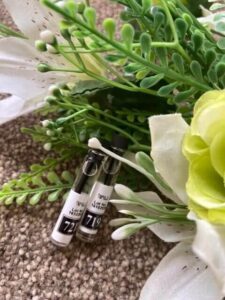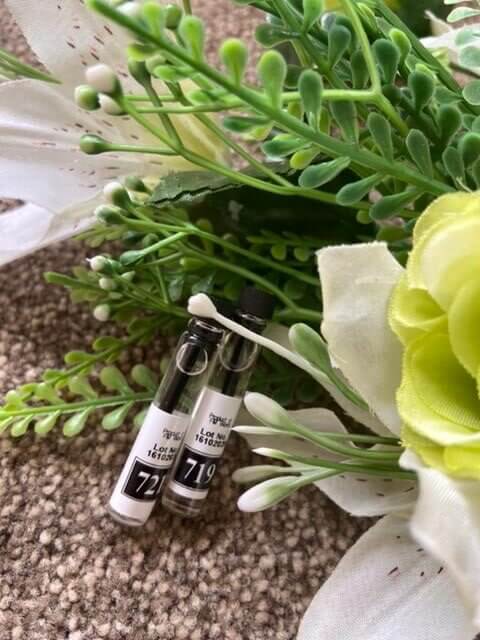 The applicator is attached to the lid which is a plastic wand to apply the sample to your skin. The paper sample holders can be bought separately for 80 pence each if you require that extra touch.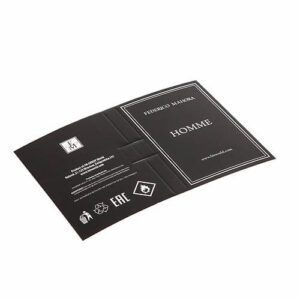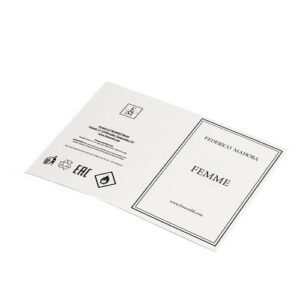 The Utique Range
With FM WORLD's Utique range, twelve scents have been created with a selection of delightful fragrance notes.
Eight of those fragrances ( Black, Gold, Ruby, Bubble, Ambre Royal, Ambergris, and Malachite) sit in the oriental family so you will have scents such as floral, woody, spicy, vanilla and ambergris notes.
Three of the scents ( Muffin, Flamingo, Violet Oud) sit in the flower family so you will have fruity, oriental, citrus, woody and water notes. The last scent (Sexy Cashmere) sits in the wood family group with notes of floral, fruit and oriental. All the perfumes in the Utique range are unisex and contain 20% perfume.
They measure as 2ml samples and come with their paper sample holder. Another elegant way to give as a gift and this collection has a spray top for easy application.
BLACK
Type: elegant, sophisticated, mysterious
Fragrance notes:
Head Notes: Woody notes, saffron, styrax
Heart Notes: vetiver, amber, vanilla
Base Notes: leather, sandalwood, amber wood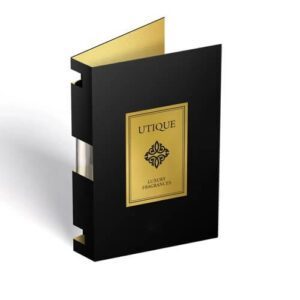 GOLD
Type: luxurious, exquisite
Head Notes: red pepper, cedarwood, nutmeg
Heart Notes: iris, saffron, vetiver
Base Notes: Cypriot, patchouli, black musk, amber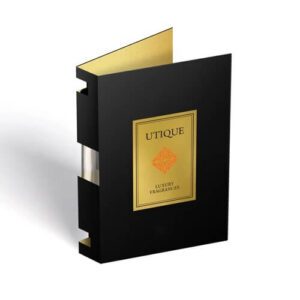 RUBY
Type: mystery, spiritual
Fragrance notes:
Head Notes: cashmere wood, jasmine,
Heart Notes: vanilla, amber wood, balsamic notes
Base Notes: white oud, black musk, dry wood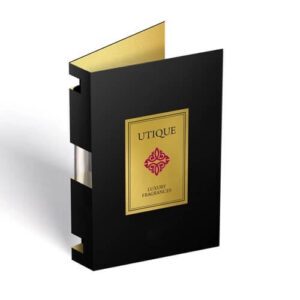 MUFFIN
Type: intriguing, noble, unforgettable
Fragrance notes:
Head notes: lemon, rose, saffron
Heart notes: woody notes, peony, Amyris, leather notes
Base notes: amber, oud, vanilla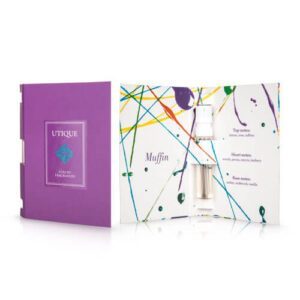 FLAMINGO
Type: charming, seductive like a forbidden fruit
Fragrance notes:
Head notes: Rosa Mosqueta, blackberry sorbet, green notes
Heart notes: Damask Rose, jasmine, apricot
Base notes: woody notes, crystal rose chord, musk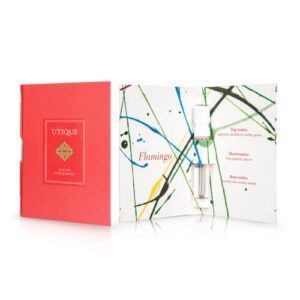 BUBBLE
Type: enchanting, delightful
Fragrance Notes:
Head: bergamot, cardamom, lime,
Heart: Lily of the Valley, jasmine, mint
Base: guaiac wood, musk, cedarwood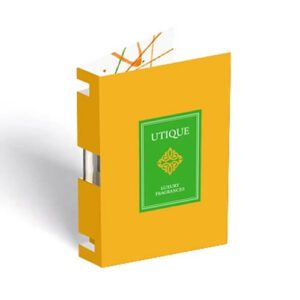 AMBRE ROYAL
Type: sensual, charming, with a hint of mystery
Fragrance notes:
Head Notes: bergamot, orange, apple, cinnamon
Heart Notes: clove, tobacco,
Base Notes: patchouli, tonka bean, myrrh, musk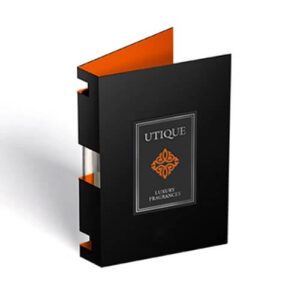 VIOLET OUD
Type: sophisticated, stunning
Fragrance Notes: Head notes: rose, suede, safflower Heart notes: frozen raspberry, wild rose, Cypriot
Base notes: agarwood, white musk, American sweetgum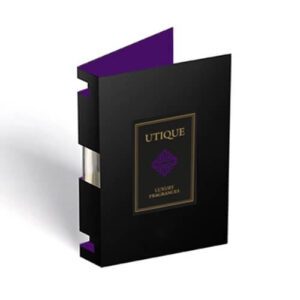 SEXY CASHMERE
Type: uninhibited, ambiguous, triggering desires
Fragrance notes:
Head: plum
Heart: iris, violet, ylang-ylang, cedarwood, patchouli
Base: sandalwood, benzoin resin, vanilla, musk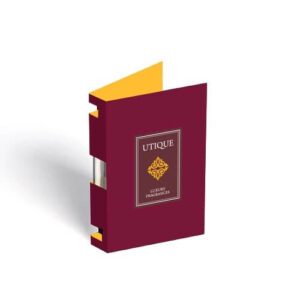 AMBERGRIS
Type: deep, mysterious, absolute
Fragrance notes:
Head: bergamot, red peppercorn, cumin seeds, cardamom
Heart: wild jasmine, lily of the valley, ylang-ylang
Base: ambergris, tonka bean, labdanum, leather, oak moss, patchouli, musk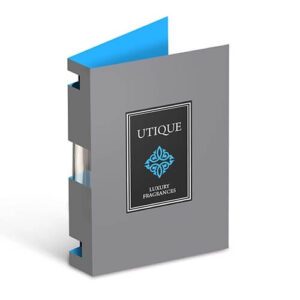 MALACHITE
Type: enigmatic, thrilling, like the four elements
Fragrance notes:
Head notes: mandarin, bergamot, wallflower, plum, aldehyde notes, blackcurrant, saffron, ivy, peach skin
Heart notes: jasmine, violet, tuberose, iris, rose, lily of the valley, ylang-ylang, orange blossom
Base notes: sandalwood, vanilla, moss, Haitian vetiver, patchouli, musk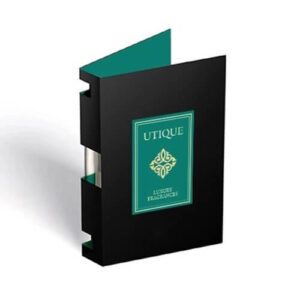 Other places that sell perfume samples can be found here:
If you have any questions regarding any of our samples or would like to see the complete list of the scents that we do, please get in touch or comment below.