Long lasting fragrances. With such unique bottles, packaging and perfumes , a question that is often asked is do these scents last as long as the designers.
The simple answer? Yes.
Drom creating long lasting fragrances 
FM use the same oil for the perfumes as the designer fragrances.
Created without the use of celebrity endorsers, TV adverts, shop assistance selling the products or fancy packaging and bottles.
So there is no need to dilute the oil and therefore use pure oil in all of the fragrances.
If we took a look at a designer fragrance on the bedside cabinet, you will notice that more often than not, the designer fragrances is an EDT toilette as opposed to a pure perfume.
To be fortunate enough to own a pure bottle of designer fragrance, would potentially cost around £150-£200 for the bottle, depending on which celebrity fragrance that is purchased.
Special occasions 
With such a hefty pricetag, needless to say, those fragrances sit on the bedside cabinet waiting for a special day to be used.
A party, wedding, a celebration.
The average day of going out to work doesn't always justify wearing an expensive bottle of perfume.
No hidden extras 
As FM have cut out the middleman, and all of the extras that a designer fragrance entails.
They are therefore in a better position to use pure oil.
So when a purchase is made for a bottle of FM fragrance, the customer will receive a pure perfume with 20% perfume oil.
It goes without saying, that by having a higher percentage in the bottles, the fragrance will last much longer. Between 6-8 hours approximately.
There is also a selection of fragrances that have 30% perfume.
This is classed as the intense range. Read about Drom and where it all began.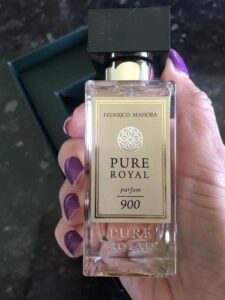 Pure Royal 900 is a unisex fragrance.
Fragrance notes:
Head black cherry, cherry liqueur, bitter almonds
Hear: rose, jasmine, sour cherry
Base: tonka bean, sandalwood, vetiver, cedarwood
If you have a favourite perfume that you usually wear and would like to try one that is inspired by your favourite, get in touch. 
I can help you find the perfect scent.