Many of us will have used spray perfumes and aftershaves in the past but what about solid perfume ?
Surprisingly for some perhaps that solid perfume has been around for centuries, although it never seems to be advertised as much as the liquid fragrances.
It comes in several neat and compact forms such as a balm or a lipstick.
Affiliate disclosure
When you click on links to various merchants on this site and make a purchase, this can result in this site earning a commission. Affiliate programs and affiliations include, but are not limited to, the eBay Partner Network.
Solid perfumes tend to last longer than the spray options because they are in a solid form and contain no water.
Many of us still prefer a spray fragrance and these do seem to be the most popular. It's like we know we have a fragrance on because it's been sprayed.
As we know, wearing a perfume or aftershave can certainly lift the mood, make us feel more confident and compliment an outfit. Lovers of perfumes do tend to have a collection at home and try different ones to suit their needs.
Its nice to wear a different one every day too if, like myself, you have a few bottles stored in the wardrobe.
Most people prefer the spray perhaps for the ease of use. A couple of spritzes and off we go for the day ahead.
The benefits of using solid perfume
Using a spray fragrance directly onto the skin requires an alcohol-based product to allow for the evaporation.
Solid sticks can be applied directly therefore they are less likely to irritate the skin as they don't need the alcohol to help the perfume to dry.
Being in a solid form also makes them a better and safer option for when travelling as there are restrictions on taking liquids onto an airplane. Add link
If you've ever come across aromatherapy perfume sticks, these are very much the same but with the added benefit of healing.
Great for those who suffer with headaches or struggle with trying to stay relaxed. Especially at night when many people may find themselves more awake instead of ready to switch off for sleep.
Unlike a bottle of your favourite perfume, there isn't any wastage when it comes to using solid perfume sticks.
Let's take a look at some solid perfumes that are on the market.
You will also see that FM cosmetics have a small selection of solid fragrance sticks, for men and women, so definitely worth a look.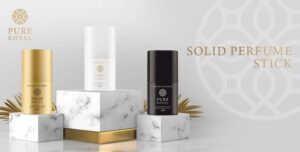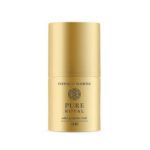 Less wastage 
How many of us have tried to spray that last drop out of our favourite scent ? When it comes to designer fragrances that cost more money, it makes us even more determined to use the last drops before we throw the bottle away. No one likes wastage.
A perfume stick will simply wear down to its base and then it's ready to be thrown away for a new purchase.
There is more general wastage each time we spray a bottle onto the wrists and neck, where half the spray goes anywhere but on the skin!
A solid perfume will never be wasted in the same way as a direct product. What's more, it won't leak in your handbag if the lid falls off or the bottle gets smashed.
Skin preparation 
The skin also plays a part in how long a scent will last.
Depending on what we already have on our skin besides natural oils, spray perfume can be diluted by body sweat. As solid perfumes are anhydrous, which means that they do not contain any water, this gives them the advantage of lasting much longer.
Applying a fragrance onto the skin after a shower or on top of Vaseline will hold the scent for longer.
Affiliate disclosure
This page contains affiliate links. Should you click on a link and make a purchase, I may receive compensation.
Kinder for the skin
Any product that contains alcohol will have an effect on the skin over time, so if your skin is prone to dryness and you don't want to miss out on using a daily spritz of your favourite fragrance, a solid perfume is certainly an option and worth a try.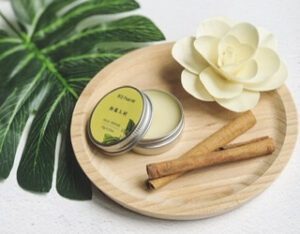 Quick to use on the go
Solid perfumes are more convenient to use when you're out and about as they can be applied much easier and directly onto the skin without impacting those around you.
Grabbing a bottle of perfume out of your handbag and spraying it onto your neck whilst on the train or in a busy office, won't see much favoritism from those around you or your work colleagues!
Bottled sprays will leave perfume sillage and this can be over-powering too, especially if you're a lover of oriental, woody or citrus notes.
As much as it's great to have someone admire our scent, it's a different ball game if they can smell it before we've even entered the room!
If you like to apply a fragrance regular throughout the day, just to freshen up, then a solid perfume is a good option. Quick and more discreet to apply.
What's more, both men and women can use them. You'll rarely see a man pulling out a large bottle of aftershave from his briefcase so they are more likely to use a fragrance stick. Far more masculine, would you agree?
Did you know that you can buy unisex perfume sticks too?
If you're a couple travelling light, why not buy one that you can both use ?
Applying a solid perfume
Just like spray fragrances, the wrist is a popular place to also wear solid perfume and scent is released throughout the day.
A gentle sweep over the top of the solid perfume with your finger is enough to apply onto your skin.
Another great place to apply perfume is on the neck. This is usually the most common place for women to spray.
Spray perfume evaporates more quickly so if you are looking for a longer lasting fragrance then a solid stick is a great alternative.
The pulse points are also an ideal area to apply perfume. More uncommon areas are behind the ears, knees and the inside of the elbow.
Always aim for the warmest parts of your body as these areas will help to retain the fragrance throughout the day.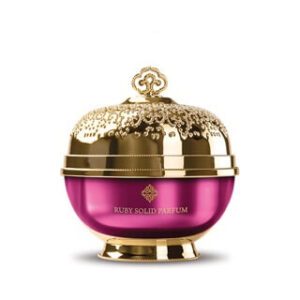 The Cost of solid perfumes 
Depending on where you purchase solid perfume, they can range in price and they do tend to be more expensive than a bottle of perfume.
When we think about how much we spray onto our skin in comparison to using a solid perfume, the cost is relevant.
Also, a great alternative if you're not keen on the first few seconds of spraying yourself. Those initial spritz can be quite overpowering when it's first applied, especially if you have a strong scented taste in perfume.
Overall, it's great to try both to see which type you prefer and which is most suitable for you.
Have you tried a solid perfume stick ?
I'd love to know your thoughts.
comment below or get in touch.