Everyday perfume is one of your fragrance sprays that you can wear to work or out shopping without feeling guilty.
So what if there was an option to have a more affordable bottle that can be used every day? One that can be sprayed frequently without the worry of it being an expensive designer bottle ?
Firstly, you'll be reading this post because you have an interest in perfume. Do you wear a fragrance every day ?
Many men and women will have their favourite one that they use as a daily spritz.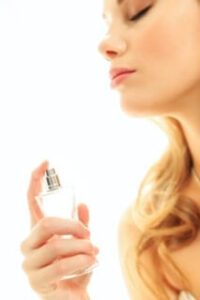 The photo of FM 900 below is currently one of my favourites.
A bottle of Pure Royal unisex fragrance that contains 20% perfume ( more than your designer bottle which usually contains 16% as an EDT)
This fragrance is Inspired by Tom Ford – Lost Cherry.
What does inspired mean exactly?
Genuine versus fake
Our fragrances are none of the above.
When we come across fake perfumes, there are several characteristics and not all will be easily noticeable.
The most common one will see a fake perfume sold in the same style bottle as designers and packaged with the same label to make it look like a designer fragrance.
As you can see from the picture, our Pure Royal bottle is a unique design. Not copied from anywhere.
So what about its contents?
Well, fake perfume has a darker tinge to it. Genuine perfume will be a very light colour.
Take a look at my previous post Drom fragrances which covers the insight into where FM originates and how the story begun.
Affiliate disclosure
When you click on links to various merchants on this site and make a purchase, this can result in this site earning a commission. Affiliate programs and affiliations include, but are not limited to, the eBay Partner Network.
FM Pure Royal fragrance on eBay
Every day is a good day for perfume
I remember the days when purse strings restricted me to one or two designer perfumes in my wardrobe.
Any more than that was a luxury and the cost was a little out of my reach 30 years ago.
It was a bonus if I had a bottle bought as a present.
When we own an expensive bottle of perfume, we rarely spray it for everyday such as going out to work.
Such perfumes can be costly and we can't justify wearing a pricey fragrance to go to the office or into town to do shopping.
A special occasion saw the perfume being used and then put back in the cupboard for the next evening out.
Designer inspired fragrances
When I started working with FM, the one thing above anything else was that I could make my own purchases, save money and own far more bottles of quality perfume than I ever had the chance to before.
This alone was what sold me to the idea of working with a network marketing company.
Imagine having access to over 150 perfumes and being able to choose which ones you liked, purchase at a great price and wear your favourite every day.
Spraying a scent knowing that the bottle can be replaced without waiting for a holiday and a visit to the Duty Free or for someone to buy you a bottle as a gift, made working for a perfume company even more appealing.
So we fast-forward 30 years when the wardrobe now has approximately 10 different fragrances that can be worn at leisure.
No more waiting for that special occasion. A different scent to wear every day.
Everyday perfume
Depending on where we are going, what we are doing or what outfit we are wearing, FM allows us to choose a fragrance to match.
Don't save your fragrances for best. Every day should be treated as the best day you'll have so why not enjoy it with your favourite fragrance?
After 2 years of owning a perfume and it being opened but not used frequently will encourage the scent to 'turn' and smell musty.
Once this happens, you won't want to wear it and those around you may make a sharp exit away from your company !
Choosing the right scent
There are so many wonderful daytime perfumes around and these are the best ones for spraying when going to work or out meeting a friend for lunch.
A scent that isn't overpowering to others around you and is a delicate fragrance that still gets others asking what you are wearing, are the best to use. Floral, oriental and citrus notes are perfect.
Fragrances with a stronger, more powerful scent like wood, cedar and vanilla notes are best used for a night out when you want to make more of an impact.
There will be many of you who perhaps don't wear a fragrance during the day at all for many reasons.
Some will feel it's not necessary and some will see perfume as just an evening accessory.
Before I was introduced to FM, I was the same. I used to wear White Musk from The Body Shop as this was a delicate scent, suitable for daytime and evening and didn't break the bank.
Over the past few years, FM have also introduced a body mist which is suitable for daytime use and is especially good for when we have hot weather and our usual perfume feels too heavy.
There are affordable fragrances at your fingers tips wherever we shop these days, whether it is online or browsing the shops. Try to steer away from open markets where you're more likely to purchase a fake without realising.
We love to help others save on purchases as well as making extra money so if you have a question about perfume or are interested in working with us, we'd love to hear from you.
You CAN afford to have more than one perfume and wear your favourite every day.
Need a list of our fragrances ? Just ask Contact me
---