Hoover fragrances were never heard of when I was young. Even though the vacuum cleaner was always being used, I never remember it smelling of perfume.
I always lifted my feet so that my mum could hoover underneath. We had a dog who didn't particularly malt its fur, although the vacuum was used regularly to eliminate the smallest amount of pet hair. As an adult, I now see the need for plugging in electrical items, as it gives a feeling of completeness that the house is clean.
Carpet freshener
In the 1970s, I remember a product available to purchase that was called Shake 'N' Vac. A carpet powder that you shook all over the floor and left to soak in for a few minutes before hoovering it up.
With a very catchy song to its advert and the lady dancing with the vacuum cleaner as she cleaned the carpet, the TV advert was a huge hit alone and ended up being a top-selling product to have in the kitchen cupboard.
Perhaps the only downside was that it was very powdery, so you had to ensure every bit of power was hoovered up if you had pets or small children playing on the carpet. This product left the room with a lovely fragrance, and it would be used maybe once a week to keep the carpets and the room smelling fresh.
They were still affordable back then and now come in several scents. Whilst we can use candles, fragrance sticks and incense burners to give the home a scented fragrance, what about the vacuum cleaner?
Affiliate Disclosure 
When you click on links to various merchants on this site and make a purchase, this can result in this site earning a commission. Affiliate programs and affiliations include, but are not limited to, the eBay Partner Network.
Vac Disc Hoover Vacuum Cleaner Air Freshener Fragrance Smell For Pet Lovers Home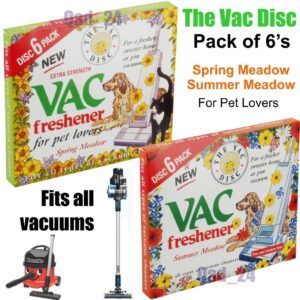 It's all very well having the rooms in the home smelling lovely, but if the vacuum cleaner smells stale from household odours such as old food crumbs from the floor or pet hair that's been hoovered up daily, it really can start to smell horrid. As soon as you switch on a smelling hoover, the whole room smells stale, and once it lingers, there's no getting rid of it.
Fast forward 30 years, and we now see a new product for making the room smell fresh and clean. Hoover filter pads are full of fragrance that sit in the dust bags, by the filter and not only keep the vacuum cleaner smelling fresh, but they leave a wonderful scent in every room you clean.
lavender hoover freshener sticks fresh scent perfume vacuum cleaner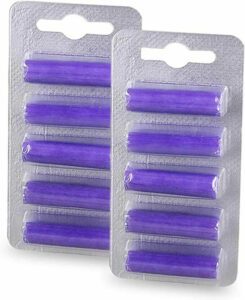 The benefits of using Hoover fragrances
Long lasting– depending on where you purchase, you can get a good 8-12 weeks of fragrance from a vacuum filter scent.
Affordable-  FM Cosmetics sells a pack of 2 for £4.90. They smell similar to designer fragrances, so your vacuum can smell as gorgeous as your perfume.
Variety of Scents: Vacuum fragrances come in various scents, ranging from floral and citrus to more neutral or clean scents. Some popular choices include lavender, citrus, eucalyptus, and fresh linen.
Easy to Use: Most vacuum fragrances are easy to use. They may come in pre-measured packs or containers that can be easily added to the vacuum cleaner.
Compatibility: Many vacuum fragrances are designed to be compatible with various types and brands of vacuum cleaners. However, it's important to check the product specifications to ensure compatibility with your specific vacuum model.
Benefits: The primary benefit of vacuum fragrances is that they help mask any unpleasant odours that may be present during the vacuuming process. Additionally, they leave a fresh scent in the air, making the cleaning experience more enjoyable.
Caution: Some individuals may be sensitive or allergic to certain fragrances, so it's essential to be mindful of potential reactions. It's advisable to choose a hypoallergenic scent if you or anyone in your household has sensitivities.
Availability: Vacuum fragrances are often available in stores that sell vacuum cleaners and accessories. They may also be purchased online through various retailers. It's worth noting that while vacuum fragrances can enhance the cleaning experience, regular maintenance of the vacuum cleaner, including cleaning filters and emptying dustbins, is crucial to ensuring optimal performance and preventing unpleasant odours from the vacuum itself.
Child and Pet-Friendly Options: If you have children or pets in your household, you might want to consider vacuum fragrances that are specifically labelled as child and pet-friendly. These formulations are often milder and safer for sensitive individuals.
Allergen Control: In addition to providing a pleasant scent, some vacuum fragrances are designed to help control allergens. They may include anti-allergen properties that can be beneficial for individuals with allergies or asthma.
Unless you have a vacuum cleaner that you can wash the base out regularly, such as a Dyson that doesn't have a filter bag, a fragrance pad is a way to keep your home and vacuum smelling fresh and odour-free.
Typically, you will get an instant burst of fragrance as soon as you switch on the vacuum cleaner so you know that it's doing the job.
If you love fragrances when it comes to perfume and would like a matching scent for your vacuum cleaner, pop along to our online shop where we have a selection of twin-pack filters to choose from.
My vacuum cleaner consistently uses an FM Hoover fragrance pad, even though I no longer have pets. Carpets can still develop a stale and unpleasant smell, but using a fragrance pad, I no longer worry about unpleasant odours lingering on my carpet.
Have a question? Comment below. We're happy to help with any queries.
Unlock exclusive updates, special offers, and insider insights! Join our newsletter community for a front-row seat to the latest trends and exciting news. Don't miss out — subscribe now and be part of something extraordinary!