Who doesn't love scented wax melts?
When it comes to filling the home with fragrances, there are so many options.
Candles, fragrance sticks, canned air fresheners and incense burners.
It all comes down to personal choice with what suits the individual when choosing the right scent product.
What are scented wax melts ?
Wax melts are small pieces of scented wax. There are many on the market and these days there are several that are hand- made so you can purchase unique ones for a special gift.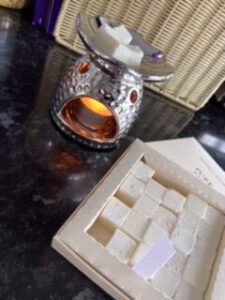 Working with a perfume company has seen a huge range of new products coming in to our business.
The latest addition is the wax melts that are inspired by your favourite fragrances.
Filling your home with a wonderful scent can be a regular thing especially if you are a pet owner or a smoker.
Even stale smells from food can linger in the home a lot longer that we would like.
This leaves many of us reaching for an air freshener, lighting a candle or having reed diffusers sitting in the home to give off a delicate scent.
Affiliate disclosure
This page contains affiliate links. Should you click on a link and make a purchase, I may receive compensation. 
What do we need in order to use wax melts ?
A tea light candle
A wax melts burner ebay
Wax melts of your choice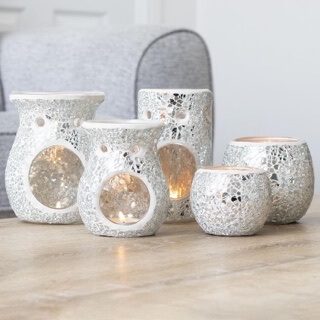 Wax melts can be a more affordable choice compared to candles.
They do tend to last much longer than a candle too and as the was melt in the top of the burner, there is a delightful fragrance that lingers in the room.
Wax melts soak up the heat more slowly than candles and they don't burn or over heat the fragrance and are a safer option for the environment.
As with any lit fragrance such as candles or reed diffusers, it is essential that they are not left unattended.
Some require a tea light candle to melt the wax and the melted wax with be of a very high temperature which will burn the skin or damage surfaces.
If you have pets or small children, use with care if you do purchase a wax melt.
Fragrance sticks are a safer option if you are forgetful that they have been lit. Or you can purchase a plug in wax melt as a safer option.
Affiliate disclosure
When you click on links to various merchants on this site and make a purchase, this can result in this site earning a commission. Affiliate programs and affiliations include, but are not limited to, the eBay Partner Network.
Take a look at some wax melts burners on ebay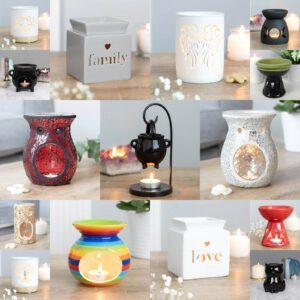 There is very much a comforting and cosy feeling in the home when wax melts are used and give off an aroma in the home.
Try to avoid buying cheap wax melts that contain paraffin as those who suffer with asthma or lung issues will be affected.
Paraffin wax is often used by big companies as they can mass produce them but when you burn paraffin, it fills the air with potentially toxic chemicals so these are very much avoided.
You may also notice a strong wax smell too when it's burning.
Candles and wax melts that are made with natural wax are more environmentally friendly and even though you will pay more for them, they will burn slower and last much longer.
If you've ever been for a back massage at a health and fitness retreat, wax melts will be very popular as they set the scene for a calm atmosphere to aid in your relaxation.
Benefits of using wax melts over candles
Wax melts are long-lasting
Safe to use
Longer burning time
Safer for the home and environment
Leave a delicate fragrance
Elegant and stylish in any room
No black soot on the walls or furniture
Set the mood for a relaxing evening
Help with mediation
Leaves a wonderful fragrance in the home

HOME RITUAL PURE SCENTED WAX MELTS
Fill the interior of your home with a beautiful scent.
Thanks to the unique fragrance compositions, it makes it even more enjoyable to spend time at home.
The wax melts are made of eco-friendly raw materials of the highest quality and are not only good for your household members, but also for the environment.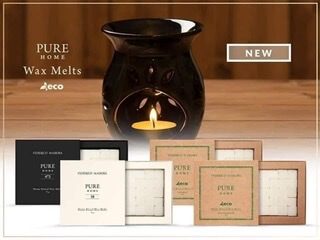 If you would like a list of the wax melt scents that FM Cosmetics sell, please get in touch or comment below.