Many of us have candles scattered around the home to give the feel of warmth, elegance and emit a beautiful scent in the room. If you're a candle addict like myself, every room will have a candle sitting somewhere and by reusing candle jars we can create another solution for these items.
The majority of us are guilty of throwing the jars away to be recycled after the candle has burned through but what can we do instead to reuse the empty jars and save our environment ?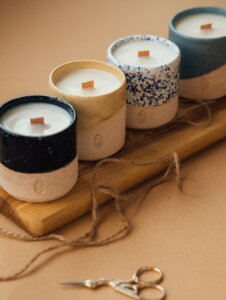 Save your candle jars for uses around the home
Candles are hugely popular and come in all varieties, shapes and sizes.
Whilst some will be in simple containers, there are many on the market today that are just too beautiful to throw away.
We are very much into up cycling nowadays and it is not just restricted to furniture or clothing.
Many of us will be very mindful of throwing away items and doing damage to our environment so this is a great way to do our bit for the world.
Recreating something else out of a candle jar will keep the home tidy and will make finding things much easier than in drawers.
If you like purchasing luxury candles, then more often than not, these types will come in a more expensive container to reflect the price.
It's a shame and a waste to throw the jar away once the candle has burned and we've spent money so remember to save them.
Cheaper candle containers can still be used for another item and with the popularity of candles today, it makes more sense to reuse the jars.
Let's take a look at some ideas for reusing candle jars around the home, workplace and school.
Reusing candle jars
Pen/pencil pot

We all have countless pens lying around the house, and you can guarantee that whenever you need to find one to make a note whilst on the phone for example, there is never one to be seen.
As long as your candle jar is deep enough to take the average size pen, you're good to go with this wonderful idea of keeping pens in a place that is accessible.
Pen pots are widely used in schools too and if you have tinned containers, these are perfect for sitting in the classroom. They also reduce the need for purchasing so much plastic.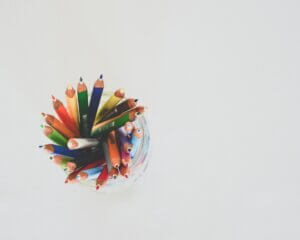 Plant pot

I love this idea.
It's so important to have plants in the home. Certain plants can improve our indoor air quality and therefore helps us to breathe better and increase oxygen levels.
Adding a little soil and some plant seeds will enable you to grow your own plant. Another idea would be to re-pot an existing plant into a more elegant container.
Plants in the home bring the greenery of the outside nature, inside.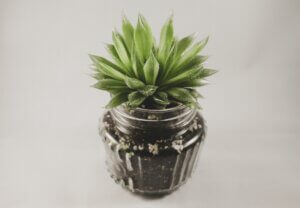 Centerpiece for a table

Whether it's a centrepiece for Christmas time, or just to add some elegance in the middle of your dining room table when entertaining, a decorative candle jar as a centrepiece will bring your home to life.
It adds an inviting touch to the table at dinner time. You could also purchase some floating candles and pop them inside a decorative jar.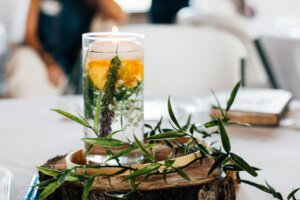 Fairy lights

This is a wonderful idea and something I have used myself around my home.
Small sets of LED battery operated lights can be purchased from most stores as well as online shops such as eBay.
You can also use empty wine bottles for a similar effect. They make a wonderful centerpiece as well as giving the home a welcoming and warm environment.
It's amazing the effect they can create in the home on a cold and winters evening and it's something that is so simple and cost-effective.
Homes always feel warmer when there are candles burning or fairy lights switched on, so this is definitely one to try.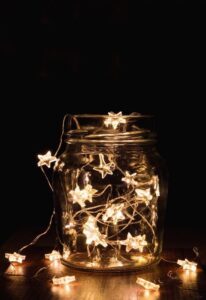 Kitchen utensils

Have small utensils such as a mini whisk, meat thermometer, pasting brush or wooden spoons easy to access when cooking and prevent the cutlery drawer from becoming too full.
Cosmetic brushes

My cosmetics brushes are currently sitting inside a ceramic candle holder that I have kept and washed. Similar to the pen holder, make sure your jar is deep enough to take the length of different size brushes, and they will always be to hand when you are applying make up.
It also helps to keep them clean for longer when they are not mixed up in a cosmetics bag.
You can also add lip liner or eyeliner pencils so they are easily accessible.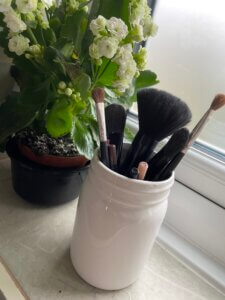 Cotton buds/pads
Have you ever bought cotton buds and found that the pot just isn't suitable?
They're so packed in tight that when you do want to take one out, several buds fall out of the container at once and you end up poking the rest back into any space you can find for next time.
Make them easy to get to by adding them to a candle container instead.
For those that use a cosmetics remover product instead of a make up remover towel, make the cotton balls/pads accessible in their own container and ditch the plastic bag that they are sold in.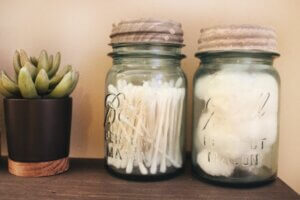 Sweet/biscuit jar

When my children were much smaller, I used to keep small sweets in a jar and they were allowed one per day each.
If you have purchased a candle with a lid such as the Yankee candle, then these are perfect for using and they will hold a fair few small sweets. Biscuits can also be stored for easy access.
Loose change

Most of us use a card or our phones to pay for items these days so we do see less of the small change.
If we do have any spare then a candle jar is perfect for keeping loose coins in one place.
Shallow candle holders are ideal where we don't need the depth. If you collect copper coins, use a large bottle with a wide rim and save them up.
When the bottle is full, bag the coins and bank them.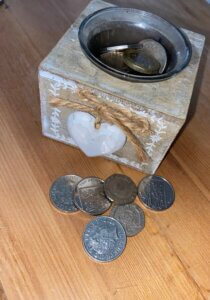 Arts and crafts
For those who have young children and perhaps have an arts and crafts cupboard, will know how good it is to have containers and pots for items such as crayons, beads, ice pop sticks, glitter and scissors.
Candle jars with lids are ideal for the smaller items. Sewing cotton is great to store in clear jars as the vibrant colours pop through.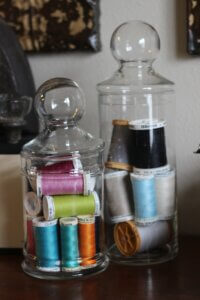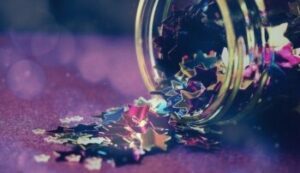 Buttons

My late mum had a huge collection of spare buttons that she had collected over the years and they went inside a tin.
An avid sewer, there was always a spare button available to sew onto a cardigan, skirt or a pair of trousers when myself and my siblings were small.
I now find myself occasionally looking through those buttons to find a suitable one for any that are missing on my items of clothing or my children's.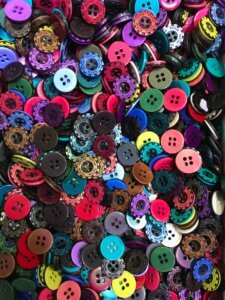 Nail polish

If, like myself, you have a drawer with every nails polish colour under the sun thrown into it then I would recommend a shallow candle jar instead.
Nail polish is best to keep upright to prevent spillages and stored away from direct sunlight and heat.
If you have a few favourite colours that you need to access regularly, a candle tin can be a great idea for keeping those bottles upright and tidy.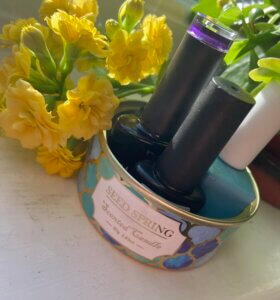 Beverages
More and more of us reach for the herbal teas. A great way to store herbal tea bags is in a jar instead of having the box sitting on the kitchen work surface. If you have three matching candle jars, you can add coffee in one and sugar in another to jazz the kitchen up.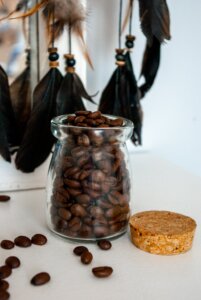 Tea light candle

Reuse a candle jar with a candle. Simple but effective. Any size candle container can be used for this.
Pop your choice of scented or unscented tea light candle inside and you have instantly created your very own tea light holder.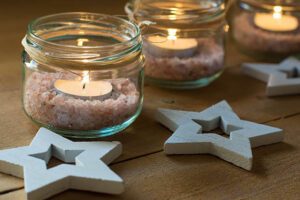 Affiliate disclosure
When you click on links to various merchants on this site and make a purchase, this can result in this site earning a commission.
Bath salts
For those who still have a bath tub in their home and enjoy a long soak at the end of a busy day, will benefit from the wonderful colours that bath salts are made with.
A collection of different colours in clear candle jars can brighten up any bathroom and make it feel very homely and relaxing.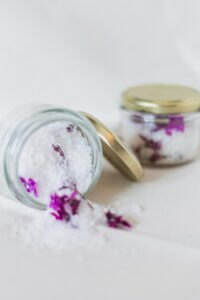 Batteries
Loose batteries rolling around in a drawer and not being able to find one can be a pain!
Save your candle jar so that they can be easily accessed for when the kitchen clock battery decides to die.
Charging leads
With technology being all around us nowadays and everyone in the home having phones, laptops or an iPad, the leads are endless.
They all look the same and are more often than not, tangled up.
As a hairdresser, my kitchen not only has these types of leads but also the ones that I use for charging cordless clippers.
Unless you have every lead positioned in a socket so that they are to hand, they can become a tangled mess if they're sitting inside the kitchen drawer.
Gather them up separately and wrap an elastic band around them, pop them inside a deep candle tin or jar and you have all of your leads neat and untangled.
Preparing your used jar
Removing the old wax
If you have any wax residue in the base or edges of your candle holder there is a simple way to remove the excess.
Add boiling water to the jar and leave to stand for a few minutes.
The boiled water will help to lift the wax out in one piece. Remove any left over wax around the sides.
Labels can be removed with hot soapy water.
Wash the jar or container thoroughly and dry.
Once the left over wax and any labels are removed, you can be very creative by adding your own design to the jar and make it more decorative and personalised with items such as stickers, glitter or even dry flowers.
There are some wonderful ideas on Pinterest.
Recycle your jar for a friend or family members birthday or a Christmas present and pop a tea light candle inside for the perfect gift.
A great way to give something unique without spending a fortune.
Conclusion
Make use of any used candle containers around your home. Whether they are jars or tins.
The list is endless with what they can be used for and are a great way of helping you save money in other ways.
Sign up to our monthly newsletter for the latest blogs in the perfume world, skin care products, the best candles to buy and more!
Related articles: luxury candles, summer scented candles, designer scented candles