Floating candles are very popular and have gained widespread popularity for various reasons. They create a visually stunning display that captures our attention when they give off a calm glow.
The reflection from the water creates a mesmerising atmosphere, similar to gazing into an open fire.
They are a popular choice for adding a touch of elegance to any home or for table decorations at special occasions and events.
Floating candles
Floating candles are very versatile too, besides using them for occasions such as weddings or dinner parties.
They can also add relaxation when taking a bath and help to calm the mind as well as a table decoration for a romantic dinner for two to create a cosy atmosphere. They are very easy to use and require minimal effort to set up.
Your chosen candles can be placed in any water-filled container, such as a bowl or clear vase and they will create a beautiful display instantly. One of the reasons why floating candles are so popular is because of their accessibility and affordability.
They can be found in local stores, online and in candle shops with the choice of a variety of candles available.
Floating candles offer endless decorative possibilities. If you were to search up decorative floating candles, you will see how they can be combined with other elements such as flowers, petals, or decorative accents to create stunning centerpieces or Tablescapes. This has become a new trend where your table has a combination of tableware, centerpieces and decorations.
This versatility allows individuals to customize the look and feel of their displays according to their personal style or the specific event theme. They look stunning whenever you attend a function such as a wedding and they set a beautiful scene for a wonderful event. They add a touch of elegance to any occasion as well as everyday moments when we just want to relax and switch off. We all strive for quality time for our health and emotional well-being.
There is also a symbolic meaning associated with tranquility, spirituality and reflection when we use floating candles. Many people appreciate the deeper significance and the sense of calm they evoke. As a result, floating candles are used in rituals, ceremonies and cultural festivals to represent purification, renewal or remembrance.
How do they work
Floating candles are designed to float on the surface of water. They are typically made of materials that are lighter than water, such as wax or other floating substances.
This buoyant nature allows the candles to effortlessly stay afloat and move with the gentle movement of the water. It's very relaxing to watch as they bob gently on the water.
Affiliate disclosure
When you click on links to various merchants on this site and make a purchase, this can result in this site earning a commission. Affiliate programs and affiliations include, but are not limited to, the eBay Partner Network.
Hestia Set Of 3 silver Floating candles in VASES with grey faux flowers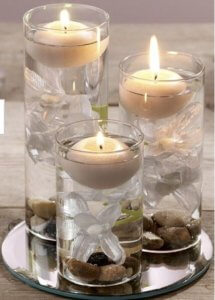 They have a wick that is embedded in the center, in the same way as traditional candles.
The wick is typically made of cotton or another combustible material that can absorb the melted wax and act as a fuel source. When the wick is lit, the heat of the flame melts the surrounding wax, creating liquid fuel for the flame to sustain itself.
As the floating candle burns, the heat of the flame continues to melt the wax. The liquid wax is then drawn up the wick through capillary action, where it is vaporized and consumed by the flame, creating a continuous cycle of fuel supply.
The burning process is controlled, and the flame remains steady as long as there is sufficient wax being drawn up the wick.
How to burn your floating candle 
Pink Floating Candles Unscented Long Burning Time Tealights Wedding, Christmas
Floating candles are designed to maintain stability while burning on the water's surface. The base of the candle is usually wider or flat to prevent the candles from tipping over. Additionally, the water acts as a cooling agent, which helps with reducing the risk of the flame spreading or causing accidents.
Safety
As with all candles, never leave them unattended. Keep them away from flammable materials and ensure that they are placed in containers deep enough to prevent the flame from reaching the bottom or sides of the container. Keeping this in mind will then ensure that you can enjoy the candles to their fullest. Floating candles make lovely gifts too.
Scented and unscented
They can be scented, but not all floating candles have a fragrance. The availability of scented floating candles depends on the specific product and brand you choose.
Assorted Floating Flower Scented Candles by Hana Blossom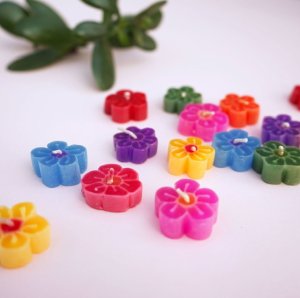 Scented floating candles are typically made by infusing the wax with fragrance oils or essential oils during the manufacturing process. When the candle is lit, the heat releases the scent, creating a pleasant aroma in the surrounding area.
If you specifically want scented floating candles, it's important to check the product description or packaging to ensure that they are indeed scented. Some floating candles may have a specific scent mentioned, such as lavender, vanilla, or citrus, while others may be unscented.
Premium Floating Candles Unscented Long 7h Burn White Wedding Tea Lights 12 Pack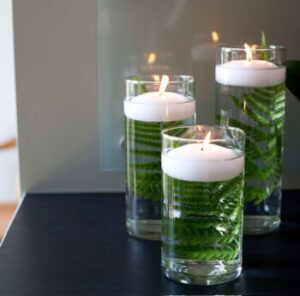 Keep in mind that the scent of floating candles, especially when used in larger spaces or outdoors, may be more subtle compared to using other scented candle options such as candles that you would burn in a jar.
However, they can still contribute to the overall sensory experience and add a touch of fragrance to the ambiance.
If you prefer a stronger aroma, there are other options available that you can consider. Using scented oils, wax melts or diffusers alongside unscented floating candles can enhance the scent in the air. This allows you to customize the fragrance to your liking whilst still enjoying the visual beauty of floating candles.
FLOATING CANDLES 4 PACK DAISY GLITTER 4 HOUR BURN TIME DECOR WEDDING EVENTS HOME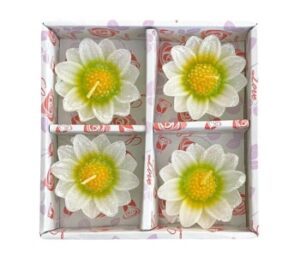 Floating candles come in various sizes and shapes to suit different preferences and purposes. Common shapes include round, oval, or flower-like designs. The sizes can range from small tea light-sized candles to larger, more substantial ones that can create a more dramatic effect.
The burn time of floating candles can vary depending on their size, composition and quality. Smaller floating candles may burn for a few hours, while larger ones can burn for several hours or even up to 10 or more hours.
Check the packaging or description of your floating candle before your purchase to ensure you have the most suitable candle for your needs.
Conclusion
The combination of their visual appeal, versatility, ease of use, affordability, and symbolism contributes to the popularity of floating candles among individuals who seek to create a captivating and serene atmosphere in their surroundings.
Sign up to our monthly newsletter for the latest news in the perfume world, the best candles for indoors and outside and more.