Exfoliating foot peel review
We often forget about treating our feet as part of a daily skincare routine but it's just as important to look after our feet.
What better way to take care of our skin than with a foot peeling mask.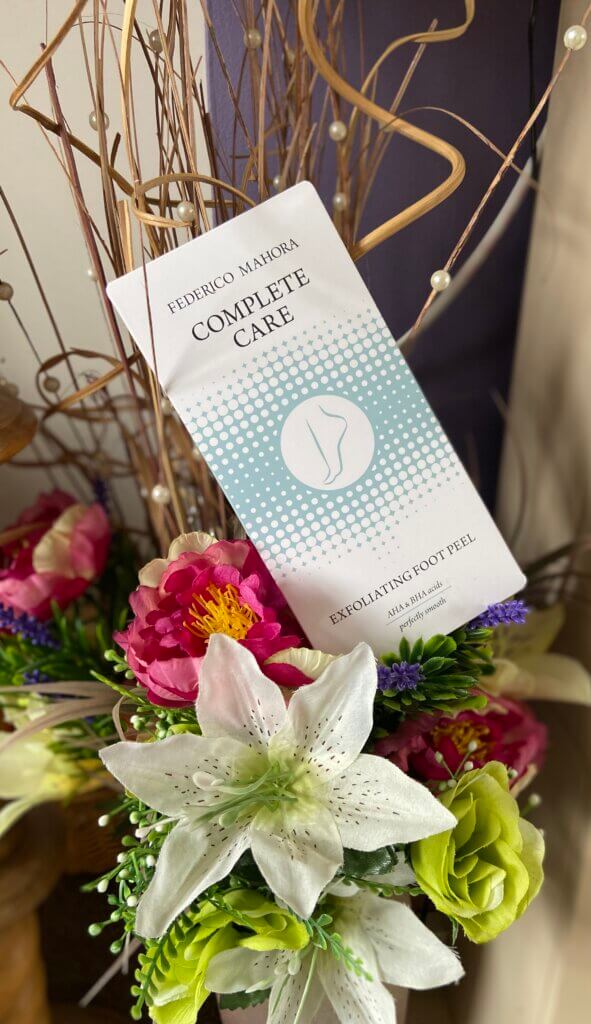 Forgotten feet
Our feet spend so much time in socks and closed in shoes throughout the winter and cooler months, that we often forget to treat our feet.
It's not until we are home from work, jump in the shower and notice the dry skin forming on the heels and around the big toe.
Both are common parts of the foot to suffer the most dryness.
If you leave the skin on the heels for too long when they are so very dry, this can lead to cracked skin and trust me, this is very painful if it gets that far. Prevention is definitely better than cure.
Our feet are important
No one sees our feet during the winter and maybe that's one of the reasons why we don't bother to look after them as much as we do, say our hands.
Many of us will be on our feet for a good while during the day when working.
They do take the brunt of most things from being squashed into shoes or boots that are perhaps a little too tight to being the main part of our body that allows us to stand up for long periods of time.
Showers and baths will of course clean the skin on our feet but as soon as summer arrives, we suddenly realise that our feet have been neglected as we see the dry and hard skin starting to form.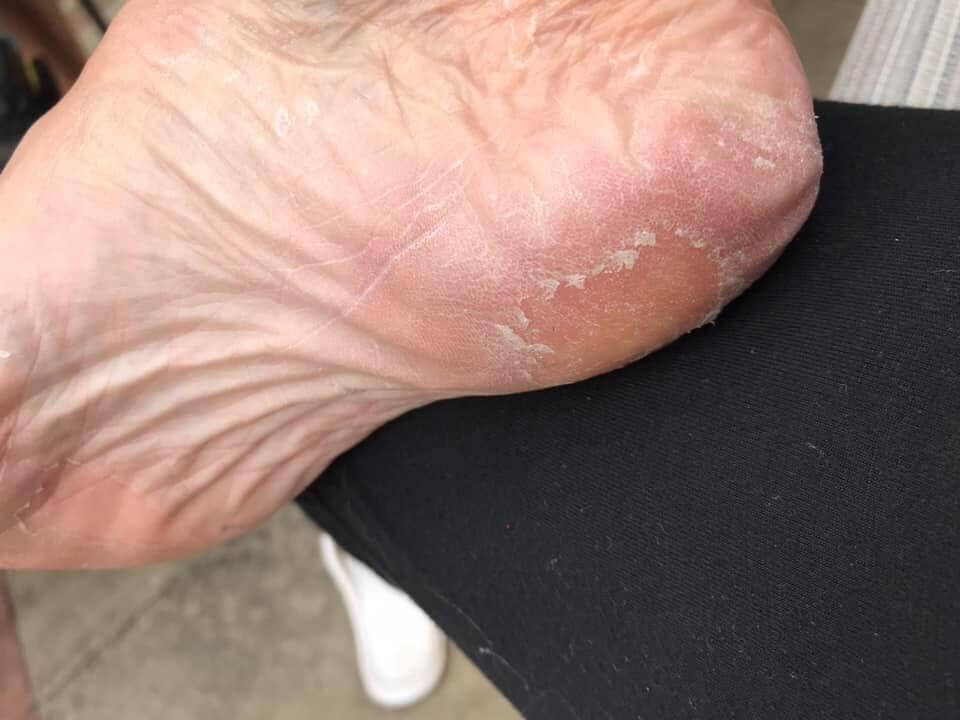 Footwear and varnish
Countless sandals, sliders and other footwear for the hot weather come out of the wardrobe.
We're excited to wear open toe shoes as the weather gets warmer, only to find that our feet are not looking as elegant and moisturised as we expected.
There will be many women like myself who paint their toenails all year round.
Some who only paint their nails during the summer, when they are wearing the appropriate footwear to show a summer colour off.
We do tend to look after the parts of our body that are on show most of the time such as our face and hands.
A skincare routine is essential in keeping the skin looking healthy, moisturised and hydrated.
When our hands are on show we are very much aware of how they look, whatever job we may be in.
Don't forget your feet
We can wash and moisturise them and use a pumice stone to remove excess dead skin cells which do work to a degree.
Often the extra bit of care gets forgotten about as it all takes time and it's often not classed as essential as our hands and face that people will see all the time.
The skin does need to be prepped before using a pumice stone to get the best results, so usually after a bath or shower when the skin is soft enough to remove gently.
A pumice stone will wear down each time it is used and the best way to use them is when they are wet.
This will help the stone to glide across the calloused skin. Soaking your feet in warm water also prepped the skin and softens it to make it easier.
Pumice stones are very affordable and commonly used.
There is nothing wrong with using this method to soften the hard skin on your feet but you will notice that it will need to be carried out regularly to keep the skin soft and subtle.
Using an exfoliating foot peel
What are the benefits of using an exfoliating foot peel?
There are so many brands on the market today, similar to face sheets, that it can be difficult to know which one to purchase.
I have previously read reviews regarding the foot peel by FM World so I was keen to give it a try.
When this little package is opened, it reveals two liquid sachets and two sock bags.
The liquid is poured into the separate sock bags, one for each foot.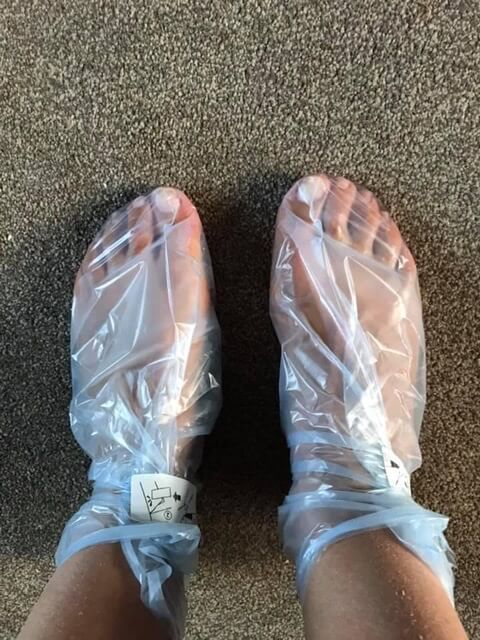 Any nail polish needs to be removed prior to using the exfoliating foot peel and with clean, dry feet, insert them into the bags.
There is a sticky label to tape the bag snugly around the ankle for a secure fit.
It advises to wear the bags for 60 to 90 minutes.
A great excuse to sit, relax and watch TV or read a book.
Affiliate disclosure
This page contains affiliate links. Should you click on a link and make a purchase, I may receive compensation.
After the time has passed, remove your feet from the bags and rinse off the remaining liquid with water and pat dry.
It takes between 4 to 7 days for the exfoliation to commence and will last for the subsequent 3 to 5 days.
Having used this for the first time a few months ago, my skin felt wonderfully soft even before the exfoliating began.
It gave me the chance to sit quietly as I wasn't able to walk around with liquid bags on my feet and it felt very therapeutic being pampered at home.
This product contains AHA/BHA acids which perfectly regenerate damaged epidermis.
With a rich of complex natural ingredients, urea and allantion, it additionally moisturises. Just what our feet need.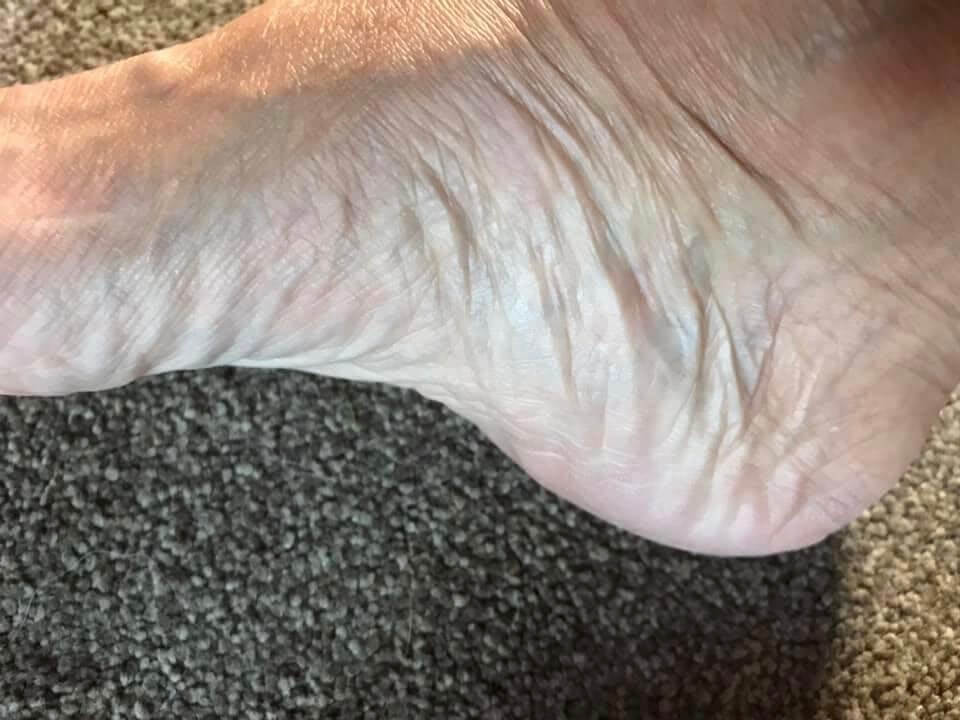 ■ The foot peel effectively removes calluses
■ Contain extracts of honey, opuntia, pear, passion fruit, lemon, grape and pineapple
■ The peel leaves the feet feeling perfectly smooth.
■ Recommended to use once a month.
It's a wonderful vision to watch the dead skin peeling away from your feet and gives a sense that a product is doing what it says it will do.
When the peeling process had finished, my feet felt very smooth and hydrated.
It gave me back the confidence to wear sandals again.
With the added dash of colour to my toe nails, it felt wonderful to show off my feet, knowing that I no longer felt embarrassed about the dry skin on my heels and toes.
In between using the exfoliating foot peel, I would recommend applying a body moisturiser to the feet at night.
I recommend our Complete Care Ultra Moisturising Foot Cream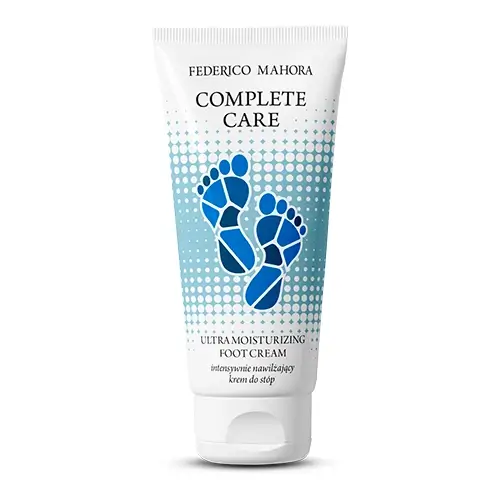 This product will aid in keeping the skin soft and supple in between treatments and costs £10.50
Exfoliating foot peel
Price : £13 available to buy from FM World

Watch the video here

My rating : 10 out of 10!
Definitely the best foot peel that I have ever tried and one that I will definitely use again.
So much more effective than a pumice stone and a great way to bring the salon pamper experience to your home at an affordable price.
If you would like to find out more or have any questions, please feel free to get in touch.
Black Dahlia CBD Skincare Collection
Sign up to our monthly newsletter for tips, the latest news and blogs.