The best Rollerball perfumes
This year (2023), the perfume industry has become popular for the rollerball fragrances. Women especially, like to take perfume in their handbag to spritz throughout the day.
With some perfume bottles often leaning towards the bulky side for carrying in a handbag, the next best thing is a rollerball perfume. Let's take a look at the best rollerball perfumes.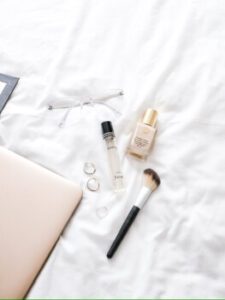 What are rollerball perfumes?
Rollerball perfumes, also known as roll-on perfumes, are a convenient and portable form of fragrance application. They typically come in small bottles with a rollerball applicator on top, allowing you to easily apply the perfume to your pulse points or desired areas.
The rollerball design offers several advantages. It allows for precise application, as you can control the amount of perfume you apply without wasting any.
The small size makes it easy to carry in your purse or pocket, making it perfect for travel or on-the-go touch-ups. Rollerball perfumes also tend to have a longer lifespan compared to spray perfumes, as they are less exposed to air and therefore less likely to oxidize.
Many perfume brands offer rollerball versions of their popular fragrances, allowing you to sample or carry your favourite scents without committing to a full-size bottle.
They are available in a wide range of fragrances, from floral and fruity to woody and oriental, catering to different preferences.
To apply a rollerball perfume, simply roll the ball onto your pulse points, such as your wrists, neck, or behind your ears. These areas generate heat and help release the fragrance throughout the day.
Remember, a little goes a long way, so start with a small amount and add more if desired. Rollerball perfumes can be a great addition to your fragrance collection, offering convenience and versatility.
Are rollerball perfumes worth buying?
I would say absolutely, yes. Especially if you travel and don't want the liquid restrictions at the airport or don't want to carry a bulky bottle of perfume to work or out for an evening.
Rollerball versus spray perfume

We do tend to get a more intense fragrance concentration with a rollerball compared to our traditional sprays.
Unlike the spray bottle, the rollerball will provide a more direct application, so this is ideal If you are perhaps in an area where spraying a bottle of perfume will impact those around you.
Have you ever been sitting in a restaurant and the woman at the next table has finished her meal before you and she gets out her favourite scent and sprays it before she leaves?
It's not pleasant and I don't understand why women don't wait until they are outside to spritz. Nobody else wants to smell your fragrance to that extent.
Are they value for money? Well, with your traditional spray perfume, you do get more product in the bottle that being said, you would possibly use less of the rollerball perfume because it is a couple of rolls on the skin and you're done.
Similar to how perfume is, the rollerball activates when it hits your skin, and then evaporates throughout the day to release its fragrance.
We do lose a certain amount of spray perfume each time we spray on our wrists or neck in comparison to the rollerball version.
A great way to test for yourself which is going to last the longest would be to buy the same size rollerball as your perfume bottle and make a note of when you first started spraying or rolling and see which one lasts the longest.
The same rule applies to storing your rollerball perfume. Keep it in a cool and dry place the same as you would, with your spray, and perfume and away from any light or exposure to heat. This will prevent your scent from degrading.
Rollerball perfume is applied in the same areas as your spray version so pulse points on your wrists and neck are very common places, but you can also place the rollerball behind the ears.
This is certainly a lot easier to do with a rollerball than it is with a bottle of spray perfume. Try not to rub your wrists together. As this breaks the fragrance, it is a simple application to roll the ball across your skin until the scent comes through.
Remember that everyone's skin is different so that one sent that smells good on your friend or family member may not necessarily smell as good on you so it's always good to try a sample first.
Rollerball fragrances will last longer on the skin if the skin is clean and moisturised.
Affiliate Disclosure
When you click on links to various merchants on this site and make a purchase, this can result in this site earning a commission. Affiliate programs and affiliations include, but are not limited to, the eBay Partner Network.
The best rollerball perfumes
Gucci Memoire d'une Odeur
This woody herbal rollerball perfume is ideal for the spring and summer months.
With its delicate choice of fragrance notes, Gucci Memoire d'une Odeur has an elegant aqua-green bottle with a gold lid.
The wonderful thing about this scent is that it is unisex so one rollerball can be used for both of you. A very relaxing scent that allows both sexes to enjoy its blend of 'memorable' fragrance notes.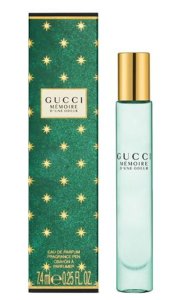 Gucci Memoire Dune Odeur 7.4ml EDP Spray for Travel or Handbag
Keynotes:
Roman chamomile, bitter almond heart, coral jasmine, jasmine petals, musk, vanilla, sandalwood
Dior J'adore eau de parfum roller-pearl

With a beautiful feminine bottle and 'Jewel' neck before we get to the perfume cap, this fragrance sits in the floral family.
It was launched in 2019 and comes in a 20ml bottle so it's ideal for tacking on your travels.
The glass bead tip allows for just the right amount to be distributed onto the skin. The feminine bottle matches the scent as the floral notes blend so well together.
Suitable for daytime wear without being overbearing to those around you.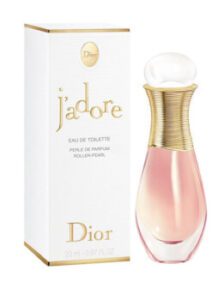 CHRISTIAN DIOR J'ADORE 20ML EAU DE TOILETTE ROLLER-PEARL BRAND NEW & SEALED
Keynotes: jasmine sambac, Jasmine,ylang-Ylang, damask rose, tuberose, orange blossom
Marc Jacobs Daisy rollerball

If you're already a wearer of this popular and iconic scent, then you will love this body oil-scented rollerball with its delightful floral and fruity notes.
Its scent is so identifiable by many that you will almost certainly have others asking if you're wearing 'Daisy'. It's the perfect scent for spring and summer and a timeless classic for women.
Despite this scent carrying several fruit notes, it's surprisingly not over-sweet and does have a woody fragrance to it as the base notes pop through. The perfect reminder that warmer weather is on its way and with Daisy being a very subtle scent, the wearer can enjoy the freedom of delicate notes that won't overpower.
The sillage is very light but some will prefer this, especially if it's being worn daily or in the office where others are in proximity to you. An affordable rollerball that is the perfect accessory for your handbag.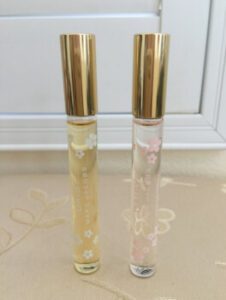 MARC JACOBS 2x Daisy Eau de Toilette So Fresh Rollerball Fragrance 0.33oz NEW
Keynotes: strawberry, violet leaves, violet petals, jasmine, musk, vanilla
Miss Dior eau de toilette
Refreshing and floral, Miss Dior captures a radiant fragrance in this rollerball perfume.
With its pretty pink bottle, this scent has a beautiful combination of summer notes that give instant freshness to the skin and a zest of fruit.
In a 20ml bottle, it's the perfect accessory for travelling and popping in your handbag. This scent as a rollerball also comes as an Eau de parfum for a longer-lasting fragrance.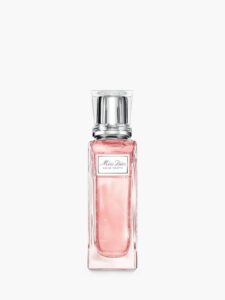 Keynotes: blood orange, mandarin, Lily-of-the-valley, Grasse rose, patchouli
Gucci Bloom
This delightful scent sits within the floral family and has a very simple peach-coloured casing and lid.
It is a light and fresh scent, perfect for those warmer days. Most of us have heard of Gucci, so they are no stranger to the perfume and fashion world. Interestingly, the note of the Rangoon creeper is a plant that changes its colour when it blooms.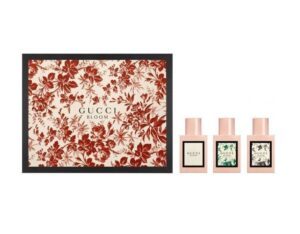 Gucci Bloom Gift Set Acqua Di Fiori Nettare Di Fiori 3 Pieces Women Fragrances
Keynotes: Rangoon creeper, jasmine bud, tuberose
Conclusion:
Whatever preference you have for an eau de toilette spray, Eau de parfum or a rollerball, you can find affordable fragrances online. It's recommended that you try samples of a scent before your purchase, especially if it is a new fragrance.
You can purchase samples of inspired perfumes here at FM World, where we have over 150 fragrances for men and women.
Sign up for our monthly newsletter for the latest news in the perfume world, the best candles to buy for summer BBQs in the garden and how to get the perfect night's sleep with a pillow mist spray.