Perfumed jewellery, also known as scent or fragrance jewellery, combines the beauty of jewels with the pleasant aroma of perfumes or essential oils that one can wear in many forms.
It serves as a fashionable accessory that allows the wearer to carry their favourite fragrance with them throughout the day.
It is a lovely idea that has become popular over recent years and its origins can be traced back centuries.
The practice of wearing scented objects or accessories can be found in various cultures throughout history.
The beginning of perfumed jewellery
In ancient Egypt, perfumed oils and good luck charms were used for both their fragrance and their protective properties.
These good luck charms, known as 'amulets' were often made of precious metals and made more beautiful with gemstones, combining the attractive and stylish appeal of jewellery with the aromatic qualities of fragrance scents.
During the Renaissance period in Europe, scented lockets and pendants became popular among the high reef so users rank, known as the nobility.
These small containers were designed to hold solid perfume or scented materials such as herbs or flowers.
They were often made of gold, silver, or other precious metals and featured detailed and intricate designs or engravings.
In the 19th century, the concept of perfumed jewellery gained further popularity with the invention of the perfume locket.
Many of us will remember wearing a small locket, usually heart shaped, when we were younger and inside was our favourite photo. Albeit a very tiny photo, but it was a reminder of someone we held close to our hearts.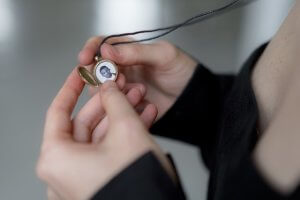 It's a similar concept where perfumed lockets were designed to hold small pieces of fabric or pads that were infused with perfume. The wearer could open the locket and enjoy the fragrance throughout the day.
Perfume lockets became fashionable accessories, especially among women.
In recent years, perfumed jewellery has experienced a revival as a trendy and innovative concept. Modern perfumed jewellery often incorporates various designs, materials, and technologies to enhance the fragrance experience.
Some pieces feature specialized compartments or chambers to hold perfume beads, essential oil capsules, or scented diffusing stones. These components can be replaced or refilled, allowing the wearer to switch between different scents or refresh the fragrance as desired.
Affiliate disclosure
This page contains affiliate links. Should you click on a link and make a purchase, I may receive compensation.
Perfumed jewellery is now available in a wide range of styles, including necklaces, bracelets, rings, earrings, and even hair accessories. It certainly makes it easier than having to carry your favourite bottle of perfume around during the day.
Free worldwide shipping and gift wrapping for all purchases at PerfumedJewelry.com. Shop now!
The popularity of perfumed jewellery combines fashion, self-expression, and personal scent preferences. It offers individuals the opportunity to carry their favorite fragrances in a unique and elegant way, creating a sensory experience that is both appealing, pleasing and emotionally uplifting.
I can definitely see the appeal and the jewellery that is produced nowadays is stunning.
Overall, perfumed jewellery has evolved over centuries, drawing inspiration from ancient practices and incorporating modern design and technology.
It continues to enchant people with its blend of fragrance and jewellery, allowing individuals to express their personal style and carry their favourite scents wherever they go.
Different types of perfumed jewellery
Women will wear perfumed jewellery for a variety of reasons. Let's take a look at some of these ideas.
Fashion and Style: Perfumed jewellery serves as a fashionable accessory that enhances a woman's overall look and style. It allows individuals to express their personal taste and add a touch of elegance and sophistication to their outfits.
Perfumed jewellery comes in a wide range of designs, from delicate and minimalist pieces to bold and statement-making ones, catering to different fashion preferences.
Convenience: Perfumed jewellery provides a convenient way for women to carry their favorite fragrance with them throughout the day. Instead of carrying a separate bottle of perfume or relying on sprays, wearing perfumed jewellery ensures that the scent is always close at hand. This convenience is particularly beneficial for those who lead busy lifestyles or prefer to travel light.
Related article: Travel size perfume
Personal Scent Expression: Fragrance is a powerful form of self-expression, and perfumed jewellery allows women to incorporate their preferred scents into their daily lives.
Wearing a specific perfume or essential oil can evoke certain moods, enhance confidence, or relive cherished memories. It provides a unique and intimate way for women to connect with their preferred scents and express their individuality.
Sensory Experience: Perfumed jewellery offers a sensory experience by combining the visual beauty of jewellery with the olfactory pleasure of fragrance.
The aromatic elements can uplift moods, provide relaxation, or simply offer a pleasant sensory indulgence throughout the day. The scent can create a positive and personalized atmosphere for the wearer and those around them.
Versatility: Perfumed jewellery allows women to switch between different scents or customize their fragrance experience.
Some designs feature interchangeable fragrance capsules or beads, giving wearers the flexibility to experiment with various perfumes or essential oils based on their mood, occasion, or preference.

Unique Gifting Option: Perfumed jewellery makes a thoughtful and unique gift option for women. It combines the sentimental value of jewellery with the personalized touch of fragrance.
Gifting perfumed jewellery allows individuals to convey their thoughtfulness and consideration while offering the recipient a beautiful piece and a delightful fragrance experience.
The reasons for wearing perfumed jewellery can vary from person to person. Some women may prioritize fashion and style, while others may focus more on the convenience and personal scent expression aspects.
Ultimately, perfumed jewellery offers a multi-dimensional experience, combining aesthetics, fragrance, and individuality.
Where can I purchase perfumed jewellery ?

Perfumed jewellery can be purchased from various sources, including physical stores and online retailers. Here are some common places where you can buy perfumed jewellery:
1. Jewellery Stores: Many stores, particularly those specializing in unique or contemporary designs, may carry a selection of perfumed jewellery. You can visit local boutiques or larger retailers to explore their offerings.
2. Fragrance Boutiques: Specialty fragrance boutiques often carry perfumed jewellery alongside their selection of perfumes and scented products. These boutiques may feature a curated collection of perfumed jewellery from different brands or even offer their own exclusive designs.
3. Online Retailers: Numerous online retailers offer a wide range of perfumed jewellery options. Websites such as Amazon, Etsy, and eBay provide platforms where individual artisans, brands, and re sellers can showcase and sell their perfumed jewellery. Make sure to read product descriptions, reviews, and ratings before making a purchase.
4. Brand Websites: Many perfumed jewellery brands have their own official websites where you can browse and purchase their products directly. Perfumedjewelry.com have a wonderful selection of pendants, bracelets and earrings. There is also the option to refill your chosen jewellery.
By visiting the brand's website, you can explore their full range of designs, learn about the fragrance delivery systems used, and often find additional information about the brand's philosophy and values.
5. Perfume and Beauty Retailers: Perfume and beauty retailers, both online and brick-and-mortar, may carry perfumed jewellery as part of their product offerings.
6. Artisan Markets and Craft Fairs: If you prefer unique, handmade pieces, visiting local artisan markets, craft fairs, or pop-up shops can be a great way to discover independent jewellery makers. These events often showcase a diverse range of creative designs and provide an opportunity to meet the artisans in person.
You will definitely pick up some unique pieces too.
Conclusion
Buying perfume and jewellery goes beyond mere material possessions. Both hold a special place in our lives, symbolizing personal style, self-expression, and sentimentality.
When it comes to perfume, it serves as more than just a fragrance.It is a sensory experience that can evoke memories, boost confidence, and leave a lasting impression on others.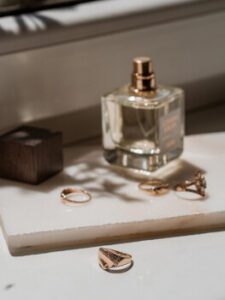 Both perfume and jewellery can serve as thoughtful gifts, expressing love, appreciation, and celebration. Whether it's a romantic gesture, a token of friendship, or a symbol of achievement, the act of giving perfume or jewellery demonstrates thoughtfulness and care.
It shows that the giver has taken the time to choose something meaningful and significant.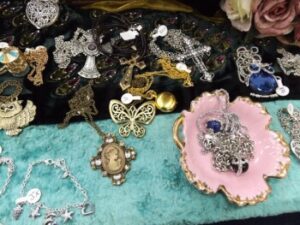 Whether you indulge in the enchanting world of perfume or adorn yourself with exquisite jewellery, these purchases can add a touch of magic and beauty to your life.
Sign up to our monthly newsletter for the latest news in the perfume world, where to purchase samples, the top perfumes of 2023 and more!