The perfume advent calendar has emerged as a delightful alternative to the traditional chocolate advent calendar. Every year, various companies such as Superdrug and Sainsbury's, among others, create these unique calendars.
Typically, the design of these calendars features a window for each day of December, with each number sealed with a perforated edge. In the past, these advent calendars were a childhood favourite, with each day revealing a small chocolate behind the foil.
There were twenty-four windows to open, leading up to the grand reveal behind window number 24, which held the largest chocolate, adding an extra dose of excitement to the Christmas countdown.
Perfume advent calendars have become a popular and exciting way for fragrance enthusiasts to count down the days to a special occasion, such as Christmas. These calendars typically contain a selection of miniature perfume bottles or fragrance samples, allowing users to discover and enjoy a variety of scents throughout the holiday season. Here are some key aspects of perfume advent calendars.
Perfume Advent Calendar
1. Variety of Scents
Perfume advent calendars often include a diverse range of scents, featuring popular fragrances from well-known brands as well as niche or exclusive perfumes.
2. Miniature Bottles or Samples
The calendars usually contain smaller-sized bottles or samples of perfumes. This format allows users to experiment with different scents without committing to a full-sized bottle.
3. Countdown Experience
-Each day leading up to the special occasion, a new compartment is opened to reveal a surprise perfume. This daily unveiling adds an element of excitement and anticipation to the holiday season.
4. Brands and Exclusives
Some calendars feature perfumes from a specific brand, providing users with a curated selection of scents from that particular house. Others may include exclusive or limited-edition fragrances created specifically for the calendar.
5. Collector's Items
Perfume advent calendars can also be seen as collector's items, especially if they include unique or rare fragrances. The packaging and presentation often add to the appeal, making them desirable for both perfume enthusiasts and collectors alike.
6. Price Range
The price of perfume advent calendars can vary widely, depending on the brands and the number and exclusivity of the included fragrances. Some calendars are positioned as luxurious, high-end items, while others cater to a more budget-friendly market.
7. Availability
These calendars are typically released in the weeks leading up to the holiday season and are available for purchase online or in select retail stores. Due to their popularity, it's advisable to check availability and consider making a purchase well in advance.
Perfume advent calendars provide a delightful and festive way for individuals to explore and enjoy a range of fragrances, making them a sought-after and enjoyable item during the holiday season.

Chocolate advent calendar
As a child, the arrival of December always brought with it a sense of excitement. Even as we grew up, that excitement persisted, albeit now manifesting in the form of chocolate advent calendars.
In our household, we have one for each of our boys and another one to share between my husband and me. But there was a special tradition tied to my birthday. Since my birthday fell on an even-numbered day in December, I always opened the even-numbered windows of the calendar so that I could savour a piece of chocolate on my special day.
These memories evoke a sense of nostalgia, harking back to the Christmases of the 1970s and 1980s, filled with the joy and anticipation of those delightful advent calendars.
Modern advent calendar
Transitioning into the 1990s and 2000s, while chocolate advent calendars continued to grace the shelves of stores, a new trend began to emerge. Advent calendars started to take on a variety of creative forms, departing from the traditional chocolate-filled designs.
Wooden, coloured material and cardboard boxes were among the innovative materials used to craft these unique advent calendars. These calendars added a new dimension of anticipation and surprise to the holiday season, as each day revealed a different treat or surprise, distinct from the familiar chocolates of yesteryears.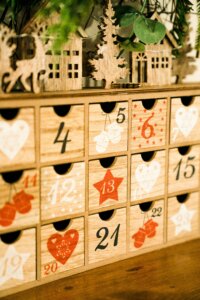 Inside each of these creatively designed advent calendars, the possibilities were endless. You could tailor the surprises or treats to suit the recipient, making them perfect for anyone, whether it was for a child, a friend, or a family member. The options were as diverse as the people who eagerly awaited each day's reveal.
Affiliate Disclosure
When you click on links to various merchants on this site and make a purchase, this can result in this site earning a commission. Affiliate programs and affiliations include, but are not limited to, the eBay Partner Network.
Personal care advent calendars on eBay  
Many of these advent calendars were lovingly handmade, each boasting its unique style and charm. Inside each box, a world of surprises awaited, ranging from delectable sweets to fragrant herbs for the kitchen, tiny Lego toys to indulgent chocolate bars.
The possibilities seemed limitless, and with each passing year, people became even more inventive in selecting what to place inside each pocket or drawer of these imaginative calendars. As a cherished tradition, the calendar would be proudly displayed each year, with family members taking turns to open each numbered window.
But, as time went on, another trend emerged, centred around the classic chocolate advent calendar.
Perfume advent calendar
The concept of a perfume advent calendar made its online debut, with several fragrance companies embracing the idea. Mirroring the design of the traditional chocolate advent calendar, each window was equipped with a perforation, concealing a fragrant treat behind it.
In 2022, FM experienced a significant surge in sales when they introduced their perfume advent calendar, joining the trend and offering fragrance enthusiasts a unique and delightful way to count down the days to Christmas. This year (2023) FM World has stepped up and produced their latest calendar with each window containing a 15ml bottle of perfume inside windows 1-24.
2023 calendar
In 2023, FM World's calendars feature 24 bottles, each containing 15ml of fragrance. The selection includes a combination of male, female, and unisex scents, offering a diverse olfactory experience throughout the holiday season. The following fragrances are included in this year's advent calendar.
• PURE 05
• PURE 18
• PURE 20
• PURE 21
• PURE 32
• PURE 52
• PURE 413
• PURE 431
• PURE 436
• PURE 472
• PURE 473
• PURE 489
• PURE ROYAL 199
• PURE ROYAL 327
• PURE ROYAL 335
• PURE ROYAL 362
• PURE ROYAL 366
• PURE ROYAL 809
• PURE ROYAL 827
• PURE ROYAL 843
• PURE ROYAL 850
• PURE ROYAL 900
• PURE ROYAL 910
• PURE ROYAL 913
2023 calendar
In 2023, FM World's calendars feature 24 bottles, each containing 15ml of fragrance. The selection includes a combination of male, female, and unisex scents, offering a diverse olfactory experience throughout the holiday season.
If you have an online store on your website, click the link below.
Drive more traffic to your online store using performance-based marketing.
As Christmas draws near, we're always on the lookout for thoughtful gift ideas. FM has the perfect gift options for your loved ones. We'd love to hear from you if you're considering a unique gift this Christmas. Your ideas and preferences matter, and sharing them can help others find the perfect gifts too.